Private Playtime: 9 Long Island Venues to Rent for Play Dates or Pods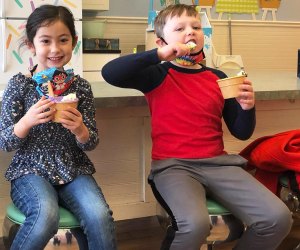 If you are looking to get out of the house but still stay safe in your bubble, take your pandemic pod or small play date to one of these spaces that will host a private session just for you.
For more indoor fun, check out our Guide to Play Spaces, and find plenty of seasonal entertainment on our winter fun list for Long Island kids.

Editor's note: All the play spaces listed are adhering to COVID regulations, including mandatory mask wearing, temperature checks, hand washing, and additional cleaning and sanitizing measures. Given how quickly things are changing during this pandemic, be sure to check their websites or call to confirm pricing and availability. Please always keep your family and others safe by wearing a mask and practicing social distancing.

A Latte Fun invites little ones for private playtime complete with pizza and juice during a VIP play date.
570 East Jericho Turnpike
All ages
A Latte Fun is currently accepting reservations for VIP private play dates (minimum of six children; maximum of 14). Crawlers, toddlers, and older kids can romp in the large, enclosed play area, while parents will certainly appreciate the full-service coffee bar and light snack menu. The package includes two hours of play, as well as pizza and juice boxes for the kids.
132 East Park Avenue
Ages 0-5
Ideal for babies, crawlers, and preschoolers, Liddle Bites offers private play sessions for your wee one's squad. Kids will be in awe of the life-sized dollhouses and enjoy getting down to business in the pretend shops. Ninety-minute, half-day, and full-day packages are available Monday through Friday, and the space accommodates up to 30 people. Don't forget your socks: They're required in the play area. Temperature checks are mandatory before entry, and all guests must sanitize their hands before entering the play areas.
11 Davis Avenue
Ages 1-3
At LICM's Tot Spot, kids can let their imaginations run wild in the museum's little town, complete with a train station, grocery store, post office, and farmers market. There's also construction areas and a jungle gym where they can wiggle, jump, slide, and run. While the museum is currently open Thursday through Sunday (advance ticket purchase with timed-entry required), families or learning pods can book private playtime at the Tot Spot when the museum is closed. For more information, email MuseumRental@licm.org.
RELATED: The Best Indoor Play Spaces for Long Island Toddlers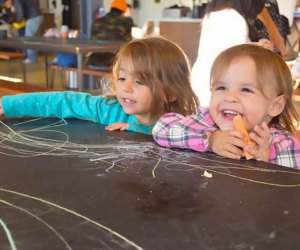 Drawing on the tables is encouraged at Social Play Haus, but plenty more kid-friendly fun awaits in its actinon-packed play area. Photo by author
200 Express Street
All ages
A group of up to six children can enjoy 90 minutes together in the play area at Social Play Haus and eat at reserved tables—the menu has lots of kid-friendly dishes. Different packages are available at varying prices, including options for supervised play with a pro-play specialist. Explore the obstacle climber, pretend play stations, and more. Adults can grab a cold beer or hot brewed coffee and even use the free Wi-Fi and other office amenities if they have to sneak in a quick work call. Contact Social Play Haus to book.
151 Dupont Street
All ages
This expansive indoor play space is set up like a small town, where kids can meander from one setting to another for imaginative play. It can be rented for private 60-minute sessions. While it's best for younger children, older kids, especially as part of a mixed-age group, can enjoy the multi-tier, netted climbing structure. Temperature checks are required for entry, and all visitors must sign a participation agreement waiver.
RELATED: Top Indoor Play Spaces on Long Island Open Now

Turn your private play date into snack time with a private session at What's Cooking?
30 East Main Street
All ages
This popular cooking school is currently hosting private, mini birthday parties for up to 10 kids. The most popular party activities include making and decorating sugar cookies, cupcakes, giant cookie pizzas, doughnuts, or cake pops. These sugary fests can have various themes as well, including bright colors, fun toppings, tie-dye cake batter, and more.
3890 Merrick Road
Ages 0-6
Your 6-and-younger squad can have free rein over the wooden climber, puppet theater, trains, Duplos, and more, while adults sit nearby sipping a hot cup of Joe. Outside food is allowed, but this is a nut-free zone. The space can be rented for private play sessions or birthday parties. All items are sanitized frequently, and visitors are asked to enter through the rear entrance. Temperature checks are required before entry. Children over 2 are encouraged to wear face coverings, but kids over 5 must wear them.
RELATED: Where to Host Birthday Parties on Long Island in 2021
The whole family can get hands-on during a 90-minute private play session at the Long Island Explorium.
101 East Broadway
All ages
This harborfront STEM-based play space hosts private, 90-minute play sessions for up to six family members (including adults). Its activities and exhibits aim to spark creativity and ignite the imagination. Don't worry about telling wee ones to keep their hands to themselves: Touching is encouraged.
2943 Long Beach Road
All ages
Little sugar junkies can whip up their own sundae creations at this child-sized, retro ice cream parlor during their own one-hour private play date session. There's also a toy area and an arts and crafts area, where kids can get creative and paint ceramics. Bonus: The facility is egg-, gluten-, peanut-, and sesame-free; dairy-free options are also offered. Private sessions max out at 10 kids, and the entire space, including toys, is sanitized after each play date.
Unless noted, all photos courtesy of the venues