Where to Host Birthday Parties on Long Island Now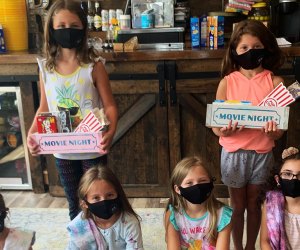 Festive car parades may have stood in for your child's birthday party last year due to the pandemic, but this year they probably want the real thing: a celebration with friends and family. And, although we're not quite back to normal, things have opened up somewhat, so a birthday party is possible—it just may look a little different.
Keeping in mind that the only guests may be your immediate family or your close-knit pod, we've rounded up a dozen venues offering birthday parties right now. From venues that let kids get creative to boats that take you on a seal-watching cruise and animal encounters, both real and virtual, our party ideas give you many ways to celebrate right now.
For more ideas and party planning tips, be sure to check out our Birthday Party Guide for Long Island kids.
Editor's note: All these venues require guests to wear masks and have implemented COVID health and safety regulations. Make sure to check their websites for the most up-to-date information about pricing, availability, and protocols when you're planning.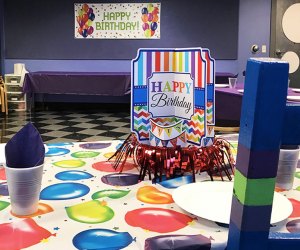 The Long Island Children's Museum offers various party packages, including parties where you have a full run of the museum.
The LICM offers parties during regular museum hours, and you can also host a party after hours when you and your guests have this amazing museum all to yourselves. They have several health and safety protocols in place to keep everyone safe. There is no food allowed during the festivities. A cake or cupcakes can be brought in to sing Happy Birthday, but treats must be packaged to-go for each guest.
If your child would love to party with penguins or swim with the sharks, the Long Island Aquarium is a great venue to celebrate their special day. You'll get access to a private party room and a guide who takes guests on a tour of the aquarium. There are many options and add-ons, including a Penguin Meet & Greet, a Shark Dive, and a selfie with a sea lion.
This paint studio offers many options when it comes to kids' birthday parties. They can be held in the studio or, when the weather permits, outside under a tent, with drinks and snacks included. Pawcasso also offers individual paint kits so parties can be virtual with guided instructions from Painter Ron via Zoom.
Parties of up to 13 children can be held at this art studio. Each child chooses a personalized design from the gallery, and the staff provides hands-on assistance. Food can be brought in, or it helps with catering options.
RELATED: 10 Outdoor Party Games for Kids' Birthdays at Home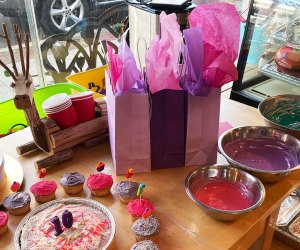 Roll your sleeves up to craft some birthday treats at What's Cooking.
This popular cooking school is currently hosting private, mini birthday parties for up to 10 children. Its most popular activities for parties include making sugar cookies, cupcakes, giant cookie pizzas, doughnuts, or cake pops and decorating them. Parties can have various themes as well, including bright colors, fun toppings, tie-dye cake batter, and more.
Although its private party room isn't open yet to parties, this quaint toy shop in Northport Village offers individual take-home craft kits so you can organize a virtual birthday party for your child.
This recently opened adorable spot is the perfect place to pamper the birthday girl! Parties are limited to no more than 10 kids, and pampering services, pizza, and cake are provided. Another great option is its Bestie and Me package, where 2-4 girls have the entire spa to themselves.
8. Guided Seal Walks at a State Park – Multiple Locations
Bundle up the party guests and head outside to search for seals. At Jones Beach State Park, all ages are welcome on its weekend guided seal walks. Guests gather at the Energy and Nature Center for a brief talk and then enjoy a walk along the beach. At Montauk Point State Park, kids ages 4 and older can join the 2-mile round-trip guided walk. Call ahead for fees and reservations.
RELATED: 30+ Free Ways to Celebrate Your Kid's Birthday at Home

MisMatch & Yoohoo crafts magical balloon creations for your party or supply you with DIY materials to make your own.
You can hire this Long Island company to provide entertainment that features balloons, games, and magic for your at-home party. If you'd rather a more DIY approach, you can purchase a "big bag of balloon fun," which includes balloons, directions for making simple balloon designs, and fun activity sheets for each child.
While this popular spot isn't hosting on-site birthday parties, it will help you plan an interactive birthday celebration via Zoom. Guests get to meet and learn about some amazing reptiles and amphibians and ask the expert staff all the questions they want. Educators recommend keeping groups small (maximum of approximately 15 children) to increase the time each child has to ask questions and interact with the staff.
Guests play on an 18-hole glow-in-the-dark course and enjoy the use of the private party room for 90 minutes. These all-ages parties allow adult guests to enjoy the attractions, too. Food is not included in the parties but can be added on.
This family-friendly outdoor rink in Port Jefferson is open for business. Although they are not currently offering party packages, you can take a small group skating and then head to a local eatery or back to your home for pizza and s'mores. See our roundup of outdoor skating rinks across Long Island if you'd like to try this DIY party closer to home.