Where to Go Seal Watching on Long Island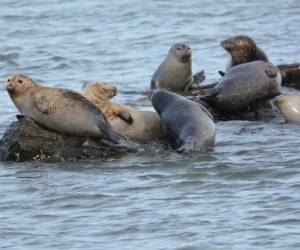 Winter on Long Island is an exciting time for nature lovers eager to enjoy prime seal watching. Long Islanders can catch a glimpse of curious and friendly harbor and gray seals on foot or by boat.
So, bundle up, grab your binoculars and embark on an outdoor adventure: We've rounded up the best places to spot seals on Long Island.
While you're at it, bookmark our Winter Fun Guide for more seasonal entertainment.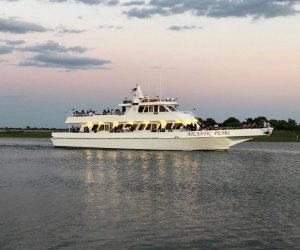 Enjoy a seal-watching expedition aboard the Captain Lou Fleet. Photo courtesy of the fleet
Where To Go Seal Watching in Nassau County
Sail through Hempstead Bay to watch harbor seals as they swim and sunbathe along Long Island's South Shore. Cruises run two hours, and include an informed guide who points out seals and supplies information. There is a cash-only snack and beverage (nonalcoholic) bar on board. Cruises cost is $34-39 per person. Visit its calendar for sailing dates. A promotion on its website offers $10 off each ticket on select sailings.
Located on the west end of Jones Beach, the nature center offers guided seal walks for $4 per person. Learn about seal migration patterns and life on Long Island. Capacity is limited, so book in advance. If you don't want to go with a group, feel free to go for a family walk when a tour is not scheduled.
RELATED: Nature Centers Sure to Delight Long Island Kids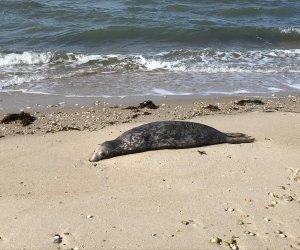 Join the Atlantic Marine Conservation Society for a seal cruise around Shinnecock Bay. Photo courtesy of AMSEAS
Where To Go Seal Watching in Suffolk County
This two-hour cruise sails through Shinnecock Bay on the East End. An emphasis is placed on conservation and learning about different species of seals that inhabit Long Island's waters. Tickets are $35 per person.
CRESLI offers guided walks throughout winter; advance registration is required. There is a suggested donation of $5 per adult, $3 per child. Donations can be made here or in-person. Make sure to bring binoculars.
Prepare for a three-mile hike lead by a naturalist. Guided hikes run from November through April and are $4 per person and children younger than 3 are free. Hikes are not stroller-friendly, so bundle up the baby and use a carrier instead. Hikers meet at the office/restroom building at the lower parking lot 10 minutes before the scheduled start. Visit our Event Calendar for details on upcoming hikes.
This post, originally published in 2013, was updated in February 2022.