New York State Parks in Suffolk County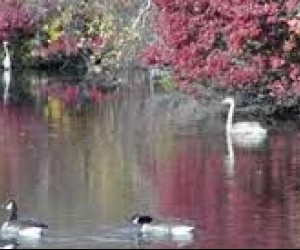 It's hard to believe it, but spring is finally here! What better way to bring in the new season, than a trip to a state park. Suffolk County is filled with them! With so many activities to choose from, you might want to make a list of your favorites and then work your way through all of them.
Belmont State Park
625 Belmont Avenue
North Babylon, NY 11703
631-667-5055
Belmont State Park has 463 acres with a bucolic feeling that was established in 1926 by August Belmont and served as farmland for his equestrian activities. This is a full service park and offers boating, fishing, biking, horseback riding, hiking and picnicking. The park also has playing fields, horseshoe and basketball courts and playgrounds, so pack a lunch and head for the day. Paddle boats are available for rent in the summer.
Caleb Smith State Park Preserve
581 West Jericho Turnpike
Smithtown, NY 11787
631-265-1054
Much of the Preserve's 543 acres are undeveloped and include freshwater wetlands, ponds, streams, fields and woods. The preserve is a refuge for wildlife and its diverse habitats support a variety of trees, shrubs, wildflowers and ferns. Visitors can relax and rejuvenate while developing an appreciation for the natural world by hiking, fishing, birding and fly fishing on the Nissequogue River. There is also a gift shop and museum/visitor center.
Camp Hero State Park
1898 Montauk Highway
Montauk, NY 11954
631-668-3781
Camp Hero State Park is located in Montauk Point with 415 acres of diverse landscape, including wooded acres, beachfront and historic military installation. It is the former site of Montauk Air Force Station. It has a beach that boasts some of the best surf fishing locations in the world. If fishing isn't your thing you can hike, bike or enjoy the bridle path.
Captree State Park
1 Rescue Road
Babylon, NY 11702
631-669-0449
Captree State Park lies at the eastern tip of Jones Beach Island. Captree is a fisherman's haven and a terrific place to have a picnic. The park features a boat basin with open and charter boats available for fishing and scuba diving. There are also sightseeing and excursion boats available.
Hither Hills State Park
50 South Fairview Ave.
Montauk, NY 11754
631-668-2554
Hither Hills State Park has scenic picnic areas with fireplaces, sport fishing, playing fields, playground and a 168 site campground on the ocean. There are bridle paths, biking, hiking and nature trails and the walking dunes of Napeague Harbor are located on eastern boundary of park.
Orient Beach State Park
Route 25
Orient, NY 11957
631-323-2440
This state park has 45,000 feet of frontage on Gardiner's Bay and a rare maritime forest with red cedar, black jack oak trees and prickly pear cactus. You can fish, picnic, play ball, hike or bike, swim if it's warm or walk a nature trail. Bike rentals are available.
Robert Moses State Park
P.O. Box 247
Babylon, NY 11702
631-669-0470
Five miles of ocean beach offers visitors plenty of space to swim, surf, or surf-fish. Anglers can fish from piers. Day use boat basin is available, as are picnic areas, playground and an 18-hole pitch and putt golf course.
Wildwood State Park
P.O. Box 518
N.W. Wading River Road
Wading River, NY 11790
800-456-2267 Reservations
Wildwood State Park comprises 600 acres of undeveloped hardwood forest. Trailer and tent sites are available for campers. Activities include swimming, hiking, picnicking, a playground, fishing and a nature trail.
Shadmoor State Park
900 Montauk Highway
Montauk, NY 11954
631-668-3781
Shadmoor Park features 2,400 feet of ocean beach. The park has bluffs, fresh water wetlands that are part of the preserve. Hiking trails and elevated platforms for bird watching and enjoying the shoreline views. Visitors may picnic and salt water fish. On a historical note there are two concrete bunkers on the property that were erected during World War II.
Sunken Meadow State Park
Route 25A/Sunken Meadow Parkway
Northport, NY 11768
631-269-4333
Sunken Meadow Park is located on the Long Island Sound and has a wide range of flora and fauna. Activities include swimming and 6 miles of trails for biking, hiking and horseback riding. In addition, there is also kayaking, canoeing, windsurfing, fishing and a ¾ mile boardwalk. There is also a 27-hole golf course with driving range and putting green.