Long Island Explorium: Port Jefferson's Rebranded Learning Center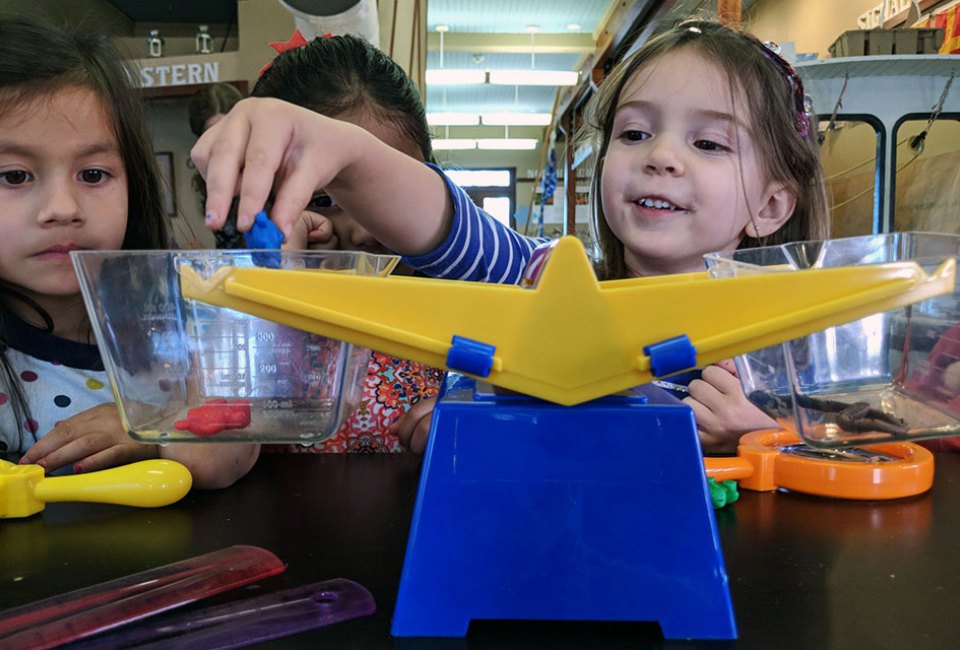 8/19/18
- By
Jaime Sumersille
Take your tiny tinkerer on a hands-on adventure to the newly rebranded Long Island Explorium.
Located in the historic and charming Chandlery Building at Harborfront Park in Port Jefferson, the previously named Maritime Explorium offers kids the chance to discover how much fun learning can be. Its STEAM-based (science, technology, engineering, art, and math) programs, classes, and exhibits aim to spark creativity and ignite imaginations. Don't worry about telling wee ones to keep their hands to themselves here: Touching is encouraged.
Check out more STEM programs on Long Island here. Likewise, many schools, camps, and museums across Long Island offer classes and workshops with a focus on STEAM education. While in quaint Port Jefferson, check out our visitor's guide to see what else is a must-do, see, or eat.

Use the explorium's pulley system to send messages back and forth between "boats."
Rebranding
In March 2018, the former Maritime Explorium was renamed the Long Island Explorium, "to better reflect the reach and diversity" of its programs." New offerings include Oxobots and a Vernie Lego Robot that teaches coding lessons and lets you control the bot. , Mr. Roboto! The virtual reality programs invite visitors into the games for an outta-this-world experience. An interactive garden teaches about outdoor native plants and includes an edible sensory garden—yum.
Exhibits
What the Long Island Explorium lacks in size it makes up for with fun, interactive exhibits, and activities. The Bailing Boat, filled with uncooked rice and sand toys, seems like pure fun (and it is!). But it also challenges kids to look for patterns, experiment with measurements, make predictions, and put ideas to the test. It's also ideal for sensory play. The Signal Center allows kids to exchange messages the old-fashioned way—on paper. Kids can don a captain's hat and pass messages between two boathouses via a pulley system and a galvanized bucket. Make it more challenging by communicating via pictographs, Morse code, or signal flags. At the Magnetic Wall, children adhere tubes and slides and make their own cascade. Use your phone's timer to see whose is the fastest. Visitors can explore concepts of mechanical advantage at the Ship's Hull. Figure out which tools make certain jobs and tasks easier. The Ship's Hull houses multiple types of materials, which visitors can use to investigate structures and forces. Bonus: This exhibit zone also features a new science focus each week.
Programs
Each weekend the Long Island Explorium hosts a super science program, offering a different hands-on activity under the giant ship's hull. Pour and measure liquids, construct a working toy car, build a bridge that spans the Explorium's "river," create art with sea-found trash, and much more.
RELATED: Great family-friendly museums on Long Island

The Eastern Long Island Maker Faire brings tech-minded kids to the explorium each June.
Summer camp and birthday parties
The Long Island Explorium offers weeklong summer camp programs for children ages 3-9. It also hosts birthday parties and offers a few packages. Each June, be on the lookout for the Eastern Long Island Maker Faire, which is organized and hosted by the explorium and focuses on inspiring tech creativity, innovation, and entrepreneurship. Makers range from tech enthusiasts to crafters, homesteaders, scientists, and garage tinkerers.
RELATED: Nature centers sure to delight LI kids

The possibilities are endless with the explorium's construction tubes.
Admission and membership
Basic, extended, and premium family memberships are available. The explorium is just a short walk from the ferry on the Port Jefferson side of Long Island Sound, near Danfords Hotel. Admission is $5 per person ages 1 and older. During the summer you can visit Wednesday through Sunday from 1 to 5 pm; after Labor Day, it's weekends only.
Getting there
The explorium is located at 101 E. Broadway. Port Jefferson is situated on Suffolk County's north shore. Take the Long Island Expressway to Exit 64, Patchogue-Medford Road (Route 112), north. Follow Route 112 north for about 10 miles into the vlllage, where it becomes Route 25A. Turn right at the harbor and the explorium is located on East Broadway. Alternatively, the explorium is located a short cab ride from the Long Island Rail Road's Port Jefferson station.
Photos courtesy of the Long Island Explorium