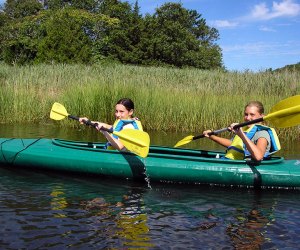 STEM and STEAM Summer Camps for Long Island Kids
If you have a child who wants to spend the summer building robots, learning to code, or launching rockets, you're in luck. Long Island has quite a few summer camps where kids can expand their knowledge of all things STEM and STEAM. At these places children can not only have fun and make new friends, but also learn new skills to help them thrive during the next school year.
If you didn't know, STEM is an acronym for Science, Technology, Engineering and Math. STEAM takes it one discipline further, adding an A for arts.
For additional info on summer programs across Long Island, be sure to check out our Long Island Summer Camp Guide.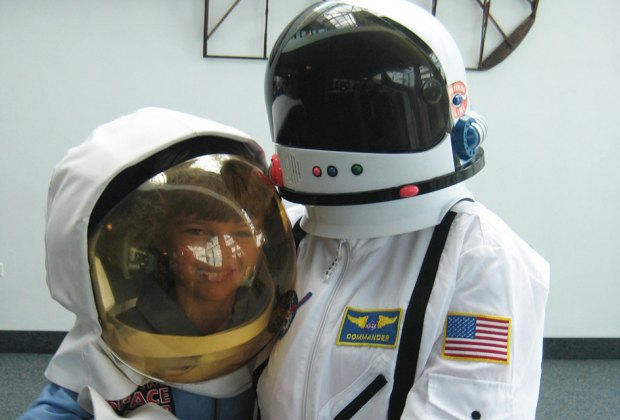 Become an astronaut at the Cradle of Aviation STEM and Space Summer Camp.
Cradle of Aviation STEM and Space Summer Camp — Garden City
The STEM and Space Summer Camp consists of five-day mini-camps led by experienced museum educators. Campers explore, interact, experiment, and create. Topics include everything from outer space and other scientific fields to Minecraft creations and engineering investigators. Campers need to bring a bagged lunch.
Destination Science — Islandwide
From roller coasters and robots to sunshine and sound, Destination Science provides a fun, safe, and unique environment for exploration. Full-day programs are bursting with innovative, imaginative, and unexpected science adventures for boys and girls ages 5-11. There are 11 locations on Long Island.
RELATED: Free and Cheap Websites that Teach Kids How to Code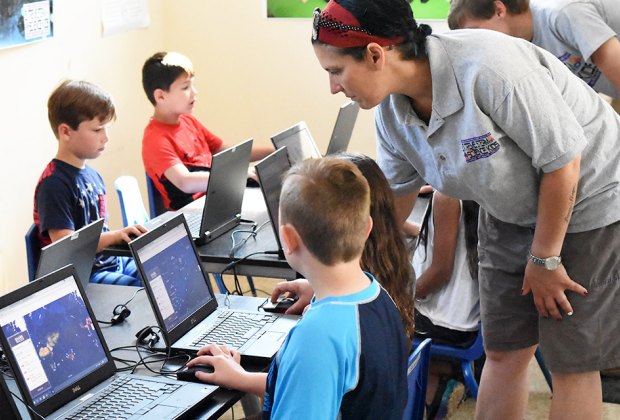 Learn about science through hand-on-activities at Extreme STEAM Science Kids.
Extreme STEAM Science Kids — Dix Hills
Held at Park Shore Day Camp in Dix Hills, Extreme STEAM Science Kids Camp is designed for first- through ninth-graders. It takes place in a state­-of-­the­-art science center, led by certified teachers whose goal is to encourage a child's curiosity about science through hands-on activities. The new Design Innovation and Robotics program for kids in grades 6-9 is led by Dr. Anurag Purwar, a professor of machine design and robotics at Stony Brook University.
Future Stars STEAM Education Camp — Farmingdale, Old Westbury, Patchogue
This full-day camp happens at three Long Island college campuses: SUNY Old Westbury, Farmingdale State College, and St. Joseph's College. Each aims to engage campers entering grades 3-9 in fields such as Lego robotics, Minecraft, 3D design and print, photography, videography, engineering, drawing and painting, video game design, web design, and coding. Not all programs are available at all locations. Recreational activities are also part of a camper's day.
Hofstra University — Hempstead
A certified teacher leads hands-on activities in the Science Discovery Lab program, inspiring kids to discover the fun side of science. Biology, chemistry, physics, rocketry, nutrition, and aerospace are all covered in each two-week session. Campers become young scientists as they participate in experiments and get to design, construct, and launch their own rockets during the camp's Launch Day. Full-day itinerary includes recreational sports, instructional swim, and lunch.
iD Tech — Garden City, Old Westbury, Stony Brook
This camp takes place on three Long Island college campuses: This time it's Adelphi University, New York Institute of Technology, and Stony Brook University. iD Tech offers day and overnight programs for kids ages 7-17. Campers learn code, game design, app development, web design, film, photography, and more.
RELATED: The Best Science Museums for Kids on Long Island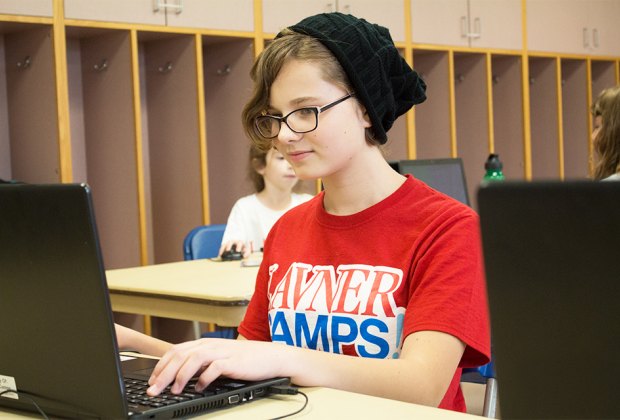 Discover the latest in technology at Lavner Camps in Old Westbury.
Lavner Camps — Old Westbury
Tech Revolution, Lavner's 2019 Long Island summer camp at New York Institute of Technology, is for kids 7-14. It helps them discover the latest in technology. Each week, campers choose one major and one minor area such as robotics and engineering, Next Generation Minecraft, Elite Skills in Minecraft with Java Programming, and computer programming with Python. Also offered are computer programming with Java, web design, 3D printing and modeling, game design, spy tech, music production, digital animation, coding, and more.
Long Island Aquarium Adventure Days Summer Camp — Riverhead
With camp programs for children ages 2-16, there truly is something for everyone at the Long Island Aquarium. Little ones discover underwater life, search for treasure, and pet a penguin, while older children get to snorkel, take a shark dive, go for a hike in the pine barrens, and more.
RELATED: Great STEM Classes for Long Island Kids

Become a scientist for the summer at a Mad Science of Long Island Camp.
Mad Science of Long Island — Islandwide
Part of the Long Island STEAM Group, this camp lets children in grades one through six become junior scientists for the summer, embarking on a series of age-appropriate adventures. They'll be amazed when they discover cool chemical reactions, build rockets and participate in the launching of them, check out security systems, spy equipment, and funky forensic tools used in real crime scene labs, and build their own working robot to take home. Locations in Nassau and Suffolk counties.
Science Museum of Long Island — Plandome
Camp at the Science Museum of Long Island is open to children ages 4 to 13, and there is an assistant counselor program for kids ages 14-16. There are a number of themes and topics, including chemistry, paleontology, zoology, oceanography, ecology, engineering, forensics, technology, and more. The 35-acre preserve is perfect for exploring all things science related.
SnappyXO MTRC Design Innovation and Robotics Camp — Carle Place, Stony Brook
Now in its second year, this two-location robotics camp is sponsored by the Manufacturing and Technology Resource Consortium (MTRC) at Stony Brook University. It is taught by a Stony Brook engineering professor and graduate students. Under their tutelage, campers design and build robots during the 10-day program. There are 24 spots at each location. Qualified students entering sixth through 12th grades can apply for full scholarships.
The Coder School — Roslyn, Syosset
Weeklong camps led by experienced staff run throughout the summer. Kids can choose from a variety of programs, including coding, robotics, gaming, artificial intelligence, and more. At the end of the week, kids get to show off and demo what they have learned. Camps run from 9am to 3pm and include physical, outdoor activity. Campers should bring their own lunch and water bottles.
This article was updated for 2019.
Photos courtesy of the camps