Online Robotics Camp
Young Gates - Kids Online Personalized Classes

Artificial Intelligence with Scratch Online Camp
Young Gates - Kids Online Personalized Classes

Spark Math: Free Trial Class
Virtual
Sign up for our free newsletters.
Social Play Haus Opens Family Space and Cafe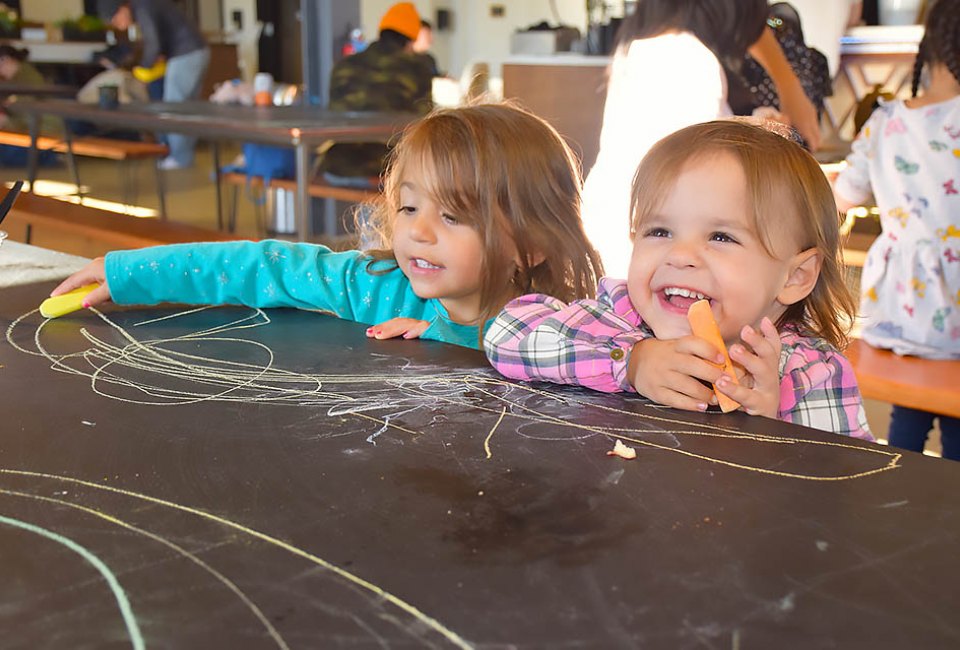 11/25/19
- By
Jaime Sumersille
Social Play Haus, a large, open concept, play space and cafe opened in Plainview this November. No matter the ages in your squad, there's plenty to keep everyone in the family happy and entertained at this unique whole-family focused play space, so head over for some quality family time and socializing.
For more ideas to keep your crew busy, check out these play spaces for Long Island toddlers, and our guide to fun centers across Long Island. And if coffee is a requirement, don't miss our list of playspaces across the island that also boast cafes.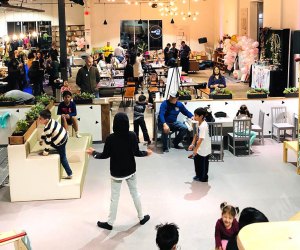 It's hard to capture the openness of the space. Photo courtesy of Social Play Haus
At Social Play Haus, grab a cold-brewed beer or hot brewed coffee and settle in for some cozy fun. The 5,000 sq. ft. arena is made up of mostly communal gathering space, all located in a mid-century industrial setting. Owners Marc and Jenni Bacayon, parents of two little ones themselves, planned this perfectly appointed space and its well-thought-out amenities.
"We wanted to create a positive community," explained Jenni, a child psychologist. "One that promotes and rewards kindness and inclusion."
She then smooshed a kindness stamp on my son's hand after he asked if he could help me with the photo for this article. Staff members give these to children who display positive behaviors.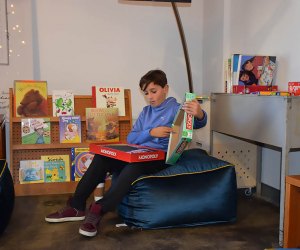 Pick up a book or a board game and engage in some family fun or quiet time.
Snuggle on a comfy couch with a book or board game from their library. Order fresh-made soups, sandwiches, wine, beer, or more from the cafe and sit at one of the picnic-style tables. Since they're covered with chalkboard paint, drawing on the furniture is certainly encouraged here — chalk included! They also have high chairs and allergy-friendly offerings.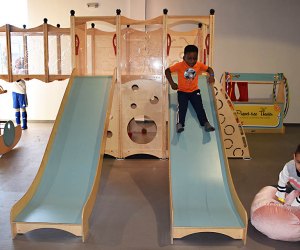 All of the play structures are from Cedar Works and boast lookout points, clubhouses, slides, climbing walls and more.
All of the play structures are from Cedar Works, naturally splinter-free and environmentally friendly, and boast lookout points, clubhouses, slides, climbing walls and more. While the space is geared for children up to age 8, there is a puppet show area, dress-up station, dollhouse, train table, a play kitchen and more. The gated play area features trained staff supervising the children and tidying up the area, as well as a high-top bar just outside for parents to oversee their little ones. Free WiFi and charging stations are also available for parents pulling double-duty working and watching their kids. Need a quiet area to accept that phone call from your boss? Pop into the office space and dull the background noise of giddy children. This place has pretty much everything both working and stay at home parents need to survive, especially during those doldrum winter months where you're going stir crazy in the house.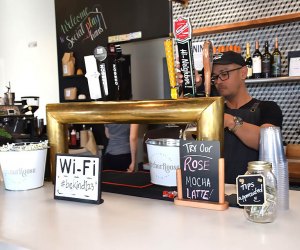 Check out what's on tap - and in the cans at the cafe.
Open play is $19 per day for the first child, $10 for each sibling and crawlers are $10. Guests are allowed to leave and return throughout the day. They also host two-hour birthday parties or four-hour events such as family celebrations. Social Play Haus is located at 200 Express St. in Plainview. For more information, call 516-200-6444.
Unless noted, photos by the author