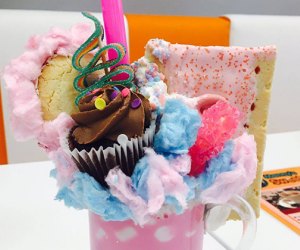 Where to Find Decadent Desserts on Long Island
If you're looking to add a little indulgence to your day, why not visit these Long Island destinations that serve up decadent desserts sure to hit your sweet spot. From groovy, tie-dye milk shakes to smoking hot fudge sundaes, check out our list of where to score these sweet treats.
For more dessert finds, check out these old-fashioned ice cream parlors.
Islandwide
Burgerology — Rockville Centre, Huntington
226 Merrick Road, Rockville Centre
308 Main Street, Huntington
Dive into these milkshakes from the outside in. At Burgerology, a frosted mug is slathered in icing, rolled in assorted toppings, then filled with a luscious milkshake.
Nassau
Diner by the Sea — Long Beach
260 East Park Avenue
These trippy milk shakes come in tie-dye versions and are heaping with whipped cream and other far-out edible accouterments. Get a stack of tie-dye flap jacks to match.
RELATED: Delectable candy shops on Long Island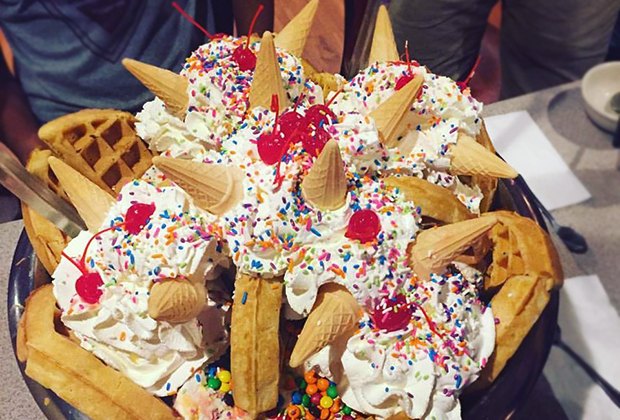 International Delight Cafe offers everything but the kitchen sink, maybe more.
International Delight Cafe — Bellmore, Rockville Centre
322 Bedford Ave., Bellmore
241 Sunrise Hwy, Rockville Centre
The massive dessert on the menu at these Nassau destinations is aptly named "The World," an ice cream sundae made with about three gallons of ice cream. It's a seemingly never-ending bowl of scoops, waffles, cones, toppings, and whipped cream. You'll need your whole squad to take this deep dish down.
Left Coast Kitchen — Merrick
1810 Merrick Road
​The "Tower of Power" is a vertical design of desserts that includes homemade cakes, crispy rice treats, cookies, brownies, and cupcakes, all stacked on top of each other. There's something for everyone at your table and then some in this linear after-dinner treat.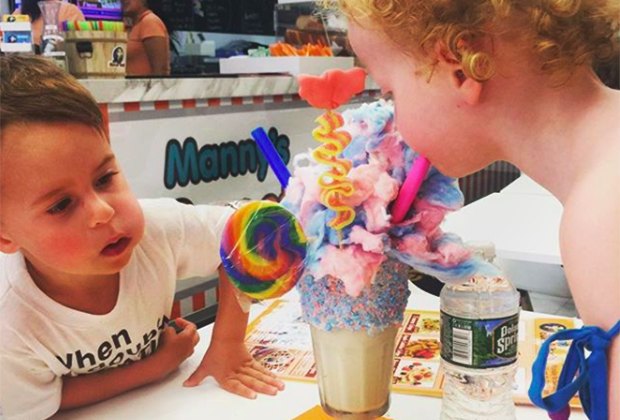 Indulge your sweet tooth at Manny's in Mineola. Photo by hotfudgemondays via Instagram
Manny's Sweet Treats — Mineola
156 Jericho Turnpike
Manny's offers Euro-inspired treats, including milk shakes, gelatos, s'mores crepes, and funfetti waffles. Bursting with toppings such as rock candy and Nerds candy, these milk shakes are fitting for an entire meal.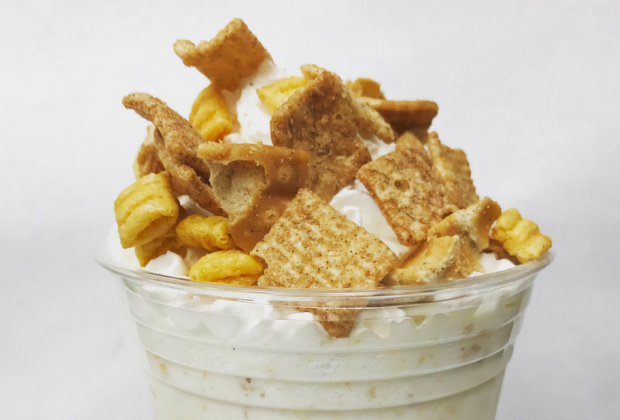 Spoons combines out-of-the-box ice cream flavors with your favorite breakfast cereal toppings.
Spoons — Seaford
3935A Merrick Road
Picture this: cannoli-flavored ice cream topped with Cinnamon Toast Crunch cereal. Or Nutella ice cream with Reese's Puffs cereal. Spoons is a soft-serve spot that combines ice cream flavors with your choice of 18 breakfast cereal toppings. The result is a host of creamy and crunchy concoctions sure to please.
Suffolk
Dang! BBQ — Islip
174 Islip Avenue
The milk shake menu here includes classics such as chocolate, vanilla and strawberry. But if you're looking for over-the-top, check out "The King." It comes with a candied bacon swizzle stick. Its funfetti frothy concoction is topped with rainbow marshmallows, a piece of birthday cake rainbow cookie, and a swirly lollipop. Moms and dads listen up: It also features an "adults-only" dessert menu with Hard Root Beer and Orange Creamsicle Floats.
Sweet Mama's — Northport
9 Alsace Place
Sweet Mama's serves up a variety of custom-created ice cream flavors and wow-factor shakes and is always adding more pizzazz to its menu. Expect homestyle American cooking. where breakfast is served all day in a retro 50s-era look.
RELATED: 100 things to do with kids on Long Island

Enjoy this delectable crepe at Sweet 'n' Savory in Port Jefferson.
Sweet 'n' Savory — Port Jefferson
104 Main St.
This crepe and rice pudding bar offers more than 40 sweet and savory selections filled with fresh combinations for breakfast, lunch, dinner, and, of course, dessert. It also has a selection of waffles and 14 changing flavors of homemade rice pudding. Overflowing with gooey goodness, this sea-ide spot is sure to stick to your ribs.
Top photo: Manny's Sweet Treats in Mineola is a desserter's delight. Unless noted, photos courtesy of the shops