Ice Cream and Cereal Bar Spoons Opens on Long Island and OMG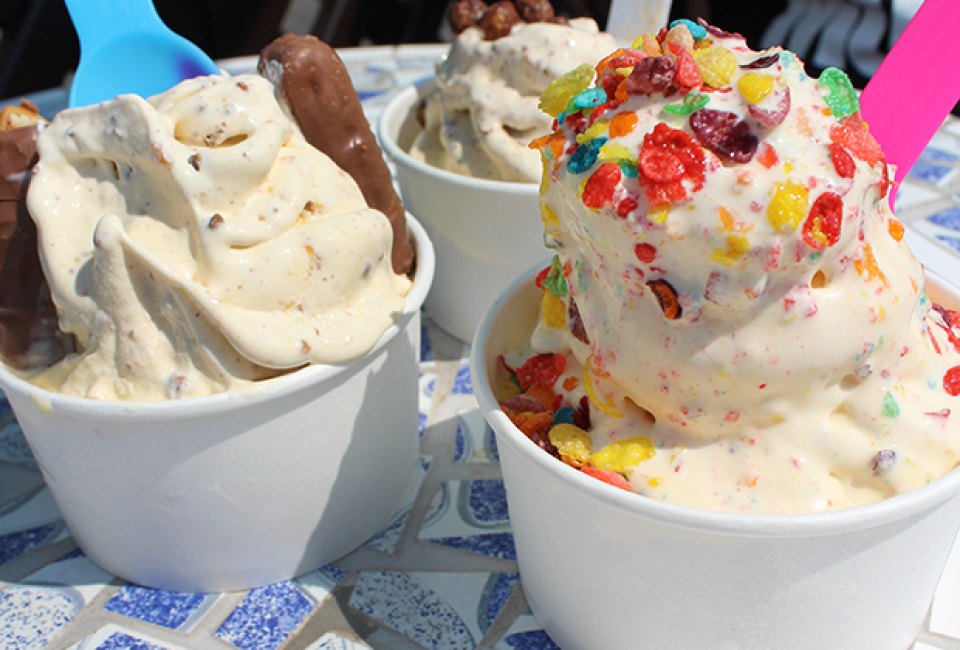 7/27/17
- By
Natalie Ferro Aurigema
Your family may have eaten cereal hundreds, even thousands, of times in your life, but have you ever spooned down a bowl of your favorite childhood brand mixed into a serving of velvety decadent soft-serve ice cream? Well, this isn't just a kid's dessert fantasy. It's a reality at the recently opened Spoons in Seaford on Long Island.
The cereal bar-ice cream shop offers a small express window behind a slew of stores off of Merrick Avenue. It's dishing up tons of brand-name cereal varieties and more cool toppings for ice cream. So, of course, we did the hard work and tasted-tested the new ice cream spot. Read on for our review.
Find more sweet treats at these area candy shops, or check out our guide to Family-Friendly Long Island Restaurants.
NOTE: Spoons is closed for the season. Reopening in April 2018. It also expects to open a second location in 2018!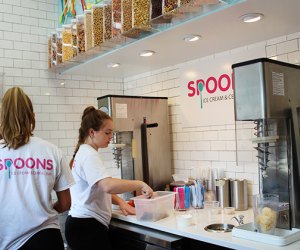 Select from among nearly two dozen cereals and another 20 types of toppings for your bowl of plain vanilla.
Spoons opened in mid-July, just in time for those steamy dog days of summer, plus back-to-school treats and rewards for the kids. On the menu: 18 types of cereal, vanilla ice cream, and 20 additional assorted toppings. Create a custom order based on your own sugar-dusted wants and wishes. All the classic childhood cereals are accounted for, including Apple Jacks, Corn Pops, Frosted Flakes, Trix, Fruit Loops, and Rice Krispies. Toppings such as brownies, Cannoli shell, and crushed Oreo can also be added to the top of your bowl. Maybe a dash of rainbow sprinkles or some snickers bars? Are you drooling yet?
Everything is added on top of vanilla soft serve ice cream, which serves as a delicious backdrop to tie it all together. Behind the glass windows, the young staff use a machine to pulverize classic cereals into the vanilla ice cream to create slightly crunchy, swirled desserts. The ice cream takes the flavor of the cereal you chose, creating a mouth-watering experience, and certainly a unique dessert.
RELATED: Long Island Restaurants Where Kids Eat Free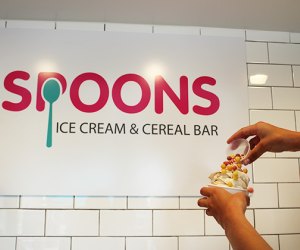 You might wonder why you never added cereal to your ice cream before now.
Everything comes in a cup, or you might want to opt for a cereal milkshake to really go for it.
An "Ice Cream Swirl Cup" is $6 and includes vanilla cream, one cereal, and one swirl-in. It's one size. Milkshakes are $7 and also come in one size. It combines vanilla ice cream, one cereal, one swirl-in, whole milk and whipped cream. Additional cereal or swirl-ins are $.75 each.
RELATED: Outdoor Dining Spots with Cool Backyards and Seating for Families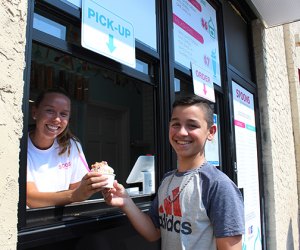 Grab your ice cream to go from the takeout window or snag one of the limited outdoor tables.
With just two small tables outdoors, families are better off taking their sugary treats home or to the beach, a boardwalk, or a local park or playground.
The hours have fluctuated somewhat since opening, but it just announced new hours of 1pm to 11pm daily. Guests are also encouraged to visit the eatery's Instagram for hours.
Looking for more cereal fun? There's a permanent cereal bar in Times Square: Kellogg's NYC.
All photos by the author.
Places featured in this article:

Sign up for our free
newsletters.
Mommy Poppins is a family activity website that helps people find things to do with kids.
©
2023
MommyPoppins. All Rights Reserved.
mp-prod4-v4.32.99
We use cookies and other data collection technologies to provide the best experience for our customers.
Learn More
Sign up for the Mommy Poppins Newsletter today!