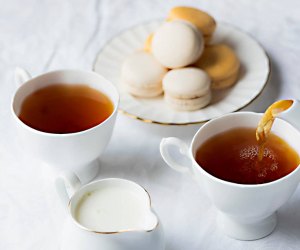 7 Places to Have Afternoon Tea with Long Island Kids
When the weather is cold, enjoying a warm cup of tea with your favorite little person is a wonderful way to spend an afternoon.
From sampling a variety of tea flavors to tasting yummy miniature sandwiches and scones, these Long Island tea rooms offer a warm welcome in an elegant setting just in time for Hot Tea Month in January.
For more delicious fun with your little ones, check out our list of the best Long Island brunch destinations for families, or treat yourself to our roundup of the Island's most decadent dessert spots.
Nassau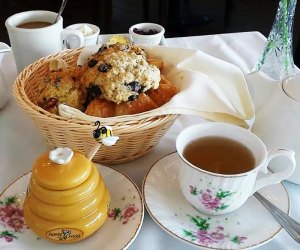 Have a spot of tea and a scone or two with your little one at Chat Noir.
Chat Noir — Rockville Centre
Open for lunch every day from 9am to 5pm and dinner Wednesday through Sunday, Chat Noir offers an elegant setting and a cheeky menu. Patisserie offerings include freshly baked croissants and brioche, sweet and savory pies, delectable fruit tarts, and macaroons. But for heartier fare, you can also find sandwiches, fish and chips, shepherd's pie, and more. The prix-fixe tea includes finger sandwiches, pastries, scones, and a pot of tea.
Starving Artist Cafe and Gallery - Franklin Square
Artists of all ages and types will love sipping tea at Starving Artist Cafe and Gallery. Art is displayed throughout the eclectic dining space, and they often feature live music. The restaurant loves supporting local artists and encourages submissions. There are over 18 different pots of tea offered, as well as many unique coffee flavors. There is a full lunch/dinner menu, as well as a brunch menu for Saturdays and Sundays.
The Garden City Hotel — Garden City
Famed for its high tea, the Garden City Hotel might seem a tad high-end for your kids. But don't be fooled: This spot offers several different types of teas, including a chocolate tea and a royal tea. There are a host of unique tea options, including birthday tea, cherry blossom, and more. Afternoon tea is served Saturdays at 2pm. It can be pricey, but for a special occasion it can't be beat.
The Witches Brew — West Hempstead
This cafe is comfortable and relaxed. Enjoy its vast tea and coffee menu along with healthy food choices and spooky decor in a century-old house. Be advised, though: The cafe does not accommodate groups larger than 6 and does not take reservations or credit cards. Bring cash if you and your child want to sample its fare.
Suffolk
Hidden Oak Café at Bayard Cutting Arboretum — Great River
Step inside the glorious Manor House to find the Hidden Oak Cafe, which offers a menu of freshly prepared food, including sandwiches, quiches, soups, pies, and more. "Victorian Tea" comes complete with finger sandwiches, scones, a fresh pot, and catering, but must be booked 24 hours in advance. Winter hours (November-March) are 11am-3:30pm; summer hours (April-October) are 11am-4pm. The cafe is closed on Mondays.
RELATED: Long Island restaurants where kids can eat free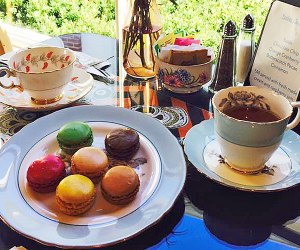 Along with traditional British high tea, Robinson's serves up baked desserts, including these colorful macaroons.
Robinson's Tea Room — Stony Brook
This cozy, antiques-filled tea room serves traditional British high tea (loose tea leaves with a diffuser), along with scones, finger sandwiches and light lunches. Freshly baked desserts, hot chocolate, and a selection of low-sugar desserts are also available. Children get their own teapot with every kids' meal. Reservations are recommended and can be made online.
RELATED: Old-fashioned ice cream parlors LI kids will love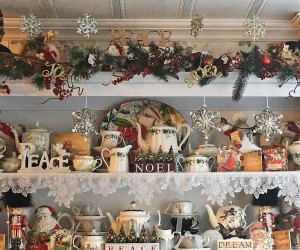 After savoring tea and scones, browse the gift shop at The Secret Garden tea room.
The Secret Garden — Port Jefferson
This spot is adorable and has a large menu. However, children must be 7 or older. Options include dessert tea, cream tea, snack tea, and, of course, a full afternoon tea. Reservations are recommended, and the cafe asks to be notified 24 hours in advance for dietary restrictions.
Photos courtesy of the restaurants/tea rooms
This article was originally published in December 2017. It was updated by writer Gina Massaro in December 2019.