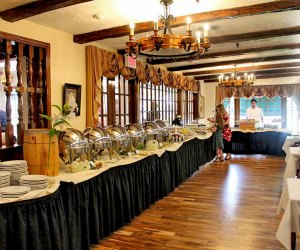 The Best Long Island Brunch Spots for Kids and Families
Brunch isn't just for adults anymore. There are plenty of fabulous brunch spots across Long Island where kids and families can indulge in delicious pancakes, fluffy eggs, and menus designed just for them.
From highchairs to kid-friendly cups to crayons at the table, these 12 brunch destinations in Nassau, Suffolk and the east end are designed to keep children happy while serving up some Instagram-worthy meals. And did we mention they're delicious, too?

While you're at it, check out our favorite Long Island spots to enjoy tea with your little one and these restaurants where kids eat free!
Nassau
Left Coast Kitchen — Merrick
1810 Merrick Road
It's hard to turn away from the immense griddle menu with choices such as Oreo cakes with whipped cream, vanilla cinnamon French toast, and PB&J French toast. Left Coast also offers a short stack in a perfect size for kids. If you do look away, check out the house plates that include chicken and waffles, a Southern favorite. Omelets are huge and made to order. This is a family-owned restaurant and owner/chef Chris Randell is a California native so you'll notice plenty of Cali influences—think fresh avocado, pico de gallo, and loads of flavor.
Milleridge Inn — Jericho
585 North Broadway
Children are as enthused about the all-you-eat brunch buffet as they are about the adorable village and stores you notice when you pull up to Milleridge. Get transported back in time and enjoy a buffet filled with eggs, freshly baked waffles, omelets, quiche, and more. For kids who aren't into brunch food, the buffet offers all-day specialties and a kid's corner with hot dogs, chicken fingers, and macaroni and cheese. Milleridge has plenty of highchairs, and the old-fashioned general store and bakery in the village are a big hit with little ones.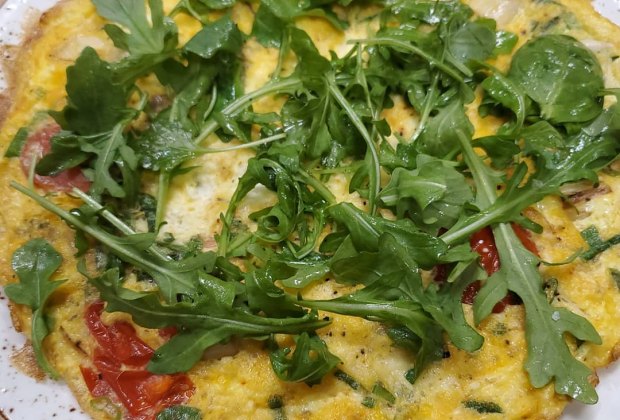 Rustic Root serves up gourmet fare for parents and kids alike.
Rustic Root Kitchen — Woodbury
7927 Jericho Turnpike
Word on the street is the French toast at this spot is to die for. Kids love dipping the skillet corn bread in the sweet local honey or indulging in the chocolate chip pancakes. Parents whose children have food allergies can relax: Rustic Root offers gluten-free and vegetarian options.
Suffolk
Maureen's Kitchen — Smithtown
​108 Terry Road
This good ol' breakfast spot opens at 6am so if you have early risers this is the spot for you, especially given the long waits later in the morning. The menu is extensive, sure to please even the pickiest little eater, but the pumpkin walnut pancakes are always a fan favorite. Kids love the relaxed atmosphere. Maureen's, which opened in 1985, was a contender on the show Diners, Drive-Ins, and Dives on the Food Network. Maureen's does not take reservations and only accepts cash; come prepared.
Munday's — Huntington
259 Main Street
Step back in time at this Main Street attraction that serves up large portions of pancakes, French toast, and Belgian waffles, all at prices that won't break the bank. For the truly old school, order an egg creme or malt, relax in the wooden booths, and check out the nostalgia adorning the walls. Kids enjoy visiting the soda fountain bar, plus the restaurant goes all out with decor for every holiday—great for keeping kids entertained while waiting for their food. Be warned, however: Munday's does not take reservations and there is almost always a wait, but it's worth it.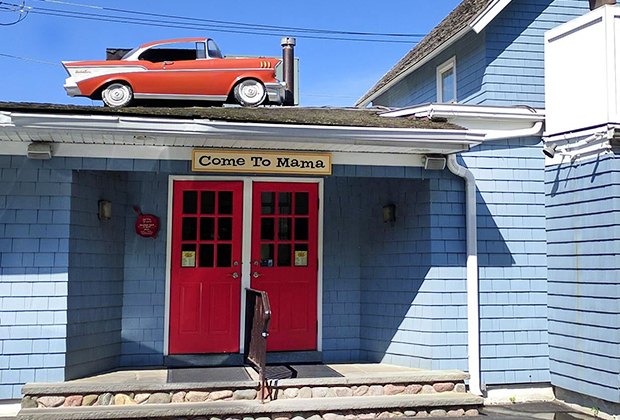 Sweet Mama's has a fun, retro vibe and good food to match.
Sweet Mama's — Northport
9 Alsace Place
The slogan at this North Shore favorite is "where everyone is treated like family." We believe it. Designed to resemble a 1950s kitchen, this three-room restaurant's menu features a Southern flair, including three types of Eggs Benedict, skillet and breakfast wraps, and plenty of griddle specialties. The kids' menu features favorites such as silver-dollar pancakes, French toast sticks, and eggs, all sized for little ones. It also offers a kid's dinner menu if you pop in later in the day. (Can't get to Northport? Sweet Mama's has a second location in Stony Brook).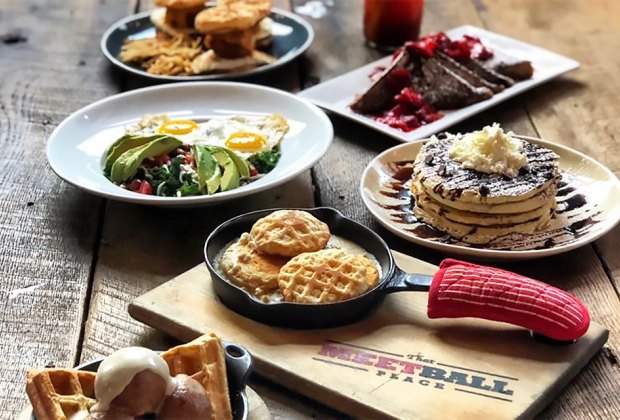 On Sundays, kids eat free at The Meatball Place in Patchogue.
The Meatball Place — Patchogue
52 West Main Street
Yes, this restaurant is all about meatballs but it also has a great brunch menu that includes chocolate chip pancakes, French toast topped with fresh fruit, crispy chicken and waffles, steak and eggs brunch skillet, and much more. Plus, kids eat free on Sundays with the purchase of any adult meal. Kids will definitely enjoy the everything pretzel that's served with cream cheese, garlic butter and jelly dipping sauces as well as the variety of signature shakes, including the Oreo Smash. For adults, a selection of special brunch beverages is available with or without the alcohol. (The restaurant also has a Farmingdale location.)
Toast — Huntington
62 Stewart Avenue
How does breakfast all day, every day sound? Toast offers traditional brunch fair such as omelets, Eggs Benedict, waffles, and more, but adds a seasonal menu depending on what's fresh, including croissant-stuffed French toast covered in fresh blueberry cream cheese. Kids can choose from plenty of pancake varieties, including berry, chocolate, and even Nutella. Same goes for the waffle choices. Might we suggest the cannoli-stuffed waffles? Toast no longer offers a vegan menu. Come early and be prepared to wait a bit as Toast does not take reservations.
The East End
Bird on the Roof — Montauk
47 S. Elmwood Avenue
Make sure to ask about the specials and check out the gift shop at this South Fork spot. Parents love the bottomless coffee and affordable pricing, while kids enjoy a large menu of eggs, omelets, and griddle favorites. Come early as Bird on the Roof is open only until 1:30pm, even during prime season.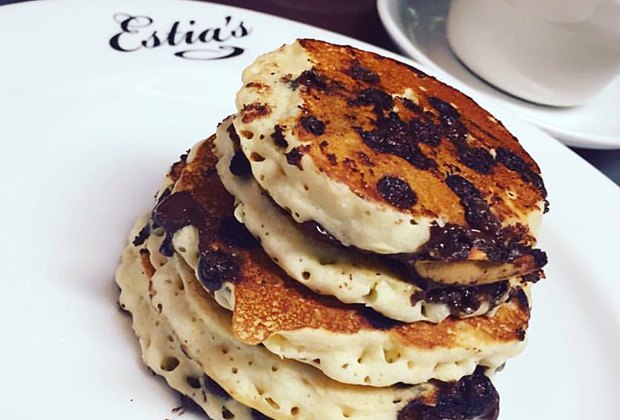 Chocolate chip pancakes are a big hit at Estia's Little Kitchen.
Estia's Little Kitchen — Sag Harbor
1615 Bridgehampton-Sag Harbor Turnpike
It's a far drive for some, but this Hamptons spot is known for locally sourced food at good prices with a Southwestern flair. It takes reservations and suggests calling between 2 and 3:30pm to make sure you reach someone. Its menu is huge with different types of omelets, pancakes, French toast, and breakfast platters. It also offers breakfast bowls and fruit, oatmeal, and fun sides, including guacamole, home fries, and more.
John's Pancake House — Montauk
721 Montauk Highway
Sure, John's offers all the typical breakfast fare, but a restaurant with the word pancake in its name better have a variety of them...and John's does. Kids flip for the ET Pancakes, covered in chocolate and peanut butter chips, and also the perfectly sized silver-dollar pancakes. John's also offers crepes, a fun alternative to traditional brunch fare, with options such as crepes stuffed with ham and cheese, chocolate, fruit, and more. For the kid who wants everything but can't decide, consider a side of regular or specialty pancakes.
Islandwide
The Cheesecake Factory — Bay Shore, Huntington, Lake Grove, and Westbury
While we try to keep chain restaurants off this list, The Cheesecake Factory is the food version of Disney World for picky eaters. Kids can order anything from eggs, pizza and pasta to mini burgers. Although The Cheesecake Factory only offers brunch on Sundays, there is always eggs on the menu. On Sunday, kids can get perfectly sized platters of eggs, pancakes, hash browns, and more. The restaurants are known for their delicious bread baskets, but those in the know ask for the kids' version, which features sliced pieces of pumpernickel and sourdough bread along with bananas and strawberries. These will keep kids smiling until the main meal arrives. The restaurants also have plenty of highchairs and boosters available, along with crayons.
Unless otherwise noted, photos courtesy of the restaurants.