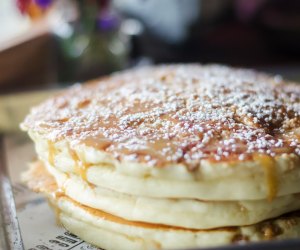 The Best Places for Pancake Breakfasts on Long Island
Nothing would seem to get kids more excited about breakfast than pancakes. Thin, fluffy, smothered, or sugared, this delectable treat delivers a sense of warmth and hominess that can't be topped.
So with National Pancake Day looming (March 12), we've rounded up our favorite pancake destinations in Nassau and Suffolk counties, and even one worth a journey to the East End. While you're sampling these scrumptious local bites, check out our guide to kid-friendly restaurants, including LI's best ice cream parlors, candy shops, and places where kids can eat FREE.
Nassau
Jam — Massapequa Park
This cozy eatery is open for breakfast and lunch, and you will flip for its flapjacks. Try them in flavors such as brie blueberry thyme, cinnamon bun, or cookie dough. Or sample their sumptuous specialty crepes with peanut butter or marshmallow fluff. Eggs Benedict are offered in six irresistibly different recipes. Breakfast scrambles offer egg white and vegan options.
JoJo Apples — Point Lookout
A short stroll from the waterfront, this tidy mom-and-pop eatery offers favorites such as lemon-ricotta pancakes and apple-stuffed French toast, as well as sides such as Canadian bacon and sweet potato fries. Beverages include hot chocolate and juices for kids, and flavored mimosas and sangria for parents. Check out the Super Sampler if everything sounds good and you can't just pick one item.
Mineola Diner — Mineola
Still in its original 1948 "dining car" building, the Mineola diner will not disappoint your sweet tooth or your wallet. Help yourself to classic airy pancakes served with bacon, blueberries, or apples and cinnamon. You can even get your favorite confection delivered right to your doorstep.
Swing The Teapot — Floral Park
Meander down Floral Park's Mayberry-style Tulip Avenue into the warm heart of an Irish family-operated dining room. Plain pancakes are served with real maple syrup or whipped cream, but there are also heavenly specialty stacks such as Warm Irish Stewed Apple or cranberry and toasted pecan. The menu features more than 30 tea flavors, including chai, oolong, coconut and plumb. All novelty flapjacks can also be made as "little pancakes," and are served all day.
RELATED: Long Island Restaurants That Offer Entertainment for Kids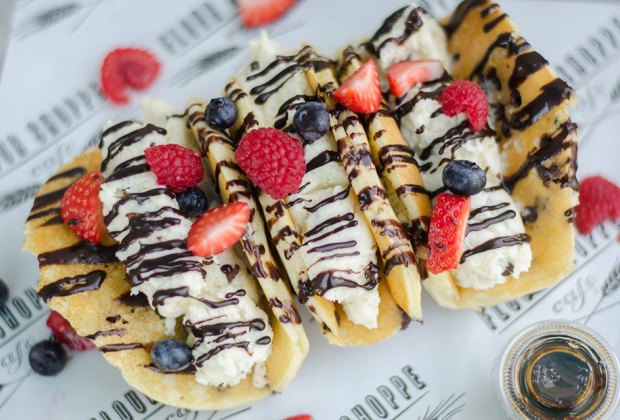 Specialty pancakes are a delectable treat at The Flour Shoppe Cafe in Rockville Centre.
The Flour Shoppe Cafe — Rockville Centre
Check out the dessert-inspired Sticky Bun pancakes (with vanilla glaze) and the Banana Crumb pancakes at this farm-fresh bakery and restaurant. The all-day breakfast menu offers sandwiches made with hearty delights such as country ham and baby tomato omelets, as well as lighter favorites such as Flour Shoppe granola parfait. Kids can jam on Bananas Foster French toast sticks, breakfast mac-and-cheese, or Nicky's cookie dough pancakes. Ask about its cooking and baking workshops for little ones on the first three Tuesdays of each month.
Thomas' Ham and Eggery — Carle Place
Fuel up for a demanding day of shopping at Roosevelt Field or at The Gallery at Westbury Plaza at this specialized diner. Cozy hotcake confections with blueberries, chocolate chips, and banana walnuts are served all day, along with skillets, scrambles, frittatas, and Belgian waffles that are extraordinary. Order off the specials menu and you won't be disappointed. Thomas' also creates old-fashioned milk shakes, egg creams, and ice cream sodas to quench kids' thirsts on sultry summer days.
Suffolk
Brownstones Coffee — Amityville, West Islip
You can shorten your queuing time for these fantastic coffee shops by using the Nowait app on your phone. A riff on the usual morning fare, French toast bites are served with Nutella, caramel, or strawberry dipping sauces that kids will squeal for. For more indulgent gobbling, try the Texas French toast or birthday pancakes decorated with sprinkles, cream cheese icing, and a cherry. Other options include cinnamon, fresh fruit, and bananas Foster. For less guilt, try the breakfast salad or green eggs and ham. Tots will dig the Brooklyn egg cream or root beer float, while moms and dads can savor espressos or white chocolate mochas.
RELATED: Long Island Cafes With Kids' Play Spaces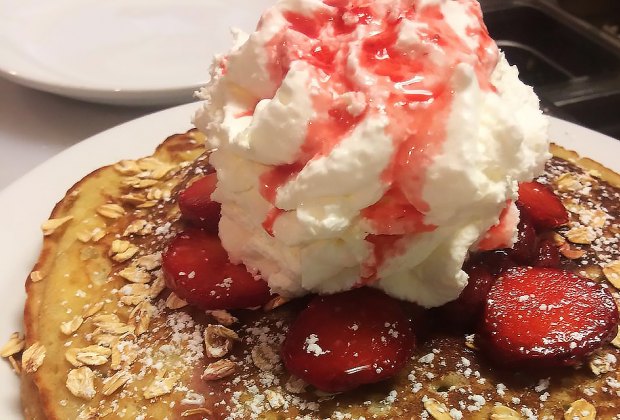 Treat yourself (and your kids) to the soaked oat pancakes with strawberry compote at Main Road Biscuit Co. on the North Fork.
Main Road Biscuit Co. — Jamesport
Everything is made from scratch at Main Road Biscuit Co, including pancakes, muffins, jams, cookies, and its signature biscuits. Try Grandma's Pancakes made with braised apples and pears, and fresh smoothies such as Berry Good or Almond Dream. Kids are also known to love the French toast and biscuits with jam. A two-minute drive down South Jamesport Avenue brings you to a waterfront playground on Long Island's quaint North Fork.
Maureen's Kitchen — Smithtown
This kitschy cow-themed restaurant boasts pancake flavors such as orange, pumpkin-walnut, and pistachio, along with cool shakes made with cookie dough, chocolate peanut butter, and cotton candy. Try its feathery eggs and delectable treats like cannoli-stuffed French toast. Call ahead to hear distinctive daily specials, and arrive early in the morning to avoid waiting for a table.
RELATED: Where to Find Decadent Desserts on Long Island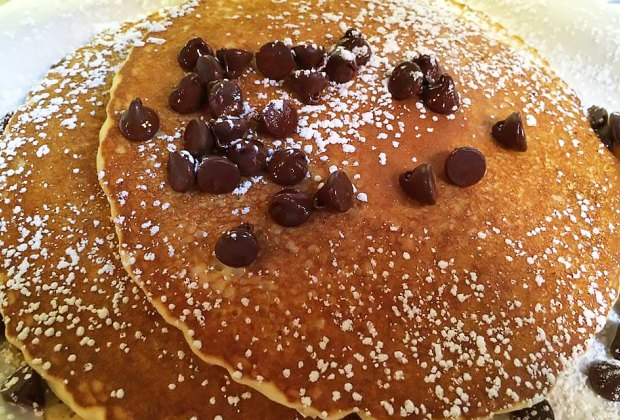 "Sail" over to Tim's Shipwreck Diner for his trademark chocolate chip pancakes.
Tim's Shipwreck Diner — Northport
On a sunny morning, enjoy the delightful seascape of Northport's Main Street from this cozy corner close to shops and waterfront playgrounds. Breezy porch seating affords views of the boats on the harbor in nice weather, and kids can run out to the beachfront jungle gym right after eating. The homemade blintzes, eggs Benedict, and fresh blueberry or chocolate chip pancakes all get standing ovations from customers. Try the multigrain pancakes for clean eating and Mickey Mouse pancakes for character-loving children.
Islandwide
IHOP — Throughout Nassau and Suffolk counties
For a timeless bite anywhere on Long Island, check out the fluffy treats at your local International House of Pancakes. Adults can feast on specialties such as Belgian dark mousse pancakes and Mexican tres leches pancakes, while kiddies will love junior sweets like cupcake pancakes or French toast with Nutella. For a limited time, eat all the pancakes you want with the purchase of any breakfast combo.
Photos courtesy of the restaurants and cafes