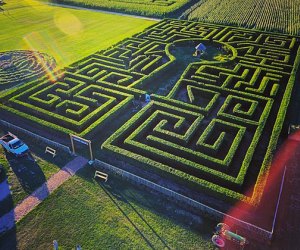 Corn Mazes and Fall Farm Fun for Long Island Kids
Fall on Long Island means cooler weather and shorter days, but it also means fun seasonal activities such as pumpkin picking, hayrides, and corn mazes, which provide fun for the entire family.
Wear boots or comfortable shoes when visiting these area farms, as fields can be uneven and potentially wet. And don't forget to stop by the farm stands for seasonal treats such as apple cider, warm apple cider doughnuts, and roasted corn after you've found your way out.
Inclement weather can mean scheduling changes, so click through to the listings or call ahead to be sure your chosen farm is open.
For more seasonal fun, check out our list of Long Island's best apple picking destinations.
Sign up for our weekly newsletters for more family fun delivered right to your inbox.
2020 update: Hicks Nurseries is not offering hayrides, children's games, farm animals, or its usual pumpkin weigh-off. Social distancing protocols are in place. Face masks are required.
Daily through October 31, Hicks Nurseries invites families to stock up on fall flowers and enjoy plenty of kid-friendly fun. Kids can pose for photos with the star of the season, Otto the Ghost, who also leads guests on a walk-through adventure entitled, "Otto's Fantastic Pet Parade."
RELATED: 25 Fall Day Trips for Long Island Families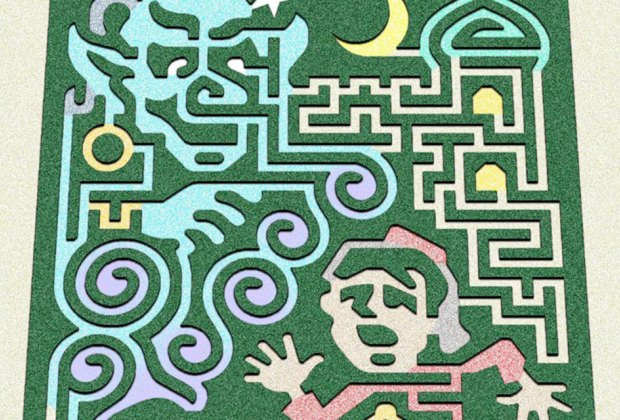 Race your friends and family through the maze at F & W Schmitt's in Melville.
2020 update: The annual fall festival begins Saturday, September 19, and an admission fee will be charged. Corn maze requires an additional fee, too.
The 7-acre corn maze at Schmitt's is open weekends beginning Saturday, September 19. Race your friends and family through the maze, or take your time enjoying the adventure. Schmitt's boasts the largest straw pyramid on Long Island, and little ones can continue the fun on the playground, jumping in inflatables, and enjoying pony rides. The whole family can enjoy pumpkin and veggie-picking together, and parents will enjoy purchasing fresh apples and fall decor. Hayrides at Schmitt's delight the young and old and are included with the $10 admission.
2020 update: While the big fall festival at Gabrielsen's is off in 2020, children can enjoy train rides and pumpkin picking weekends beginning Saturday, September 19.
Gabrielsen's Fall Festival includes attractions like a wagon ride, train ride, and live music. Kids can enjoy pedal tractors and a kiddie corn maze. The farm stand is ready for the season with freshly squeezed lemonade and roasted corn.
2020 update: Glover Farms will be open for pumpkin picking season this fall, though we've been unable to confirm what attractions, if any, are open.
Spend a day at Glover Farms and enjoy the attractions and friendly atmosphere. The 10-acre maze is impressive, and visitors can play bingo for a chance to win a pumpkin. Other attractions include hayrides, farm animals, and a picnic area to enjoy a packed lunch or indulge in the farm's roasted corn, fresh baked goods, and lemonade. The farm is open seven days a week.
RELATED: Best Apple Picking Farms on Long Island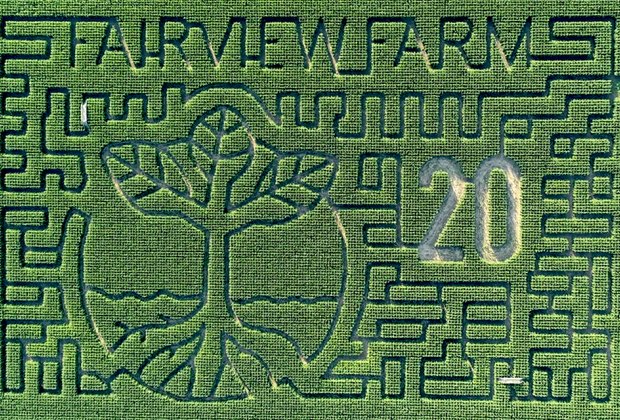 Wander through more than 2 miles of corn that is 10-feet tall at Fairview Farm in Bridgehampton.
2020 update: The 2020 maze open for the season and runs through Sunday, November 8.
Fairview Farm's "maize" is 8 acres of winding paths through corn that is 10 feet tall. Two bridges within the maze offer visitors amazing views of the surrounding farmland, Mecox Bay, and the Atlantic Ocean. The maze is stroller and wheelchair accessible. The farm also raises and sells heritage pork, pastured chickens, and ducks. Be sure to check out its farm stand for homemade multi-grain bread, jams, and rosemary biscuits!
2020 update: Fink's Country Farm is hosting its annual Fall Festival weekends only from Saturday, September 12 through Sunday, November 1. Admission is $17 for children ages 3-16; $15 for ages 17 and older. Children ages 2 and under enter for FREE.
Enjoy a day of country fun at Fink's Fall Festival September 12-November 1. Included in the admission price are weekend attractions such as the petting zoo, barn-o-corn, calf roping, jump pillow, live entertainment, hayrides, a corn maze, and character appearances. Additional fees are required for the kiddie train, corn cannon, pony rides, and U-pick pumpkins.
2020 update: Garden of Eve Farm is open and hosting a variety of themed weekends throughout the fall. Some require an admission fee.
Garden of Eve is known for its tasty organic fruits, vegetables, and flowers. October features special treats on Saturdays and Sundays, including fresh-squeezed lemonade, organic hot dogs, and craft beer. Kids can enjoy a pedal cart track, corn maze, and lavender labyrinth. Pick out some autumn mums and pumpkins while you are there.
2020 update: Hank's Pumpkintown opens for the season on Saturday, September 12. It offers more weekday hours this season for families to enjoy the farm in a responsible, socially distant manner.
Included in this "amusement park" of a farm stand are hayrides, tractor and corn trains, a huge inflatable jump pad, duck races, a combine slide, a pedal cart race track, a super long tube slide, and of course, three interactive corn mazes. This year, visitors can challenge themselves in the Finger Foods Maze, the Spooky Pumpkin Maze, and the Farm Scene Investigation Maze. Admission includes all attractions. Stop by the market afterward for roasted corn, apple cider, and homemade pies.
RELATED: Things To Do With Long Island Kids This Week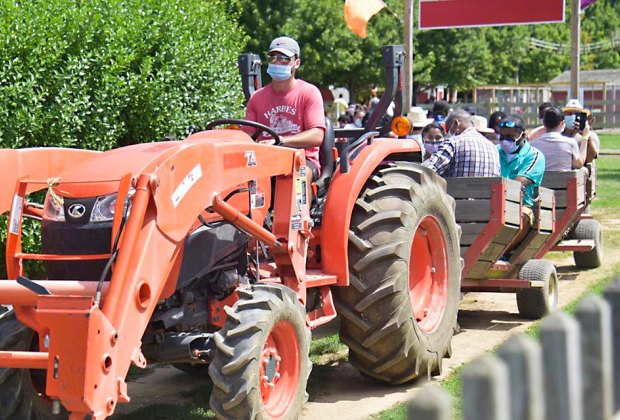 Hop on a tractor ride for fun on the farm at Harbes Family Farm in Mattituck.
2020 update: Harbes Orchard is opening Saturday, September 5. Harbes Farms Jamesport opens weekends and holidays starting Saturday, September 19, for pumpkin picking and fall activities.
Harbes Family Farm offers several corn maze options. Admission varies by the maze; check online for the most updated information on openings.
2020 update: Harbes Barnyard Adventure in Mattituck is open daily. Only credit cards are accepted at this time.
Think you have what it takes to find all the gnomes hidden in this hedge maze? Take the challenge at Barnyard Adventure in Mattituck, and stay for the pig races, jumbo jumpers, sports zone, and other fun family attractions.
2020 update: Lewin Farms corn maze is open for the season.
The corn maze at Lewin Farms is redesigned annually. Open on weekends and holidays in the fall, this 5-acre maze is challenging and fun for most age groups. Markers along the way let you know if you're going in the right direction. Completion time is about 30 minutes. An adult must accompany children. Pick-your-own apples, pumpkins, tomatoes, and peppers while you are there.
2020 update: May's Farm Stand is open for the season, but we have been unable to confirm its usual fall attractions.
Pumpkin picking season at May's includes tractor-drawn hayrides out to the fields. May's Amazing Corn Maze is another fall favorite; on the weekends, kids can spot Elmo at the farm, go on a pony ride, or get their faces painted. Enjoy cold apple cider and a hot, buttered ear of corn when you are ready for a break.
2020 update: Stakey's Corn Maze and hayrides are open for the 2020 season. The Scooby-Doo Bounce House will not be available; hand and arm painting take the place of face painting. The country store and flower house are both open.
Challenge yourself with Stakey's trivia-guided corn maze. Answer the questions correctly, and you are guided in the right direction. Answer incorrectly, and you find yourself walking in circles. But don't worry, getting lost is part of the fun. Relax after trekking through the corn maze with a hayride around the pumpkin patch. Kids also enjoy the Scooby-Doo bounce house and face painting. Visitors pay per attraction.
Photos courtesy of the farms
A version of this post was originally published in 2012. It is updated annually.