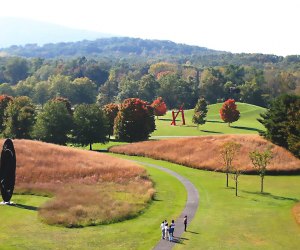 25 Fall Day Trips for Long Island Families
With Labor Day weekend upon us, it's the perfect time to start plotting your fall day trips. Whether your idea of a getaway involves brightly hued foliage or you're craving an adventure in the urban jungle, we've rounded up 25 fall day trips for Long Island families. Some are close by, while others require a few hours in the car or a ride on a ferry. No matter where you go or how you get there, you're sure to create some great memories.
If you're craving an extended adventure, consider booking one of these nearby destinations for a weekend visit.
We've got more seasonal fun in our Fall Fun Guide and plenty of all-season day trip inspiration in our Day Trips Guide for Long Island families.
Fall Family Day Trips Around Long Island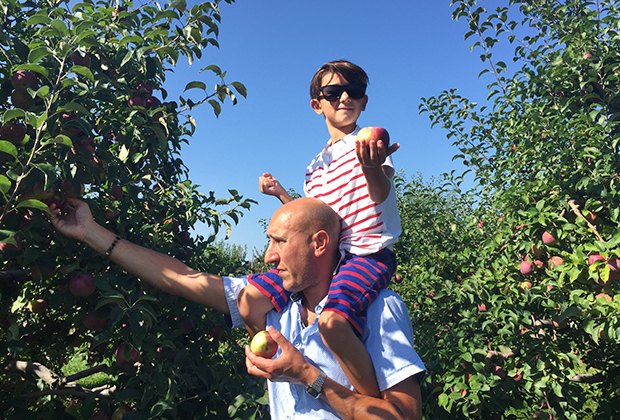 Apples are ripe for the picking on the East End. Photo by Jaime Sumersille
1. Explore a kid-friendly winery on the East End.
2. Hit up a nearby farm for apple picking.
3. Pedal along one of these five family-friendly bike paths.
4. Go for a fall foliage hike or explore one of these nature trails.
5. Explore the charming village of Greenport.
RELATED: 14 Weekend Getaways Near NYC For Families This Fall

The Great Jack O'Lantern Blaze is ready to welcome Long Islanders to its colorful display on Long Island. Photo courtesy of the Historic Hudson Valley
6. Make it a night trip and check out the brand new Great Jack O'Lantern Blaze when it debuts at Old Bethpage Village Restoration in October.
7. Hop on the ferry to Shelter Island and spend the day exploring this local gem.
8. Another fun ferry destination: Fire Island. Insider's secret: Because it lies on the Gulf Stream, Fire Island waters are often swimmable into October.
9. Step back in time with a visit to one of these historical sites dotting the landscape.
10. Head to the Village of Stony Brook, where you can explore the soon-to-reopen Long Island Museum.
11. Explore the Hamptons and Montauk now that the tourists have left for the season.
RELATED: Jersey Shore, Long Island Beaches Extend Seasons into September

Enjoy a socially distant walk along The High Line. Photo by Timothy Schenck/courtesy of Friends of The High Line
Fall Day Trips to New York City for Long Island Families
12. Book your timed-entry tickets in advance and hike The High Line.
13. If you make it to Hudson Yards, be sure to find the larger-than-life gorilla King Nyani for an ultra-cool photo opp. It's one of 16 pieces of public art to see now.
14. Be one of the first to visit Edge, the highest outdoor observation deck in the Western Hemisphere, which rises 102 stories above the city streets.
15. Explore the city's world-class museums, which are all reopening now and offering FREE admission deals and cool new exhibits.
16. Get lost in Central Park or walk the Brooklyn Bridge and explore its namesake park and brand new sprayground.
17. Hop a ferry to Governors Island for wide-open spaces, stunning skyline views, and an up-close look at Lady Liberty.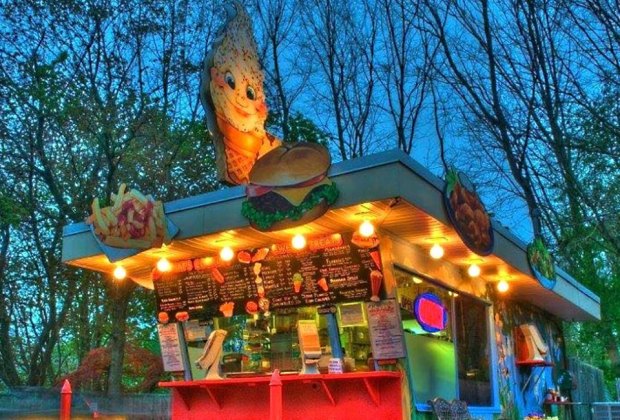 The King Kone stand is worth a visit for classic treats and family-friendly eats. Photo courtesy of the venue
Upstate New York Fall Day Trips for Long Island Families
18. Make sure you find the kitschy roadside King Kone for a sweet treat or visit one of these other ice cream shops in the Westchester area.
19. Cross a few items off our Hudson Valley bucket list.
20. Go on a scenic drive to take in the changing colors at these nine stunning spots.
21. Explore the newly reopened Storm King Art Center, which offers larger-than-life sculptures and beautiful fall foliage spread over a sprawling 500 acres.
22. Book a ride on the open-air Catskill Flyer and enjoy a scenic train ride through Ulster County.

Enjoy a drive-thru safari at Six Flags in Jackson, New Jersey. Photo courtesy of Six Flags Great Adventure
Fall Day Trips in New Jersey
23. Load the kids in the family station wagon for a wild drive through the Six Flags safari. Stick around afterward to explore the main park and its all-new Hallowfest.
24. Spend the day chasing waterfalls with one of these easy northern New Jersey hikes.
25. Fast-forward to winter and visit Big Snow to prep for the upcoming ski season.
A version of this post was first published in 2015. It is updated annually.