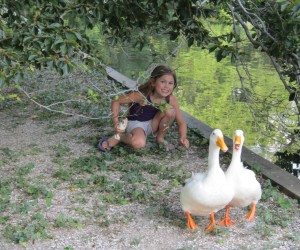 Long Island Day Trips: Stony Brook
Nestled on the North Shore of Suffolk County, Stony Brook is home to the large university that bears its name, as well as the hospital affiliated with it. But the real fun is in the village on the harbor. It's a fun place for families to spend an afternoon or day exploring the island's heritage, soaking up the sun on the shore, watching the wildlife, shopping, and museum-hopping. My family loves to spend a few hours there just walking around together in this beautiful area. It's a great place to bring the grandparents too.
Stony Brook Village Center is a quaint colonial-style village that is home to a handful of unique and upscale shops. It also houses the Educational and Cultural Center, an 8,800-foot building that offers activities, educational programs, and events for families and children.
Grab an Italian pastry or gourmet snack at Fratelli's Market Place, a salad at The Dish or a great meal at one of the other fine eateries.
What makes it worth the trip? The horse-drawn carriage rides that are available during many of their celebrations. Good old-fashioned fun!
Across the street, the harbor offers beautiful views of the water and marshlands, pretty landscaping and a small beach at the end of the parking lot. People clam at low tide and children can walk in the water easily. My kids absolutely love wading over to the "island" of sand and hunting for fiddler crabs.
Head a short walk down the road to what is informally known as the "Stony Brook Duck Pond" at Avalon Park and Preserve and watch the droves of ducks swimming or visit with the large swans. My kids can spend quite a bit of time watching the ducks and climbing over the giant tree roots. We love to walk the "boardwalk" over the pond and have walked through the labyrinth many times. Kids love the labyrinth. We've hiked the trails situated on eight acres even when I was eight-months pregnant. In summer, there's an abundance of beautiful cone flowers, black-eyed Susan's and wildflowers that spread each year.
The new Avalon Sky Lab is now open and promises to be a welcome addition to the preserve's astronomy programs. We can't wait to check that out since my 11-year-old son is getting very into planets and space. It offers portable telescopes and a permanent sky lab for frequent viewing opportunities.
The Grist Mill is listed on the National Register of Historic Places and offers a small store as well as a guided tour, in May through October on weekends, for a small fee. We really feel like we are in an old-fashioned era when in there.
Stony Brook also offers the Discovery Wetlands Cruise, a boat tour that lasts an hour and a half and runs from May through October.
If history delights you, the Long Island Museum of American Art, History and Carriages is a great place to spend a few hours exploring the heritage of Long Island. Its aim is to inspire people of all ages to enjoy the rich history and heritage of Long Island. With more than 40,000 items on permanent collection, programs, events, and gardens, plus a gift shop, there's a little bit of everything on the grounds, and it makes for an educational trip with the kids.
For lunch in Stony Brook, across from the train station, try the popular local chain restaurant Green Cactus Grill for very fresh Mexican food and indoor or outdoor seating. My kids and I just love the portions here and the fresh pico de gallo and chips are a perfect afternoon snack.
The Staller Center for the Arts, part of Stony Brook University, offers shows year round for adults and families in a beautiful theater, including its Not Just for Kids programming, which is a series of family-friendly shows. We've only been to one so far and even with seats up high, we could see it all well. It was a very nice theater and has some very cool events scheduled.
Take a drive to this great little town on the water and enjoy a relaxing and fun day with the family.

Updated by Jill Wolfson