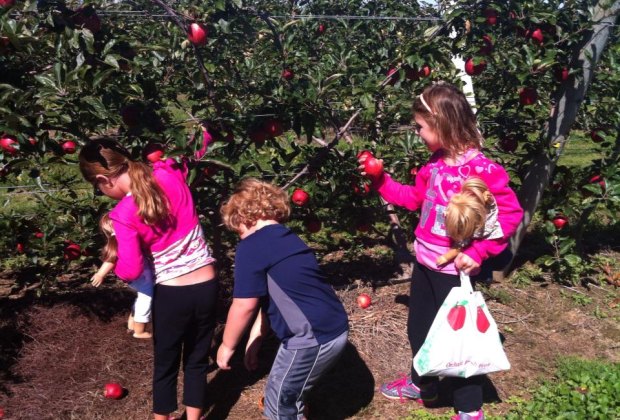 Top 10 Fun Things to do with Kids in the Hamptons & North Fork in the Fall
The fall is one of the best times of the year to plan a visit either to the Hamptons or the North Fork of Long Island— the air is crisp and cool, it's less crowded and there are plenty of things to do for families of all ages. So check out our Top 10 must-do activities in the Hamptons and on the North Fork this fall. And for more to keep you busy this season, be sure to visit our Long Island Events Calendar.
1. Go Pumpkin Picking
At just about every turn on the North Fork in the fall, you can find a a field full of pumpkins just waiting to be picked by all of your family members.Aside from offering pumpkin picking, many of these farms also offer a variety of activities, from bouncers to playgrounds, so you can make a whole day of your pumpkin picking adventure.
2. Camp
The fall is a perfect time of year to pitch a tent and spend some quality time with the family. The air is fresh and the East End campgrounds are quiet and peaceful. Just be sure to pack a few extra sweatshirts and jackets and the evenings tend to get chilly--but then again that is what a campfire is for.
3. Explore a Corn Maze
Finding your way through a corn maze is a rite of passage on the North Fork on Long Island, and there are more than just a handful to explore. You and your family could spend a whole day just finding your way through a variety of corn mazes. Make sure to wear your walking shoes, especially if you plan to get lost in there.
4. Visit the Montauk Lighthouse
Most people plan a trip to "The End" during the summer, but don't realize that the fall is also a wonderful time to explore the historic Montauk Lighthouse, especially since the season is over and it won't be as busy. The water may be too cold to jump in after your tour, but you can still go shopping at the local Montauk shops.
5. Take a Hike
Hiking on the East End of Long Island in the fall is something every family should do. Not only will you get some great quality time together, but you will also get to experience the East End's wooded areas full of fall color. And there are plenty of family-friendly hiking trails on the East End of Long Island.
6. Enjoy the Waterways
Sure, getting out on the water is usually a summer activity, but why not explore the North Fork's beautiful waterways in the fall, when the woodlands surrounding the waterways are full of splendid fall colors. You can rent a canoe or kayak for a few hours for your family, and even pack a lunch and spend a whole day out on the water.
7. Eat Long Island Corn
If you are planning to visit the East End this fall, you certainly can't leave without tasting the sweetest corn in the world. Long Island's corn is known to be some of the sweetest (we wonder if they sweeten it by adding some sugar to the soil!). Most farm stands offer hot, buttered sweet corn, but you can also take home a dozen to cook in your own kitchen.
8. Pick Apples
Aside from it's excellent sweet corn, Long Island's East End is also known for its great-tasting apples. There are more than a few orchards to explore on the East End where your children can pick a bushel or two to take home to make a fresh apple pie.
9. Learn about History
The East End's historical roots run deep and there are plenty of places to learn about the early history of the North Fork and the Hamptons. Consider taking the family to a historical site, such as the Hallockville Museum, the Long Island Railroad Museum or the East End Seaport Museum.
10. Stop at a Winery
It's hard not to leave the East End without stopping at one of the many wineries along the major thoroughfares. While many parents would be hesitant to bring their kids into a winery, there are actually a number of of East End wineries that are family-friendly, offering music, petting zoos and playgrounds.