Best of 2022 Long Island Kid Edition: Top Openings, Happenings, and Other Awesome Stuff We Loved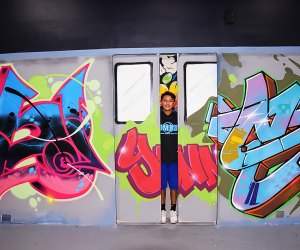 12/25/22
- By
James Smith
Long Island enjoyed several kid-friendly openings in 2022 that represented a modest return to normalcy for parents who longed for additions to the time-honored lineup of family-friendly experiences we've grown to love.
While it's true that, at times, we leaned on Long Island's beaches, farm stands, and libraries for another year of family fun, we also saw the doors open on new play spaces, hiking and biking trails, and family-friendly restaurants. Some of them were even FREE for the public to enjoy. And as these new venues opened, our parent-strong team of local writers was there to give you Mommy Poppins' first impressions.
Here is a look back at Long Island's kid-friendly openings in 2022 that inspired us, elevated us (literally), enlightened us, but mostly just brought us together. Check them out at your convenience and know we will be here in 2023 with the skinny on all family-friendly things to do on Long Island.
Subscribe to our newsletters to get stories like this delivered directly to your inbox.



WowMoms World offers perks for kids and adults at its new Mineola outpost. Photo by Gina Massaro
The Best Kid-Friendly Openings in 2022 on Long Island
We are always on the lookout for new play spaces. WowMoms World, which launched in the fall, offers parents a tranquil escape in bustling Mineola. Ideal for kids through preteen years, the space offers classes in the arts, science, and even cooking for young learners while allowing grown-ups to enjoy a hot or iced coffee, a snack, and most especially, a break from caregiving. Parents can take classes with their kids or with other adults, enjoy a little pampering, or step into a fitness class.
2. Graff Lab Studio – New Hyde Park and Holtsville
Another fall addition, Graff Lab Studio allows kids to become street artists for a day. But not to worry: It's all legal and contained within its walls. Kids learn spray painting, color layovers, dual-stencil use, and more of the tools employed by the latest generation of urban Rembrandts. Families can enjoy public workshops, private events, off-site events, birthday parties, and summer camps. Just think about the selfie possibilities.
3. Adventureland's Fireball – East Farmingdale
Local amusement park Adventureland debuted its first new roller coaster since 2015 this summer. And what an impression it made. Towering high above Route 110, Fireball, a sidecar coaster, gives riders a complete free-fall sensation for more than a minute. Riders, seemingly suspended in open air, endure five scream-inducing turns before returning to the safety of the launch station. Fireball is the third coaster at the 60-year-old park and is the only ride of its kind in North America. Try it if you dare when the park reopens in the spring.
RELATED: Top Kid-Friendly Openings in NYC in 2022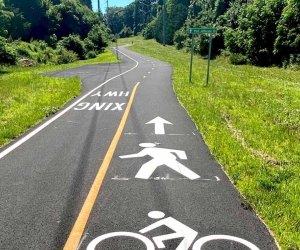 Hike, bike, or walk the North Shore Rail Trail. Photo by Jill Warshaw
A project in the works for a half-century launched this spring to the delight of hikers and bikers all across northern Suffolk County. The North Shore Rail Trail, which runs from Mount Sinai in the west for 10 miles to Wading River in the east, offers outdoor enthusiasts a safe space to walk, run, or bike. The trail, once a Long Island Rail Road corridor, passes through local recreational areas, schools, businesses, residential areas, and athletic fields. The trail runs parallel to State Route 25, allowing visitors to jump off at any point for easy access to towns and retail, and continues Suffolk's effort to become more eco-friendly.
Little ones in Nassau County have to be thrilled with upgrades made this Bellmore park that make the play space more ADA compliant. The upgrades, completed in the spring, include a new climbing structure, new slides, a new soft surface to replace the traditional rubber mats, and new ramps for enhanced wheelchair accessibility. Kids can also enjoy the land surfboard, obstacle course, new swing sets, and a spider web-like structure for climbing; future plans include a splash pad to complement the ice rink and outdoor pool.
This new museum is a tribute to the Patchogue-born SEAL and Medal of Honor winner who died in Afghanistan in 2005. Murphy, 29 at the time of his death, was the first American to win the nation's highest military honor since the Vietnam War. Five years in the making, the museum educates visitors on the history of the Navy; its special-forces wing, the SEALS; and the mission that cost the lives of Murphy and 17 colleagues. Visitors learn about the SEAL community through films, videos, and exhibits that honor and promote the values associated with this elite Navy unit.
Opening its doors in October, this museum serves as a complement to the Holocaust Memorial and Tolerance Center of Nassau County. The Jewish History Museum offers visitors insights into the many contributions made by Jewish people to the development of Long Island. Its initial exhibit "Earning A Living: 300 Years of Jewish Businesses on Long Island" features artifacts from more than 60 Jewish-established businesses, including the Fortunoff family, whose signature department store defined Long Island retail for more than six decades. Admission is FREE, but a donation to the Holocaust Memorial and Tolerance Center is suggested.
RELATED: Top Attractions in Long Island: Best Things to See and Do With Kids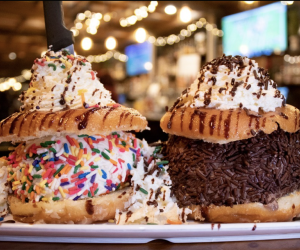 Doughwiches are Burgerology's over-the-top dessert with a glazed doughnut stuffed with your choice of ice cream, then topped with chocolate syrup and homemade whipped cream.
One of our favorite kid-friendly eateries added to its Long Island footprint in 2022. Burgerology, famous for its craft burgers and decadent desserts, opened a fifth LI location, on trendy Main Street in Farmingdale. Popular menu items include tacos, chicken sandwiches, mac and cheese, exotic salads, and, of course, 17 varieties of craft hamburgers. The location boasts a robust kids' menu and a host of signature cocktails for adults. Save room for the milkshakes and "doughwich" desserts—glazed doughnuts stuffed with ice cream.
The brainchild of the Long Island Airstream Experience, this is the first Polar Express "train" to begin and end on Long Island, and it is sure to satisfy your family's need for a unique holiday experience. The Polar Express is actually a traveling trailer redesigned to resemble a holiday railroad car like the one made famous by Tom Hanks in the iconic Christmas movie of the same name. Actors lead guests through a re-creation of the timeless story and hot chocolate and cookies are included before St. Nick arrives with gifts. It's not cheap, but for a once-in-a-lifetime holiday experience, can it be beat? Pro tip: Book now for holidays 2023! Bookings for 2022 sold out instantly when the venture was announced early last summer.
It was promised to us for 2022, but early 2023 is more likely. Still, we were thrilled to hear way back in January that the folks behind Gravity Vault in Melville plan to open a second adventure park on Long Island, this one on the site of Westbury's Samanea New York mall. The Empire Adventure Park, still under construction, will measure 36,000 square feet and feature trampolines, laser tag, dodgeball, ninja obstacle courses, a ropes course, climbing walls, a variety of augmented-reality games, and more. For perspective, that's twice the size of its existing Melville facility.
RELATED: 100 Things To Do on Long Island With Kids Before They Grow Up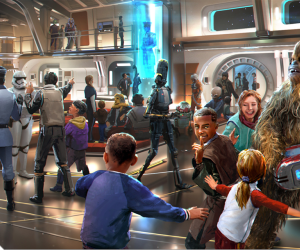 The Star Wars: Galactic Starcruiser Experience is an out-of-this-world family-friendly hotel. Photo courtesy of Disney
More Cool Kid-Friendly Openings in 2022
Our little family grew this year as we added San Francisco and Miami to the world of Mommy Poppins. Our two new sites join NYC, Long Island, New Jersey, Westchester, Connecticut, DC, Chicago, Boston, Los Angeles, Philadelphia, Houston, Orlando, and Atlanta. Also expanding: the cool things you can do on our site. We recently redesigned our search pages with a cleaner, easier-to-use design and new functionality. You can now find camps and classes on your local calendar of events and even buy tickets directly from our website—if an event has a red "Book It" tag, you can purchase tickets immediately, with no added fees. Oh yeah, in our spare time, we also created a new Earth Kids Guide and newsletter. Since the environment is one of the most critical issues facing our children's futures, we wanted to think and talk about new meaningful and fun activities to engage children and families with sustainability each month.
12. Sesame Place – San Diego, California
One of our LA writers visited the park before it opened and got the inside story on what kids love about the country's newest theme park. There's a water park element to the place, too, which is open year-round, and it's definitely one of the best amusement parks in the US for kids under 5.
This construction-themed adventure park opened this year near Houston. Here kids can operate the equipment instead of just watching: drive skid steers, dig dirt with excavators, and more. (Now New Jersey's Diggerland isn't the only construction-themed amusement park!)
This new, 50,000-square-foot, multi-level attraction at Kennedy Space Center opened in March. It gives space fanatics of all ages first-hand views of modern-day spacecraft such as a SpaceX Falcon 9 booster and Orion Crew vehicle. The main concourse features a 4D motion theater offering four different journeys. It's as close to outer space as you can get without paying for a ride on a tech billionaire's rocket.
At this one-of-a-kind hotel experience, guests stay aboard a starship for a two-night adventure. The journey begins on a launchpad with a simulated blast off into space. The launch paddocks land at the Halcyon starcruiser, where guests have their own passenger cabin complete with bunk beds and a galactic view. Young Jedis can get a sneak peek of the inner workings of the ship, encounter stormtroopers in the ship's atrium, wield a lightsaber, and navigate the ship with the crew's help. Cheap? No. An incredible once-in-a-lifetime experience? Yep.
This traveling show is one our Houston editor caught when it was there, and she said it's as if the books have come to life. The show moved to Colorado and will continue touring the US from there. The experience gives kids a chance to see, hear, feel, and experience their favorite settings from nine of Dr. Seuss' stories as they go from room to room to interact with each installation.
Did we miss any of your favorite new openings? Let us know on Facebook!