Newbridge Road Park Installs New Playground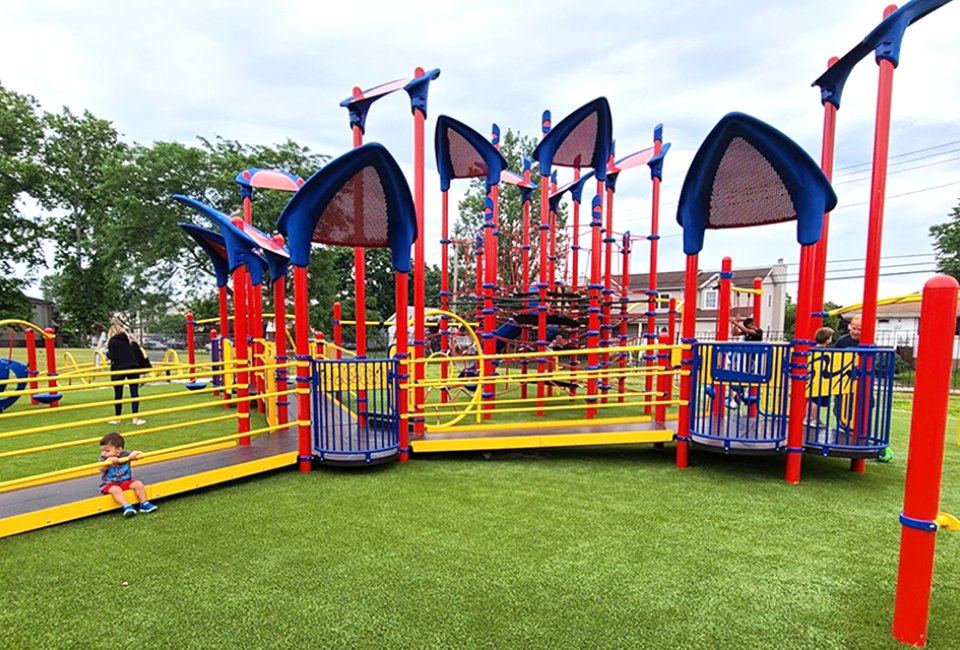 7/11/22
- By
Jaime Sumersille
The playground area of Newbridge Road Park in Bellmore has been upgraded, adding overdue updates to the first section of the park that greets visitors. A colorful new climbing structure was added in late spring and has been attracting everyone from toddlers to tweens since.
For more info on local outdoor play spaces, check out our rundown of Long Island's top playgrounds. Find more great outdoorsy things to do in our Summer Fun Guide, and be sure to bookmark our frequently-updated Long Island Family Activity Calendar.
Get our top picks for every weekend in your inbox—sign up for our newsletters.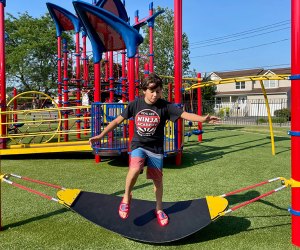 Catch a land wave and balance on the surfboard. Photo by the author
The playground at Newbridge Road Park is intended for kids ages 5-12. The space boasts unique climbing features and gyroscopic-shaped equipment designed to help kids develop balance, coordination, muscle endurance, and problem-solving skills. Kids will certainly build upper-body and lower-body strength while utilizing their core.
The brand new ADA-compliant playground by Landscape Structures features all sorts of amenities, including slides, climbing areas, and low ramps for partial wheelchair accessibility. Instead of rubber mats, the playground has a soft, spongey surface.
RELATED: New Garvies Point Playground in Delights Kids of All Ages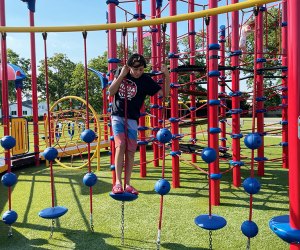 Climb through the obstacle course while maintaining your balance.
We've already visited this park a few times, and my 11-year-old son found several of the features challenging. If your kiddos are into ninja-like activities, then this park is for them. We first sat in a four-person spinning wheel as my husband pushed us around. Then my son performed balancing acts on a suspended surfboard, a tightrope obstacle course, and another obstacle course. He swung through two sets of monkey bars before ascending the playground's lone slide, which had a unique climbing ladder. Next were frisbee steps and maneuvering about a metal sculpture that resembled soundwaves, followed by climbing through circular tunnels. The four-level center unit had Swiss cheese-like holes throughout for kids to make their ascent. An independent hand-cycle station was adjacent to the unit.
Be sure to bring your water bottles, because a refilling station has been added. Take a break from the sun under a pavillion or in the neighboring, shady area of the park.
RELATED: Best Parks and Playgrounds for a Birthday Party on Long Island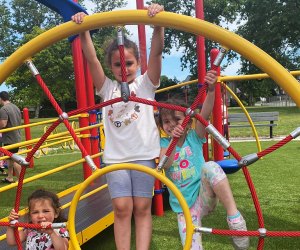 Weave around the web structure at Newbridge Road Park. Photo by Tammy Adler
In addition to the playground, new swing sets for ages 5-12 were installed with the same soft turf surface. These new installments are in addition to two existing playground structures that remain in good condition. There is a playground intended for ages 2-5 and a smaller swing set also intended for ages 2-5. A sandbox with sit-on sand diggers also remains.
A splash pad area will be coming to Newbridge Road Park in time for next summer. As of 2022, it is in the design phase.
Other Things To Do at Newbridge Road Park
Exit the playground and you'll find a canopy of trees for kids to bike around. Handball and basketball courts are also nearby, as are baseball fields. In the winter, there's one giant hill that's perfect for sledding. Year-round, folks can head inside to the Newbridge Ice Arena for some ice skating fun. It also offers plenty of public open-skate sessions, including on Friday nights. Youth hockey programs, private and group lessons, and birthday party packages are available. Also, enjoy skating lessons and introduction-to-hockey programs.
The Newbridge Road Pool is outdoors and open daily throughout the summer to Town of Hempstead residents, as well as others for an additional fee. They have two pools, swim lanes, diving boards, and a snack shop. The baby pool is about 10-inches deep and has islands with floor coverings that cushion tiny toes and hands. There's not much of a view, but there is room for strollers and chairs in the shade, plus the town also offers swim lessons here.
Head further down and there is a dog park with separate areas for both small and big dogs. The grounds are comprised of a paw-friendly synthetic turf surface and there are ramps, weave poles, hurdles, and other fun amenities. The park also has picnic tables, benches, shaded areas, and water fountains for both people and dogs.
Walk along the paved paths of this park with teetering toddlers, big kids on bikes, or push a baby stroller. The loop is approximately 1 mile.
Unless noted, photos by author
Places featured in this article:
Sign up for the Mommy Poppins Newsletter today!