The 16 Best Parks and Playgrounds for a Birthday Party on Long Island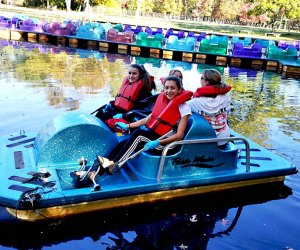 7/8/22
- By
Gina Massaro
Looking for the best parks to host a birthday bash on Long Island? Here are 16 fantastic options.
Birthdays: Our kids all have them. After deciding on the guest list comes the inevitable question of venues. Instead of heading to a party destination or organizing a party at home, did you ever consider a birthday party at a state, county, or community park?
Long Island is home to a host of beautiful and fun-filled parks that will make it a memorable day for your child. And a party at a park means less cleaning for you and no worrying about how many people can fit in your house.
Read on for our take on the best parks at which to host a birthday party. For more birthday fun, check out our Birthday Party Guide for Long Island Kids. Find more great outdoorsy things to do in our Summer Fun Guide, and be sure to bookmark our frequently-updated Long Island Family Activity Calendar.
Get our picks for every weekend in your inbox—sign up for our newsletters.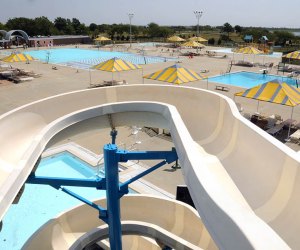 Take a birthday ride down the slide at Wantagh Park. Photo courtesy of Nassau County Parks and Recreation​
Best Parks for a Birthday Party in Nassau County
Cantiague Park boasts something for all ages. Older kids can enjoy ice skating, a dip in the pool, hitting a ball at the batting cage, or a round of mini-golf before heading to the picnic area for food and cake. Little ones can frolic at one of the park's two playgrounds. A Nassau County Leisure Pass is required to reserve one of the five picnic areas, as well as an additional reservation fee.
Teens can cool off in the pool with their friends, or hang out at one of the basketball or tennis courts. Young golfers might enjoy a round on Christopher Morley Park's 9-hole golf course before fueling up on cake. A large playground is perfect for young kids to burn off some energy before settling down at the picnic tables. In winter, ice skaters and hockey players can have their birthday at the outdoor ice rink, which is open from late November through mid-March. A Nassau County Leisure Pass is required to reserve one of the picnic areas, as well as an additional reservation fee. Unreserved picnic areas are available on a first-come-first-serve basis.
Entrance to this park is FREE. Cow Meadow Park's amenities are geared toward younger kids and nature lovers. The playground is great for preschoolers and smaller elementary-aged kids. Picnic areas are available for reservation, as well as a community room. The community room makes for a good first birthday spot, especially if your guests are mostly adults. The Freeport Recreation Center handles all bookings.
RELATED: Indoor Birthday Party Destinations for LI Kids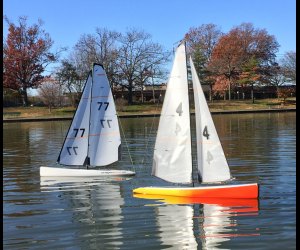 Take the radio-controlled boats at Eisenhower Park out for a birthday spin. Photo by Jaime Sumersille
There are plenty of activities to keep kids busy at an Eisenhower Park birthday party. Younger ones will love the inclusive playground, as well as the large splash pad in the summer. Mini-golf, a driving range, and of course, the ice rink will satisfy tweens and teens. A Nassau County Leisure Pass is required to reserve one of the picnic areas, as well as an additional reservation fee.
The big attraction at Hempstead Lake State Park is the historic, hand-carved, wooden carousel. State parks officials offer carousel room parties, which cost $350 for a three-hour rental. The package includes unlimited carousel rides for all party guests. The park also has picnic pavilion rentals. Kids can still ride the carousel, but it will cost $2 per ride. In addition to the carousel, there is a playground, fishing area, and hiking path. There is a vehicle entrance fee of $8 to get into the park. Empire Pass holders are FREE.
In the summer, there's nothing like a day at the beach, especially when you're a teenager. Lido Beach Town Park has picnic pavilion rentals, which include a grill. Sands, which is located next to Lido Beach Town Park, also has a pool. There is a $10 entrance fee for Town of Hempstead residents and a $50 entrance fee for non-residents.
This park underwent a complete renovation in 2019, making it a wonderful birthday party spot for kids. The playground boasts an outdoor classroom, which incorporates learning while playing. For young thespians and artists, there is a stage and performance area as well as a table for crafts. Town of Hempstead residents can enjoy this park and pool for FREE, but it is closed to nonresidents. Picnic areas may be available for rental.
Wantagh Park has an 18-hole miniature golf course, sure to delight both younger and older kids. There is a large playground, suitable for toddlers through teens, as well as soccer and baseball fields. The pool is open to the public, but fees are higher for nonresidents. The pool has a water slide as well as a splash area. Picnic areas are available for party rental. A Nassau County Leisure Pass is required to reserve one of the eight picnic areas, which include a sheltered area and barbeque. There is a reservation fee.
RELATED: The Best Birthday Party Venues on Long Island For Kids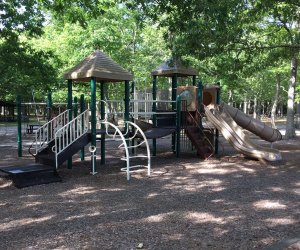 The shaded playground area at Indian Island County Park is a great location for a birthday party. Photo courtesy of the park
Best Parks for a Birthday Party in Suffolk County
Picnic tables overlook scenic Flanders Bay, and they include barbecues. If your kids or teens are looking for a unique sleepover party, why not try camping? The park can accommodate tents and trailers. It features fishing spots, hiking and trails, and a playground. Water sports such as kayaking and paddle boarding are popular here, but you must bring your own gear.
There is plenty to enjoy at Belmont Lake without having to apply for a permit. Pedal boats on the lake are a favorite, including the swan boats. There are two playgrounds; one for preschoolers and smaller kids, and one for larger children. There is plenty of picnic space and room to set up activities and games. A permit is required only for parties of more than 50 or those who are bringing alcohol into the park.
The pool is the major attraction at Byron Lake Park. There is a large water slide for kids over 42 inches and adults. There are shaded areas with tables and chairs for parents to hang out while the kids splash about. The kiddie pool has a climbing pad for little ones to sit and lounge on. The shallow end is separated from the slightly deeper end by a fence, allowing babies and toddlers a safer space to enjoy the water. In addition to the pool, there is a grassy area for games, a picnic area, and a playground. A form must be filled out 2 weeks in advance to secure the picnic rental space, accompanied by a fee. There are also Town of Islip resident and nonresident entrance fees for the pool.
Crab Meadow Beach features an accessible playground right on the sand, overlooking the Long Island Sound. There is also a restaurant, La Casa, along with a snack bar and concession stand open during the summer, a good option for feeding a small number of party guests. A covered picnic pavilion is available for party rentals. Beach passes are available daily or as a seasonal pass for Town of Huntington residents.
Elwood Park is home to Sgt. Paul Tuozzolo Memorial Spray Park, a playground and picnic area. The playground features apparatuses small enough for preschoolers to climb and explore as well as larger structures for bigger kids. There is plenty of green grass for playing ball or other fun activities such as sack races. The spray park is open to Town of Huntington residents only. Residents must have a recreation photo ID card. Picnic areas are available by reservation.
RELATED: Birthday Party Destinations for Active Kids on LI

Enjoy a birthday party surrounded by nature at Sunken Meadow State Park. Photo by Jaime Sumersille
Sunken Meadow State Park is unique as a beach surrounded by lush grass and trees. Picnic tables and pavilions are located on the grass, near a small playground and parking lot. There is a path through the park to get to the beach, though it's a bit of a trek. Closer to the beach, there is another parking lot with a large playground with multiple play structures for kids of most sizes and abilities. The beach has a concession stand, which also serves alcohol for adult guests. Planning a milestone birthday celebration? You might want to rent out the Pavilion at Sunken Meadow, operated by Lessing's. The high-end venue overlooks the boardwalk and beach.
Maybe the birthday kid or teen wants to have a party close to nature, but not too close. Consider a glamping sleepover at one of Heckscher Park's cottages. It offers one- and two-bedroom cottages that can be rented nightly. If you're looking for something more traditional, Heckscher Park has picnic pavilions available for rental that include barbecues. Your crew can enjoy swimming or lounging on the beach, fishing, hiking, or playing at the playground. There is a vehicle entrance fee of $8 to get into the park. Empire Pass holders are FREE.
Shipwreck Cove can accommodate smaller parties and is a great spot for toddlers, preschoolers, and younger kids. The picnic area is nestled between the spray park and basketball courts. There is also a large playground themed like a pirate ship, which includes a zip line running across the beach. Kids of all ages enjoy splashing at the spray park. There are three slides, including one for smaller kids; one tube slide; and a slide that can fit two people at once. Spray canons, dump buckets, and water-squirting fishes round out the park. There is also a concession stand and access to Benjamin's Memorial Beach. A form must be filled out 2 weeks in advance to secure the picnic rental space, accompanied by a fee. There are also Town of Islip resident and nonresident entrance fees for the pool.