The Best Indoor Ice Skating Rinks for Long Island Kids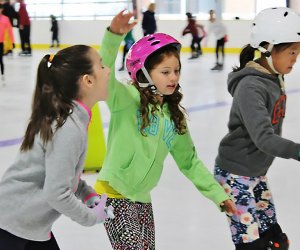 1/23/23
- By
Lisa Mancuso
Long Island's many awesome indoor ice skating rinks are a great place to take spirited toddlers, school kids, and teens during winter. This roundup of the best indoor rinks features information on open-skate times, group and private lessons, birthday parties, and sports leagues.
Most of these rinks offer skate rentals, and some are run by local municipalities that offer discounted fees for residents. Fees and times are accurate as of January 2023.
Of course, if your family prefers to do its skating outdoors, be sure to check out our guide to Long Island's best outdoor rinks. For more seasonal fun, check out our mega winter fun list, which has dozens of ideas for cold-weather activities, and tons of other helpful posts in our Winter Activities Guide for Long Island Families.
Indoor Ice Skating Rinks in Nassau County
There are a number of family-friendly skating programs for all age groups available here, including figure skating, private and group lessons, hockey, and more. Birthday party packages are available. The heated lounge features a snack bar and fireplace.
Public skating at this central Nassau rink is available every afternoon, including weekends. Nassau County residents pay $10 for adults and $6 for kids, with skate rentals at $5 each. Nonresidents pay $15 for adults and $15 for children. The rink also offers skating lessons, ice hockey camps and clinics, and speed skating.
This affordable venue has great events, including a Thursday after-school skating special from 3:30-4:45pm, when skate rental is free. Residents of Freeport enjoy discount passes and activity cards. Friday night Teen Night includes music and skating from 7:30-9pm. There are public skating sessions on Sundays from 1:00-3:30pm. During the Sunday session, one parent skates free with each child, and kiddie walkers are available. Wannabe hockey stars can begin with Arrows Youth Hockey, and figure skating lessons are offered by the Freeport Skating Academy.
4. Iceland – New Hyde Park
Iceland offers discounts for large groups and frequent skaters. Public skate sessions are on Fridays from 8:30-10pm; Saturdays from 12:15-1:45pm; and Sundays from 11:15am-12:45pm (kids only). Admission is $10 for ages 10 and under; $12 for everyone else. There is a $6 charge for skate rental. Birthday parties at Iceland cost $225 for the first 10 kids, and $20 for each additional child, with a minimum of 10 kids. Iceland also has a skating school, hockey clinics, hockey camps, and a figure skating club.
This former practice home of the New York Islanders is known for its learn-to-skate program for kids as young as 2 years old. It also has great hockey classes for "rookies" (ages 5-9). The Junior Islanders is among the best travel hockey programs.
RELATED: Best Family Sledding Spots on Long Island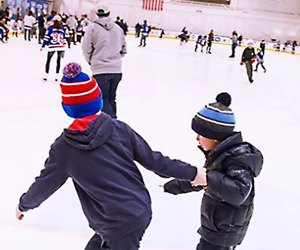 The City of Long Beach Municipal Ice Arena is open year-round, offering public sessions, learn-to-skate programs, hockey, and more.
Long Beach boasts a snack bar, an affordable party room, and multiple weekly public skating sessions. There is a learn-to-skate program on Saturdays and Sundays, with half-hour sessions for skaters of all levels ages 4 and older. During public skate sessions, residents and nonresidents of Long Beach pay $10 and children pay $8. Skate and walker rentals are $5.
Open 7 days a week, this rink is home to Hot Shot Hockey, Long Island's largest fire and police hockey league. It also offers plenty of public open-skate sessions, including Friday Nights. Youth hockey programs, private and group lessons, and birthday party packages are available. Skating lessons and introduction-to-hockey programs are also available.
Skate where the Islanders now practice at Eisenhower Park's state-of-the-art facility. Public sessions are usually from 1-3pm on Saturdays and Sundays, with occasional evening hours. Fees are $15 for everyone and skate rental is $5. The rink has a great pro shop, and birthday parties–which include pizza, soda, and skate rentals–can be booked. Northwell Health Ice Center also has its own skating school and hockey leagues.
RELATED: Winter Day Trip Ideas for LI Families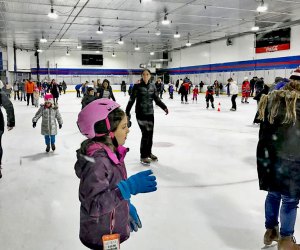 The Port Washington Skating Center is ideal for beginner and novice skaters.
Every Sunday is Family Skating Day at this North Shore rink from 2:15-3:45pm. Skating school and lessons, open-skating sessions, youth and adult hockey leagues, and a variety of party and celebration packages are available.
RELATED: Indoor Party Destinations for LI Kids

Youth hockey leagues play year-round at the Town of Oyster Bay facility. That's former New York Ranger Ron Duguay at left.
This regulation-sized rink is located at Bethpage Community Park and is open year-round. Skate rentals, public sessions, group lessons for all ages, youth hockey programs, and birthday party packages are available. Figure skating lessons are offered through the RINX Skating School.
Indoor Ice Skating Rinks in Suffolk County
This Adirondack-style structure in the Town of Huntington is home to a fabulous rink with a concession stand. Public sessions on weekends run from 11:15am-12:45pm, and again from 1-2:30pm. There are open-skating sessions on Thursdays and Fridays from 3:45-5:15pm, and a Friday session with a DJ from 8:15-10:15pm. The rink offers an ice hockey rec league and skating lessons.
RELATED: 100 Things to Do with LI Kids Before They Grow Up

You'll find not one, but two indoor rinks at The Rinx in Hauppauge, the largest indoor skating facility on Long Island.
At this Town of Islip facility at Hidden Pond Park, enjoy two sheets of NHL regulation-size ice, party packages, skating schools, hockey camps, and snack bars. Open during the week from 12:30-2:30pm and 4-5:45pm Tuesdays through Fridays. There's also a Friday "Skate Night" from 8:15-10:15pm and weekend sessions are from 12:00pm-3:00pm.
RELATED: The Best Activities for LI Teens and Tweens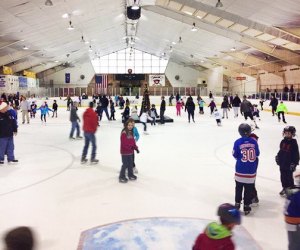 Family-owned Superior Ice Rink offers public skating, hockey, learn-to-skate programs, and more.
Public sessions at this modern facility are between 12:30-2:00pm on weekends and on Friday nights from 8:30-10:30pm. The $15 Friday-night session includes a DJ. General Admission every other session is $10 for everyone Skate rental is $5. Parties are $225 for 10 children and include pizza, skate rentals, and paper goods. Check out the family-owned skate shop, where you can get your skates sharpened.
Photos are courtesy of the facilities.