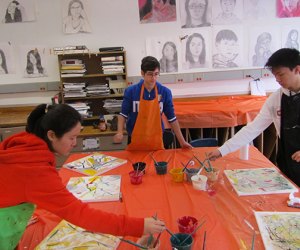 Teen GoList: Best Activities and Destinations for LI Kids
When your kids are young, it's easy to keep them entertained. From mommy-and-me classes to indoor play spaces and outdoor parks, there are plenty of things to do with young kids on Long Island. But what about the older kids—the ones who say "I'm bored" way too often?
No worries, we've got you covered with a roundup of places and activities in Nassau and Suffolk sure to keep tweens and teens happily occupied (and so much easier to live with.) Some activities are FREE; some charge per class or workshop series; but all are guaranteed to get your kids off the couch and away from the electronics.
So, the next time they start to whine about having nothing to do, hand them this list and calmly walk away.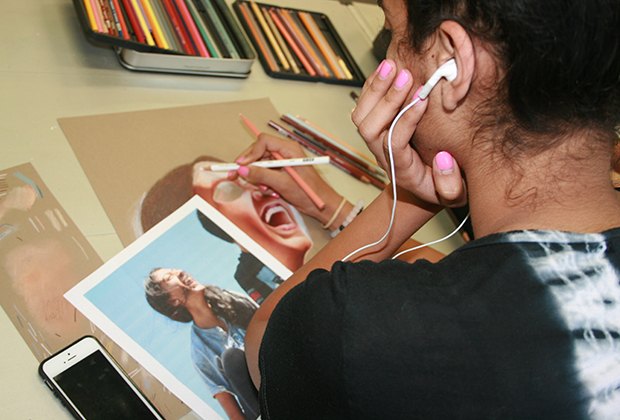 Young artists can refine their skills at the Art League of Long Island.
Nurture their inner artist
Whether they're aspiring artists or just want to try something different, you'll find a diversity of places around Long Island that offer classes and workshops in drawing, painting, photography, and more. The Art League of Long Island offers young artist and teen classes all year 'round, including drawing & painting, Anime/Manga, cartooning, ceramic art, photography, and fashion and sewing. The Smithtown Township Arts Council is another great venue for art classes for teens and tweens. Other places to check out include The Art Studio, which features fine art classes.
Mingle with authors
If your tween or teen is passionate about writing, bring them to this year's Authors Unlimited event on Saturday, April 13 at St. Joseph's College in Patchogue. Eight authors of young adult and middle school books will be on hand to discuss the writing process and offer advice to aspiring authors at various workshops. Bonus: kids can earn community service credits simply by attending this free event. Books will be available for purchase and authors will be signing books at the end of the day.
Just breathe
Yoga classes are the perfect way for your teen or tween to strengthen their bodies, learn relaxing breathing techniques, and find some inner peace after a stressful day of classes or a tough day on the soccer field. Revolution Yoga in Rockville Centre has plenty of classes for older kids, including any of the Gentle and Rev Flow classes as well as a number of upcoming family yoga classes; Simplicity Yoga Studio in Kings Park runs a tweens' yoga program on Friday evenings; and Om Sweet Om Yoga in Port Washington should resume Saturday afternoon sessions once school ends. At Breathe N Flow Yoga's two Nassau locations, tweens can learn the basics of yoga during weekly kids classes.
No escape
Escape rooms, where a group of people are 'locked' in a room for an hour and have to figure out how to get out, are a fun way to challenge your tween or teen and their friends to use their minds and not their phones. Of course, they aren't technically locked in but they do have to work together to figure out the clues that will help them escape. You'll find a slew of escape rooms all around Long Island with uniquely decorated themed rooms that target these age groups. Great for developing team-building and problem-solving skills, they are also a very cool birthday party venue.
Explore LI's museums
From art to aviation and everything in between, Long Island's museums offer many opportunities for young adults to explore the Island's diverse culture and history. The Long Island Children's Museum (LICM) in Garden City has a number of programs targeting teens and tweens, including its Green Teen, where high school students work with the museum's youth STEM coordinator to develop interactive nature and environmental programs. At the Nassau County Art Museum in Roslyn Harbor, drawing, animation, and other classes for young artists are offered through its new Manes Family Art & Education Center. The museum also offers programs for children and young adults (up to age 21) with autism. The Vanderbilt Museum and Planetarium in Centerport offers plenty to interest older kids, including the mansion and Natural History and Cultural Artifact galleries. Shows at the planetarium that are sure to grab their attention include Stars: PowerHouse of the Universe; Incoming! Asteroids, Comets and the Hard-Hitting Stories of Our Cosmic Origins; Night Sky, Live; and laser shows featuring the music of Beyoncé, the Red Hot Chili Peppers, and more. Another museum worth exploring is the Cradle of Aviation in Garden City, which has a number of programs for tweens, including STEM & Space Summer Camp.
RELATED: Technology and coding for teens and tweens at The Gaming Center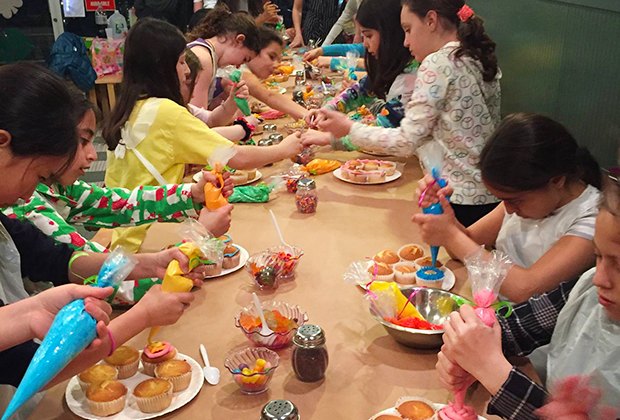 Teens can learn cooking techniques and kitchen skills at What's Cooking in Oyster Bay.
Get cookin'
If your teen or tween has shown interest in cooking family meals, a cooking or baking class could be right up his or her alley. At What's Cooking in Oyster Bay, kids learn skills at classes and workshops throughout the year. Its International Cooking class lets aspiring chefs learn how to make an appetizer, main dish, and dessert from a new country each month. It also offers a variety of culinary camps and workshops during the summer and school breaks. If baking is more your child's thing, check out the hands-on classes at Baking Coach's locations in Huntington and Amityville. At Let's Cook, Long Island in Port Jefferson Station, your tween can learn about nutrition and healthy cooking. Find more places where kids can learn cooking and baking techniques here.
Head to the Y
Let teens know there's more to YMCA than the popular wedding song. At the YMCA of Long Island, which has locations throughout the Island, Pre-Teen Centers offer FREE activities such as swimming, fitness, sports, a game room, arts and crafts, cycling, and dance and Zumba classes for kids in fifth to seventh grades. AtTeen Centers, it's time for the eighth to 12th-graders can have some fun, including swimming, a fitness center, board and video games, dance classes, and more, all FREE. The Y's Leaders Club is for seventh to 12th-graders and focuses on team-building, fund raising, volunteer work, and special events. There are sports programs, swimming, and other activities available.
Beyond books
Your local library is a treasure trove of FREE activities for teens and tweens. From volunteer activities to learning new skills and meeting new people, there's no limit to what they can discover at the library. Encourage your child to check your library's website to see what's happening. And, don't forget, many libraries offer FREE passes to local and city museums and plenty of other perks, too.
RELATED: The best destinations for LI kids to learn about diversity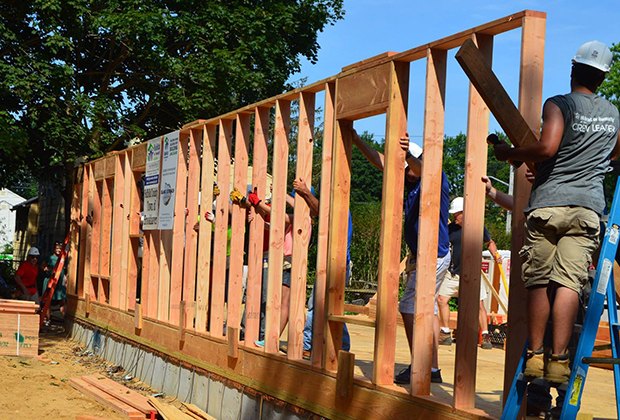 Teach your teen or tween the value of community service at Habitat for Humanity of Suffolk.
Giving back
It's no secret that middle- and high-schoolers can be, shall we say, a bit self-centered. It's not a bad idea to teach them the importance of giving back. (They can also earn those much-needed community service hours for school and church programs.) Habitat for Humanity of Suffolk teams with local high schools in its Student Build program (kids must be at least 16), so you child's school might already participate. If not, your teen can help start it up in his or her school. For kids younger than 16, there are other ways they can get involved, including serving meals to onsite volunteers, putting together gift baskets for Habitat families, or participating in workshops specifically designed for kids ages 8-15. Long Island Cares is always looking for volunteers to join its mission of feeding the hungry on Long Island. Its Student Volunteer Program is geared for kids in middle and high school while its Kids United Against Hunger program targets kids in third to eighth grades and includes a Hunger 101 workshop, a tour and a community service project.
If your child appreciates the vibe of New York City, check out our cool activities for teens in NYC.
Top photo: Kids can explore abstract techniques in LICM's de Kooning Abstract Art program. Photos courtesy of the programs/classes