Where To Go Axe-Throwing With Kids on Long Island
If you've got an axe to grind, consider a visit to one of these Long Island axe-throwing spots, which boast plenty of action-packed fun—and target practice—with their namesake weapon, plus archery, football, bowling, and more. An outing at one of these venues makes an ideal adventure for active, competitive families with big kids who have outgrown more traditional play spaces.
Best for teens and tweens, read on for details on our recent visit to NY Axe, plus two other local axe-throwing spots, plus learn about the safety and training you can expect that will have you wielding and tossing an axe like a legit lumberjack (or lumberjill!). Find more fun places for the family to play together in our Guide to Sports Centers and Fun Zones for LI Families.
Editor's note: While we are trying to promote safer activities that occur outdoors or with social distancing guidelines in place, please keep your family and others safe by always wearing a mask and maintaining appropriate social distancing. If you arrive at a venue that appears too crowded, try using the "nearby" search feature on our Event Calendar to find something else to do.
NY Axe – Farmingdale
The only space on Long Island that utilizes a digital range, NY Axe allows guests to change the throwing field. Instead of the traditional targets painted on wood, this experience can project targets and games like tic-tac-toe, Connect 4, and more onto the throwing area. There are 10 digital lanes in all, plus a private room that can accommodate up to 16 people and has four lanes. An "axpert" teaches you safety and throwing techniques. Two axe sizes are available to accommodate smaller hands. If you're planning a party, there's a separate space with a big-screen TV, a modular dance floor, and lounge-style seating. "Safe archery" (with Velcro-style tips) is in the works, plus food service. Axe-throwing is limited to guests over the age of 11.
The axe experts at Axe Kicking Entertainment are eager to share their throwing techniques and prowess with guests. They'll have you hitting a bullseye in no time. This unique space also offers Football Bowling (toss a football at—you guessed it—bowling pins from 33-feet away), Stick-It Archery (channel your inner Robin Hood with these magnetic tipped arrows that have Velcro-covered discs), Plate Smashing (throw baseballs to see if you can smash 10 plates in less than 15 minutes), and Game Show (get your buzzer hands ready for this live experience with unpredictable, but family-friendly games). All experiences are private and for your party only. Families with children ages 8 and older can enjoy some or all of the activities offered; axe-throwing is for ages 10+ only.
With four lanes of axe throwing, guests face off against each other and try to throw their axe into the target. Each lane can accommodate up to eighth players. Book a 55-minute session with an axe coach. Food and beverages are available for purchase. There is also laser tag on site. Combo packages are available for both activities. Ages 14+ only.
RELATED: Go-Kart and Slot Car Racing Destinations for LI Kids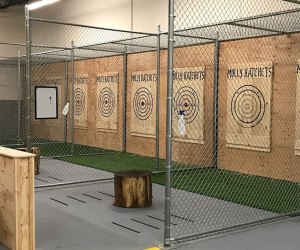 Book a lane at Molly Hatchets to try your hand at ax-throwing. Photo courtesy of the venue
An instructor teaches you the ins and outs of axe throwing at Molly Hatchets. Guests can rent a half or full lane to toss 28-ounce axes at painted wooden targets. Groups of eight or more get a private lane and two targets. Molly Hatchets hosts private events and birthday parties as well. Walk-ins are welcome, but reservations are preferred. Axe-throwing is for ages 10+.