Online Robotics Camp
Young Gates - Kids Online Personalized Classes

Artificial Intelligence with Scratch Online Camp
Young Gates - Kids Online Personalized Classes

Spark Math: Free Trial Class
Virtual
Sign up for our free newsletters.
Go-Kart and Slot Car Racing Destinations for LI Kids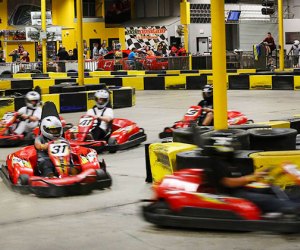 2/12/19
- By
Jaime Sumersille
Want to go for a spin? Then check out one of Long Island's go-kart or slot car tracks.
Parents of kids who love being in the driver's seat will love what these high-speed destinations offer. Inexpensive and thrilling, they're ideal for kids who refuse to take a back seat to anyone. Gentlemen (and ladies), start your engines.
For more indoor fun, see our guide to play spaces and fun zones. If your kids prefer to pedal, our guide to Long Island biking trails offers great rides in Nassau, Suffolk, and the East End.
Be advised: Most destinations have minimum height requirements; click through for those and other safety requirements. Some outdoor tracks follow local school district calendars so double-check before heading out.
Nassau
RPM Raceway — Farmingdale
40 Daniel Street
At this indoor go-kart racing park, up to 10 child and adult drivers at a time compete in side-by-side racing on two separate, quarter-mile tracks. Races last about 10 minutes. The facility also features an arcade, pool tables and a race simulator. Annual memberships are available. Five party rooms are available for rent. NOTE: Kids must be at least 6 years old and 4 feet tall to race junior go-karts. To race on the adult karts, kids must be at least 4 feet 10 inches tall.
Slots-A-Lot Raceway — Franklin Square
1100 Hempstead Turnpike
Slots-A-Lot offers three 150-foot tracks. Prices vary by track. Cars and controllers are available for rent. Items and accessories are available for purchase. Birthday party packages are also available.
RELATED: Bounce Houses and Trampoline Parks for LI Kids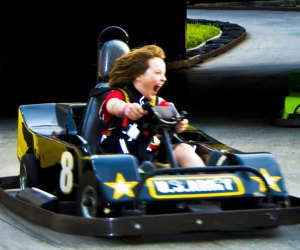 A race around the go-kart track at Tiki Action Park is sure to provide an adrenaline rush. Photo courtesy of Tiki Action Park
Suffolk
Boomers Long Island — Medford
655 Long Island Ave.
The quarter-mile track features hairpin turns, banked curves, and straightaways. Each go-kart session runs for five minutes. The park also features a miniature golf course, kiddie rides, and an arcade with more than 50 state-of-the-art video games. Height requirements: 58 inches for drivers, 40 inches for passengers. Drivers must be at least 18 years old to ride with a passenger.
Country Fair Entertainment Park — Medford
3351 Route 112
Up to 25 racers per heat can compete on this course. Two mini-golf courses, batting cages, a driving range, and a sheltered picnic area are also on the grounds. Height requirements: 60 inches for drivers (55 inches for rookie cars); those under 55 inches can ride with a licensed adult.
Karts Indoor Raceway — Ronkonkoma
701 Union Parkway
This 27,000-square foot go-kart facility has two indoor tracks. Karts boast four different speeds. Drivers must be at least 52 inches tall; passengers must be at least 40 inches. Also enjoy a laser maze, rollerball, bowling, a game room, and a cafe on site. Memberships are available.
Port Jefferson Raceway — Centereach
1021 Portion Road, Suite 12
Kids can slot-car race for 15, 30, or 60 minutes on three tracks, each eight lanes wide. Weekly kids racing times are offered. The raceway also offers a Smart Kids program, where students with good grades earn free racing time.
Tiki Action Park — Centereach
1878 Middle Country Road
This outdoor track offers single and double go-karts (58-inch minimum height requirement for drivers, 40-inch minimum height requirement for passengers). Racers can get 30- or 60-minute unlimited passes. Weather permitting, Tiki Action Park opens for the season each March.
This post originally published in 2016.