Topgolf Brings Family Golf Fun to Long Island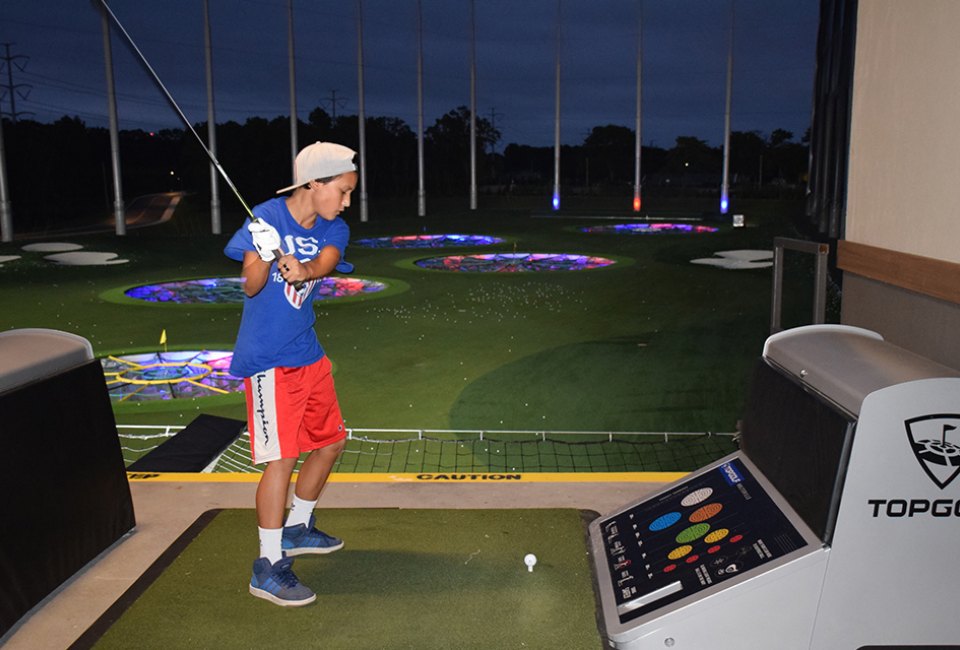 10/4/21
- By
Jaime Sumersille
Long Island has finally joined the Dallas-based Topgolf family with a location in Holtsville. Topgolf, a tech-driven place with 102 climate-controlled bays, boasts a seasonal chef-driven menu, drinks, live music, and year-round programming in a three-story outdoor space. Kids can tee off for a digitized round of golf, and while a hole-in-one isn't guaranteed a visit full of excitement is!
Long Island has plenty more sports-centric fun zones for your competitive crew. Or try a round of mini golf instead!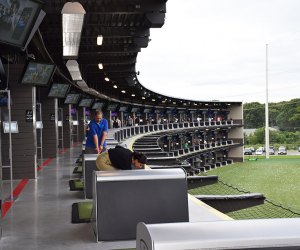 Topgolf features enough driving stations to delight young and old.
The vibe is swanky at Topgolf. We definitely have never visited such an upscale driving range. This is so much more. Whether you choose a bay with couches or high-tops, these bowling alley-esque sites provide semi-private areas for you to tee off. Up to six people can join in the fun for pay-in-advance increments of 30 minutes. We took advantage of this option to add more time as we were having so much fun. Not to mention there was a score to settle!
RELATED: Par-3 Golf Courses on Long Island Where Kids Can Learn the Game

Each bay comes equipped with clubs, but of course you can bring your own.
There are a set of men's and women's clubs at each area. Of course, you can ask for junior and toddler clubs at the front desk, too. We were quickly greeted by a bay host who explained the touchscreen play system, safety rules, and overall lay of the land. There was a big-screen, vertical television in our bay as well for scorekeeping, and for watching sports. We noshed on pretzel bites with two dipping sauces, crispy and creamy macaroni, cheese balls, and hot wings.
RELATED: Go-Kart and Slot Car Racing Venues on Long Island

You can play a competitive game of target golf or just practice your swing.
Choose a competitive game, full round of golf, or just work on your swing. We enjoyed a target-based game that incorporated point values. We each had 20 balls to reach a top score and this mamma was at the top of the podium. The balls, which are delivered to the bay with a sweeping motion activation, are chipped. The WiFi signal relays the landing area and your score so there's no possibility of cheating (and no arguing siblings!) While we visited on a Thursday evening, the entire place was bumping. Online reservations are available, but sometimes hard to snag. If you have to wait a bit for a bay, there's a pro shop inside and a large bar/restaurant area. Deal alert: Tuesdays are half-price. The golf range lit up at night is quite the colorful sight.
You can pay per visit or choose between three platium membership levels that allow for frequent visits. Of course, Topgolf hosts birthday parties and other flex events as well. It is open year-round, and even has overhead heaters for when winter comes blowing in.
What to Know Before You Visit Topgolf on Long Island
Topgolf is located in Holtsville, right off of Exit 62 along the North Service Road of the Long Island Expressway.
Hours are 10am to midnight Sundays through Thursdays; 10am to 1am Fridays and Saturdays.
Reservations begin at $15 per half-hour per booth and are based on day and time.
Golf lessons are available for those eager to improve their games.
Hitting bays are socially distanced and the venue maintains a commitment to cleanliness and guest safety.
Photos by the author
Places featured in this article:
Sign up for the Mommy Poppins Newsletter today!