Family Fun in Northport: 20 Things to Do with Kids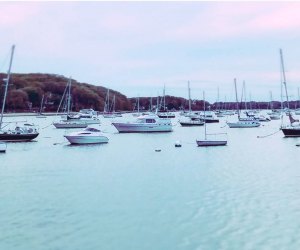 5/23/17
- By
Thien August
The historic community of Northport lies on the north shore of Long Island. With its walkable Victorian Main Street, family-friendly restaurants, bars, shops, and theaters, it has become a destination for Long Islanders and visitors alike. Then of course, there are those beautiful views of the boats in Northport Bay. ...
And it's not just a summer destination. In the autumn, Northport hosts Halloween fun nights, and during the holiday season the community comes alive with holiday house tours and seasonal celebrations.
Here are our suggestions for 20 things to do and see in Northport with kids, and a few bonus picks for the surrounding areas.
Looking for more fun family day trips on Long Island? Check out our guide to the East End as well as must-do activities in Riverhead and Port Jefferson Village. Not sure where to go? These seven must-do day trips are a good place to start.
3. The Northport Historical Society's museum is open Tuesday-Sunday. Learn about the history of Northport and hear the stories of the people who lived there.
4. Cheer on more than 5,000 runners at the Great Cow Harbor 10K Race in September or take part as a family in the 2K Fun Run/Walk.
5. The Great Cow Harbor Race is part of Cow Harbor Day Weekend. Enjoy live music, a parade, arts and crafts vendors, and a lighted boat display at the village dock during this two-day event in September.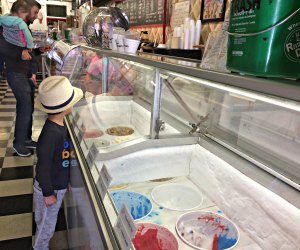 Deciding on a flavor might be the hardest part at Lics Ice Cream.
6. With options for non-dairy and vegan diets, Lics Ice Cream has a cold treat for everyone.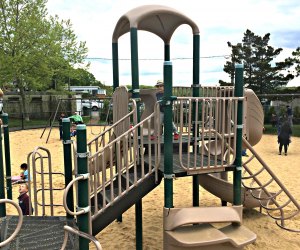 Enjoy a fully fenced playground at Cow Harbor Park.
7. Take a quick walk down to Northport Village Park and watch the boats. There's a small playground and a bandshell that often hosts live music events. The playground at Cow Harbor Park is larger and is just a short walk away. It is completely fenced and has slides, a monkey bridge, plenty of climbing features, and two swing sets.
8. When it's time for a quick break, check out Copenhagen Bakery, across the street from Cow Harbor Park. Choose from cookies, cakes, breads, and of course, danishes. The bakery also offers sandwiches and soups.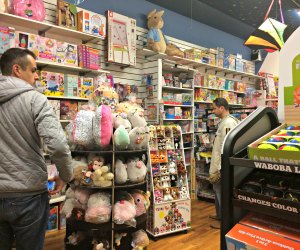 Einstein's Attic on Main Street is the destination for new and vintage toys.
9. Stop into Einstein's Attic for toys from floor to ceiling. Both kids and adults will have fun discovering new and classic toys.
10. Check a few items off of your grocery list at Organically Yours grocery store and deli. Grab an organic juice or smoothie for a quick pick-me-up.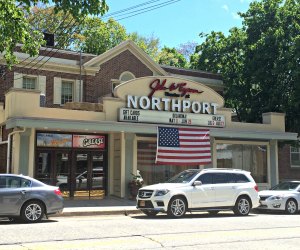 The John W. Engeman Theater offers children's productions all year round.
11. The John W. Engeman Theater is a professional theater that holds live shows year round. Shows for children also run year round and include special holiday productions.
12. For more family fun, Northport Village hosts Family Nights each Tuesday starting in mid-July. Main Street is closed off for live music, sidewalk shopping, antique cars, and more.
13. Carl's Candies has everything to satisfy that sweet tooth. Check out the selection of vintage candies, cotton candy, and ice cream in various candy flavors. There is even a book exchange corner where customers can take a book and leave one.
14. For the crafter, Sew Fun! sewing studio offers classes and parties for kids and adults.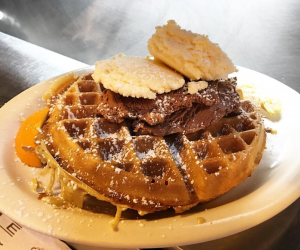 Can you resist a Belgian waffle with ice cream, a house specialty at Tim's Shipwreck Diner? Photk by tims_shipwreck via Instagram
15. Housed out of an old dining car, Tim's Shipwreck Diner is a Main Street icon. Stop in for breakfast or lunch and be served by owner Tim himself.
16. Dinner options abound along Main Street: Skipper's Pub has an old-timey vibe and offers a kids' menu; Rockin' Fish offers fresh seafood and has a large patio; or simply grab a slice at La Porta Pizza and keep walking.
17. As tiny as it is cute, Rocking Horse Ices and Ice Cream Treatery has 30 different ice cream flavors, ices, mini melts, and bubble tea.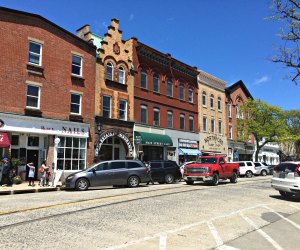 Main Street is steps away from the bay and has a number of family-friendly restaurants and shops.
18. As you walk down Main Street, see if you can spot the old trolley railway line. The trolley stopped running in 1924, but parts of the line still can be seen.
19. Visit Annabelle the cow and Sheila the sheep at the Lewis Oliver Farm and animal sanctuary. The farm is open 365 days a year. Admission is FREE, but donations to help care for the animals are appreciated.
20. Enjoy live jazz, bluegrass, ska, and R&B all in a waterfront setting at Northport Village Park's Happenings on Main Street. Don't forget to bring a blanket and lawn chairs.
Bonus Picks in the Northport Area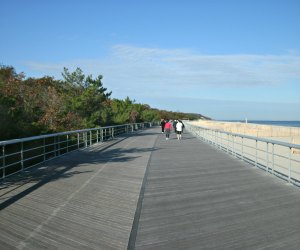 Stroll the boardwalk at nearby Sunken Meadow State Park. Photo by Doug Kerr/CC BY 2.0
1. Head to Sunken Meadow State Park in Kings Park to enjoy sweeping views of Long Island Sound while hiking the trails, canoeing or paddle boarding, playing at the playgrounds, or simply walking the boardwalk.
2. Veterans Park is a 15-minute drive south in East Northport and has a state-of-the-art skate park and a Boundless Playground, specially designed to allow children of all abilities to play together.
3. Also in East Northport is Hummel Hummel Bake Shop. Make a pit stop to pick up an original pizza crumb. One pizza crumb is big enough to share, but you may not want to.
Top photo by kelleye92 via Instagram. Unless noted, photos by the author.