Super Skate Parks in Long Island for Kids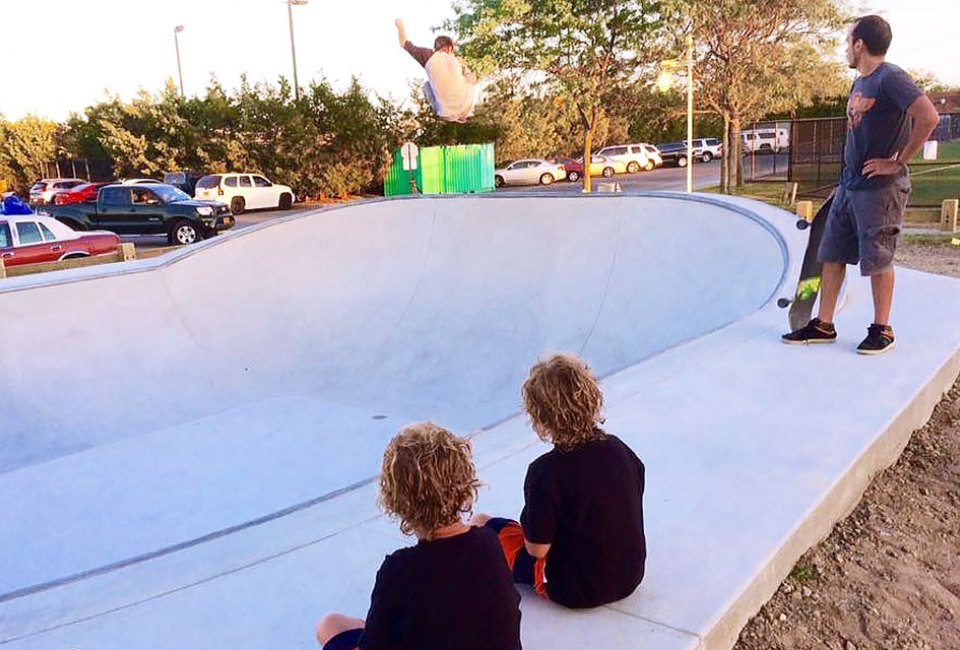 3/29/22
- By
Jaime Sumersille
If your adventuresome little skater likes to carve and ollie and has started turning your furniture and household items into a skating playground, we've got a better idea. Take them to one of these skate parks in Long Island, where roller skaters, bladers, skateboarders, trick bikers, and more daredevils show off their stunts, fully padded and protected of course.
Find more action-packed outings in our guide to Sports Centers and Fun Zones on Long Island.
Subscribe to our newsletters to get stories like this delivered directly to your inbox.
Note: Most of these facilities are skate at your own risk and require parental waivers for skaters 16 and younger. Many require helmets or other safety gear. Check the specific requirements before heading out.
Skate Parks in Nassau County
Baldwin Skate Park features ramps, quarter pipes, half-pipes, rails, and bleachers for spectators. All areas are divided into beginner, intermediate, and advanced sections. Kids ages 7-10 must be accompanied by an adult. Bikes are not permitted.
RELATED: Bounce Houses and Trampoline Parks for Long Island Kids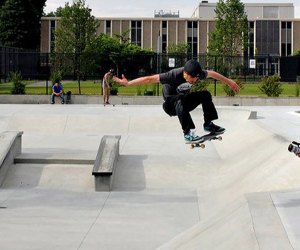 The Bethpage SkatePark offers 15,000 square feet of challenges. Photo courtesy of the park
This 15,000-square-foot facility is described as a "flow skate park." The smaller section is similar to riding in a smooth ditch while the larger bowl and half-pipe with spine provide an endless wave of fun. Helmets are required.
The skate park can be accessed by entering from Pine Street on the National Boulevard side of the Long Beach Recreation Center. It is located right next to the dog park and the municipal boat launch ramp. Standout features include a bowl, A frame, rails, a flat bar, and plenty of transition space. An ode to its location, it has a surf theme.
Located in Manorhaven Beach Park, this skate park features half-pipes, a pool, ramps, an elevated plaza, and ledges.
This park is specifically designed for skateboarding and in-line skating. Located inside a 160-foot-by-100-foot fenced-in area, it boasts seven ramps. The lowest is 2-feet high and the highest is 4 feet. Additionally, there are two rails for skateboarders. Thrill to quarter pipe rails, a half-pipe, square grind rail, a 3-foot-by-8-foot spine, a wedge, and grinding steps.
RELATED: Great Bike Trails for Long Island Families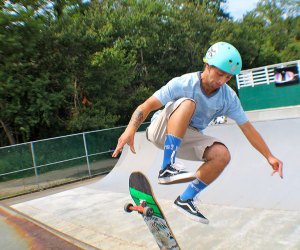 Wear a helmet if you dare challenge Greenport Skate Park's multiple jumps. Photo courtesy of the park
Skate Parks in Suffolk County
This park features an all-concrete street course with a 40-foot wide mini ramp with a spine that connects to the street course. It also boasts a 40-foot-wide-by-12-foot-high vertical ramp. The mini ramp and vertical ramp are wood construction with coated steel sheathing. Helmets and pads are mandatory.
Located on the corner of Broadway and Cuba Hill Road, the 9,200-square-foot facility provides for street and vertical bowl areas. The street area has a number of stairs, handrails, and a low box, and quarter pipes, while the concrete vertical bowl area features two bowls.
Montauk Skate Park, located on South Essex Street, features a course of obstacles, including an empty in-ground, kidney-shaped pool. It is considered ideal for beginner or novice skaters.
This Southampton facility features obstacles and jumps. Skaters must register and a parent/guardian must be present for skaters 16 and younger, though skaters younger than 7 are not allowed in the park. Annual and day passes are available.
Riverhead Town Skate Park – Riverhead
Located at Stozky Memorial Park on Pulaski Street, this Riverhead park features 13,500-square-feet of expert area and 8,000-square-feet for beginners. Both areas feature half-pipes, quarter pipes, mini ramps, grind rails, fun boxes, and speed bumps. Skaters must wear helmets, knee pads, and elbow pads. Wrist guards are recommended.
Located on the Great South Bay, Tanner Park has a back and forth wall with a quarter pipe. This park is for Babylon residents with a recreational permit only.
Steps away from the Brookhaven Aquatic Center, this state-of-the-art facility includes hubba ledges, China bank sections, rainbow rails, grind rails, and more. Skaters must wear protective gear and the park closes when equipment is wet or icy.
This skate park features both street and vertical bowl areas and boasts a half-pipe. Veterans Skate Park is open mid-April through November, weather permitting.
A version of this post was published in 2015. It has since been updated.
Sign up for the Mommy Poppins Newsletter today!