Bluebird Sunapee Reinvents the Roadside Motel
7/14/22
- By
Jody Mercier
Family road trips can be a great adventure—and also a pounding headache with antsy kids in the backseat—but the newly opened Bluebird Sunapee aims to reinvigorate the family road trip by offering a well-appointed, boutique, roadside motel with welcoming service and upscale amenities waiting to greet you when you put the family car in park.
The innovative new Bluebird Sunapee, in Newbury, New Hampshire, is located steps from the banks of the beautiful Lake Sunapee and within a stone's throw of the Mount Sunapee Ski Resort, making it a perfect jumping-off point for all-seasons adventure. Its proximity to major East Coast cities—1 1/2 hours from Boston, and 4 1/2 hours from NYC—makes it an epic road trip destination for families anxious to explore the great outdoors.
So, load up the kids, brush up on your road trip games, and pack some essentials, then hit the road. Bluebird Sunapee awaits.
Subscribe to our newsletters to get stories like this delivered directly to your inbox.
While Bluebird Sunapee re-opened this spring, the building itself has been a roadside staple in the community for decades. Recently acquired by Lark Hotels, Bluebird Sunapee is the latest addition to its portfolio and underwent a months-long renovation to give the 53-room property a refreshed look and feel.
Walk through its double doors and you're greeted by a friendly staff inside a lovingly restored lobby with Mid-Century Modern design details, plenty of soothing earth tones, and bright pops of color that makes you feel instantly welcomed and relaxed.

After a day of adventure, lounge in your room or the spacious, well-stocked rec room on Bluebird Sunapee's ground level.
Accommodations at Bluebird Sunapee
Rooms can accommodate up to four guests each, with adjoining rooms ready to welcome larger parties. If your family road trip isn't complete without Fido, take note: First-floor rooms are pet-friendly. The plush beds—double, queen, or king-sized, depending on your room type—are instantly welcoming. My son laid down as soon as we arrived and was in dreamland minutes later. They're built on wooden platforms that allow luggage or other family travel essentials to be stowed underneath. Each room has either a banquette or table and chairs, plus a flat-screen TV with cable and plenty of streaming services.
One drawback for families: While the updated bathrooms are lovely, there are no bathtubs, so you'll be left showering with your toddler after a day of outdoor exploring.
RELATED: Weekend Getaways near NYC: Lake Resorts in New York State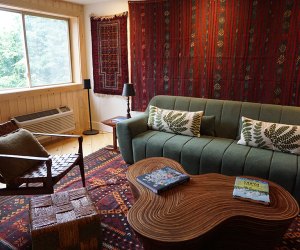 The lovely lobby at Bleubird Sunapee has several comfortable seating areas, family-friendly games, a selection of complimentary beverages, and an impressive collection of vinyl making it an inviting space to unwind.
Dining at Bluebird Sunapee
There's no on-site restaurant at Bluebird Sunapee—but that's by design. Eliminating the hotel breakfast bar keeps costs more affordable, a plus for family vacations especially now. What you will find, though, is an epic vending room on the ground level, where you can order everything from traditional chips and candy bars to freshly made pizza and piping hot pastries thanks to its futuristic "micro-bakery" vending machine. If you need something more, the adjacent Salt Hill Pub Shanty is a quick walk across the parking lot and serves American comfort food classics and freshly poured brews.
In the lobby, you'll also find a complimentary beverage bar with water, tea, and coffee options all day long, plus a small gift shop with some light snacks.
Rooms are equipped with microwaves, refrigerators, and tea kettles. Eventually, the motel plans to partner with Counter Culture Coffee to bring gourmet brews in-room.
RELATED: 10 East Coast Beach Camping Sites from Florida to Maine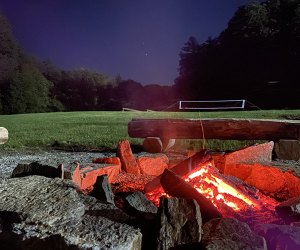 End a long day of exploring with a campfire on the sprawling grounds of Bluebird Sunapee.
Family-Friendly Amenities at Bluebird Sunapee
If the thought of being cooped up in a tiny motel room after a long drive doesn't appeal to you, take note: Beyond the roomy rooms, there's tons of space to spread out at Bluebird Sunapee. Nearly the entire lower level of the motel is a kids' paradise. There's an on-site arcade where you can challenge kids to a game of air hockey, zone out with popular video game consoles, or go old-school with Ms. Pac-Man, Tetris, and Donkey Kong.
Next door, find an epic rec room, with a big-screen TV, a pool table, tons of lounge spaces, and board games. It's the perfect spot to unwind.
RELATED: Best Summer Day Trips from Boston: Fun for Kids and Families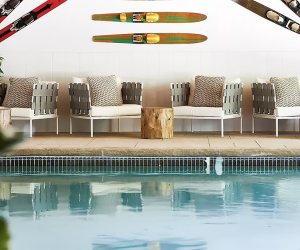 Take a dip indoors no matter the season in Bluebird Sunapee's saltwater pool. Photo courtesy of the motel
And, what family vacation is complete without a dip in the pool? At Bluebird Sunapee, dive into the indoor saltwater pool or relax on the adjacent outdoor deck. An all-seasons hot tub is in the works, though wasn't installed when we visited.
If your stay at Bluebird Sunapee includes plans for mountain biking or skiing, an on-site locker room makes gear storage easy! Each room has its own locker—large enough to store parkas and tall enough for skis. There will also be boot driers so your ski boots are warm and toasty for another day of hitting the hills. Come summer, park your mountain bikes here, where wall-mounted racks make for easy storage.
RELATED: 15 Family-Friendly Catskills Resorts for Your Next Weekend Getaway

Challenge your crew to a game of cornhole on the lawn outside Bluebird Sunapee.
A sprawling backyard area is home to summertime yard games like cornhole and badminton, plus a fire pit where you can enjoy a nightly bonfire and make your own s'mores. In the winter, the hillside is well-known by locals as the best sledding spot around!
Top Things To Do on a Visit to Bluebird Sunapee
While the creature comforts of Bluebird Sunapee might be hard to leave behind, its local community offers plenty of family-friendly things to do. Here are some ideas for your visit to Lake Sunapee and beyond.

Play on the state park beach that's just a five-minute walk from Bluebird Sunapee.
Lake Sunapee
One of the largest lakes in New Hampshire, Lake Sunapee covers 6 1/2 square miles and its shoreline encompasses three separate towns. In the summertime, you can visit Mt. Sunapee State Park Beach, which is about a five-minute walk from the Bluebird Sunapee property, for lake swimming or to rent a kayak and paddle on the water. In winter, Lake Sunapee is open for ice fishing and snowmobiling is a popular wintertime pursuit here, too. There are a variety of marinas and boat rental spots dotting the lake, and we enjoyed a pontoon boat tour of Lake Sunapee courtesy of Goodhue Boat Company, which included a glimpse at the lakefront home of one of the area's most famous residents: Aerosmith frontman Steven Tyler.
RELATED: 25 Things To Do in the White Mountains of New Hampshire with Kids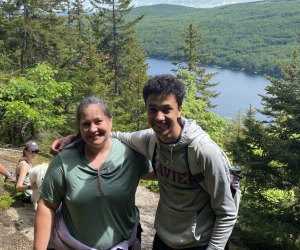 A steep climb up a neighboring mountain was rewarded with stunning views of Lake Sunapee from above.
Mount Sunapee
In winter, Mount Sunapee is a destination ski resort with 67 trails ranging from beginner to expert terrain, plus four separate terrain parks for skiers and snowboarders. In summer, enjoy mountain biking, ropes courses, disc golf, mini golf, archery, hiking, and more.

Whether you arrive by car or boat, Anchorage at Sunapee Harbor is ready to serve guests fresh New England seafood with lakeside views.
Family-Friendly Eats near Bluebird Sunapee
We enjoyed a lovely lakeside meal at Anchorage at Sunapee Harbor, which served fresh New England seafood. If you're staking out on a hike or need provisions for a picnic, consider a visit to Fat Belly Deli and Kitchen for freshly prepared sandwiches and baked goods. And, if you need a sweet treat for the kids, consider stopping by the Jolly Molly's Ice Cream Window at Bubba's Bar & Grille. For a parents' treat, hit up the Flying Goose Brew Pub & Grill, where kids can nosh on delicious soft pretzels!
If Bluebird Sunapee sounds appealing but isn't on your road trip route, take note: The hotel chain is building a portfolio of properties in New England and beyond, with Bluebird Hotels already open in Cape Cod, Massachusetts; Hunter and Saratoga in New York; Stowe, Vermont; and coming soon in Lake Placid, New York, and East Boothbay, Maine.
Editor's Note: This publication accepts hosted travel for the purpose of review. All opinions are based on the honest experience of the author.
Unless noted, photos by the author