Pittsfield, MA with Kids: 35 Things To Do in The Berkshires Town
9/1/22
- By
Jody Mercier
Located in the heart of The Berkshires, find the town of Pittsfield, Massachusetts. With its walkable main street draped with red, white, and blue buntings and bespeckled with the work of local artists, it's a charming mix of old and new, befitting a region that's experienced a re-birth as a regional travel destination thanks to the pandemic.
Its location is convenient for visitors from major metropolitan areas in Boston and New York City, and it manages to balance a certain small-town allure with arts, culture, recreation, and a burgeoning foodie scene to lure a variety of visitors. Whether you're heading for a hike in the hills outside of town or craving top-notch theater without big-city prices, Pittsfield has something for you. Read on for 35 things to do in Pittsfield, Massachusetts, with kids, and find more fun things to do nearby on our list of the best things to do in The Berkshires with kids. Be sure to bookmark our New England Family Travel Guide for more regional travel destinations.
Subscribe to our newsletters to get stories like this delivered directly to your inbox.



Pittsfield has all the looks of a charming small town with plenty of arts and culture to entertain big-city visitors. Photo by Jason Stimpson/courtesy Love Pittsfield
Best Things To Do in Pittsfield, MA with Kids
This 2-acre skate park underwent a complete renovation in 2020 with the help of Rampage Skatepark Equipment and now welcomes daring visitors to test out its ramps, rails, and obstacles.
An all-seasons playground, Clapp Park is home to a jungle gym, athletic fields, and a whimsical splash pad. Come winter, its rolling hills are a well-known sledding destination drawing kids from miles around to race through the fresh powder.
Celebrating a decade in business, this local farmers market takes over the Pittsfield Common on Saturdays from mid-May through early October and has the most remarkable team behind it: It's the first youth-run farmers market in the area, and the team from Roots Rising grows a significant portion of the food sold here. The local organization's mission is to empower youth and build community by gathering it around food and farming.
If you want to see The Berkshires like a local and make a new friend in the process, book a hike with the expert local guides at Berkshire Camino, who curate guided walks grounded in mindfulness across the region. While it offers both day hikes and multi-day treks inspired by the historic Camino de Santiago in Spain, the best bet for kids is a day hike. You'll learn the art of "walking at the speed of curiosity," open your mind to the experience, live in the moment, and leave the pressures of the real world behind in during your outing.
RELATED: Guide to Day Trips and Weekend Getaways for Families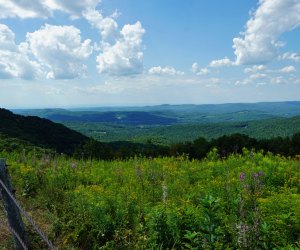 The view from Berry Mountain lets visitors gaze across the border to New York state.
Hiking, camping, mountain biking, canoeing, swimming, boating, fishing—no matter your mountain recreation of choice, find it all in this 11,000-acre state forest that's just two miles outside of downtown Pittsfield. Make sure to take in the stunning view from atop Berry Mountain, where your gaze into the valley allows you to see across the New York border.
Spring and fall are prime-time for paddling on this local, 500-acre lake, which attracts motorboats in the high season. Enjoy all-seasons fishing, including during the winter when ice fishermen flock here in search of prize-sized tiger muskies.
This green space in the center of town is home to the Pittsfield Farmers Market but also boasts a basketball court, splash pad, playground, gazebo, and a performance pavilion. On select summer nights, find everything from food trucks and movie nights to simulcasts of the Boston Symphony Orchestra Concerts in its nearby summer home of Tanglewood.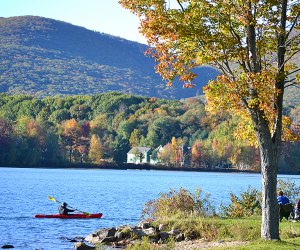 The city-owned Onata Lake offers plenty of recreation opportunities. Photo by Regina Burgio/courtesy Love Pittsfield
This 617-acre freshwater lake is owned and managed by the city of Pittsfield and allows plenty of recreation opportunities. Hit up Burbank Park to access the public beach. Drop a line from its fishing pier, set your boat on the water at the boat launch, or explore a playground and nature walk.
Eclectic gifts are the name of the game at this curated shop in the heart of Pittsfield. Find it nestled between The Square and the Berkshire Museum.
This 246-acre park on Pittsfield's north side is home to hiking trails, baseball and softball fields, a pair of playgrounds, and plenty of nature and history. The on-site Springside House is on the National Register of Historic places and the Vincent J. Herbert Arboretum offers a peaceful respite.
RELATED: 12 Family-Friendly Hikes in New England

A long-beloved local mountain, Bousquet Mountain's recent upgrades make it an all-seasons destination for visitors, too. Photo by Jared Renzi/courtesy Love Pittsfield
Locals have flocked to this ski resort for generations, and the addition of a brand new ski lodge ensures its future. In the offseason, find hiking, concerts, and more fun on the mountain.
Put on your walking shoes on the first Friday of the month as downtown Pittsfield puts on a blocks-long art fest, where local businesses display work from local artists, who are often on-site to greet visitors during the show's debut. If you miss this monthly celebration, take note: Most of the art is on display all month long, so you can enjoy it at your leisure—just download the Downtown Pittsfield App to access the map. As if that's not enough, art is seemingly everywhere on the Pittsfield streets—from the Welcome to Pittsfield mural that greets visitors at the train station to the uniquely painted utility boxes spread throughout town, and the Ruby Bridges mural off of Center Street.
With all the charm of a country store, Berkshire General is home to a Boar's Head Deli and plenty of snacks, plus a fun and funky selection of toys and gifts. Its giant picture windows on North Street are sure to catch the eye of pint-sized passersby!
Though it hasn't marched since before the pandemic, keep your eye out for plans for the Pittsfield Halloween Parade, where the town goes all-out—and has for more than 70 years—to celebrate the spooky season.

Explore The Boulders nature preserve for a lovely, easy hike with kids.
Explore more than six miles of hiking trails at this preserve maintained by the Berkshire Natural Resources Council, including wetlands, waterfalls, towering hemlock forests, and a stunning overlook.
Nestled in the center of the main drag, Beacon Cinema has the look of an old-school movie house—with ticket prices to match—but some new-age perks like reserved seating and heated recliners.
Bird and wildlife watchers flock to this sanctuary just one mile from the center of town to explore lovely trails that meander alongside the scenic Housatonic River. Keep your eyes peeled for everything from otters to osprey, warblers, turtles, and even bears—oh my!
RELATED: Bluebird Sunapee Reinvents the Roadside Motel

Visit Herman Melville's historic house to learn about the author and his imprint on this region.
Top Attractions in Pittsfield, Massachusetts, for Families
Whether you're a fan of Moby Dick or not, a visit to Melville's historic estate is worth adding to your Pittsfield travel itinerary. The author's home from 1850-63, you can enjoy a guided tour courtesy of the Berkshire County Historical Society which manages the property, and gaze out the window of the writer's study to see Mount Greylock, whose constant shroud of fog is said to have inspired the larger-than-life whale at the story's center. While you're there, check out the rambling nature trails. If you've got publishing or artistic ambitions of your own, investigate The Mastheads, which affords studio space to creatives who want to work with the same, inspiring backdrop.
Art, science, and history come to life at this multi-faceted museum in the middle of Pittsfield. Housed in a century-old building, see everything from dinosaur artifacts to exotic fish and a rotating array of exhibitions that display the museum's vast collection. Little ones can enjoy targeted family programs like WeeMuse, for children ages 5 and younger, while older kids can contribute to Chow Time at the aquarium. No matter your age, no visit is complete without visiting Wally.

Take a picturesque step back in time at the peaceful Hancock Shaker Village.
Dubbed The City of Peace, the Hancock Shaker Village dates to the 1790s when it was the third of 19 Shaker communities settled in the US. Today it's a living museum where visitors can explore its 750 acres, with 20 historic buildings, meadows, woodlands, farm animals, and an array of Shaker objects—more than 22,000 in its collection. While you're there, be sure to check out the crops in the garden, which is maintained by the aforementioned Roots Rising.
Summertime means college baseball in New England and the Pittsfield Suns take up residence in the charming, 100-plus-year-old Wahconah Park from late June through early August. More than 200 Suns players have gone on to play in the MLB. The wooden grandstand is one of the last remaining in the US and seats just 4,500 so you're guaranteed an intimate experience.
For more than 60 years, Madeline Cantarella Culpo has been at the helm of the Albany Berkshire Ballet, which stages professional quality classical and contemporary productions and schools a new generation of dancers at studios in Pittsfield and Albany, New York.
RELATED: 10 Charming Small Towns in Connecticut You Need to Explore with Kids

The Colonial Theatre is a beautifully restored, Gilded Age-era backdrop for the Berkshire Theatre Group's productions plus a variety of touring performers. Photo by Irwin Seating/courtesy Love Pittsfield
With three separate theaters under its ownership, the Berkshire Theatre Group produces a wide variety of shows year-round. At Pittsfield's Colonial Theatre, Gilded Age architecture is married with a state-of-the-art tech system to make it a world-class venue, whether Berkshire Theatre is hosting a show of its own or importing musicians, comedians, and traveling shows.
Barrington Stage Company's high-quality productions and commitment to new work have won it rave reviews far beyond the boundaries of Pittsfield. The regional theater company's first national success came with the premiere of The 25th Annual Putnam County Spelling Bee in 2004, which transferred to Broadway, won a pair of Tony Awards, and is currently in development as a Disney film. Its 2022 season includes eight separate productions on two stages, including the youth production of The Supadupa Kid. Want to get even closer to the stage? Engage with performers and producers in a series of FREE lobby chats throughout the season.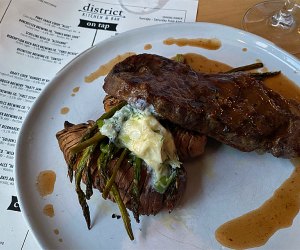 Dig into the farm-to-table fare at the charming, modern District Kitchen & Bar.
Best Restaurants for Kids in Pittsfield, Massachusetts
Farm-to-table fare is served in an airy, quaint space just off the main drag. A well-stocked bar and impressive wine list make this an easy sell for parents, while a decadent mac-and-cheese and flatbread pizzas satisfied the kids in our crew.
Located across the street from The Common, King Kone might not look like much in the early morning but come evening, the line for these over-the-top soft-serve treats stretches blocks long.
While there's a full menu to choose from, don't go to Hot Dog Ranch without ordering its Famous Baby Hot Dogs. A traditional order is served with everything—mustard, onions, and sauce—though other options include relish, sauerkraut, ketchup, and cheese. But take note: There's a long-running debate in this town as to whose dogs reign supreme: Hot Dog Ranch or ...
On the east side of town, find Teo's Hot Dogs. These similarly sized bites are renowned for their trademark snap when you bite into them. We're not going to wade into the debate, but suggest trying both during your visit and declaring your vote in this local battle.
RELATED: 35 Things To Do with Kids in the Hudson Valley

Grab your grub from Marketplace Cafe to go, and enjoy a lovely picnic at Berry Pond, the highest body of water in Massachusetts.
Fresh, scratch-made food is served here daily and while the chicken-avocado panini I noshed on was out-of-this-world delicious, it was the homemade lemon bar and molasses cookie that left us wanting seconds...and thirds.
As if its impressive mountainside location weren't enough, the staff at Lift Bistropub went out of its way to ensure we had a delightful brunch experience. Nosh on a rotating quiche of the day or other breakfast classics, plus an impressive cocktail collection. The pastry platter was a perfectly sweet ending to our meal.
We loved the eclectic, hippie-inspired vibe at this Berkshire hotspot that was hopping when we arrived for a Sunday morning bite. An oversized latte got my day started right, but a must-order is anything with the Bear Butter. A staple of Dottie's menu, this enriched almond butter is served on everything from oatmeal to granola. We particularly love the cafe's community-conscious pledge to donate one oatmeal to a needy member of the community for every bowl purchased.
With an artisanal bakery focused on the old-school art of sourdough—long before it because a pandemic project for the rest of the world—enjoy yours with any matter of sandwich toppings. If pizza is your thing, opt for one baked on a whole-wheat sourdough crust in-store, or take it and bake it at home.
Don't sleep on this nestled-in-the-Holiday Inn restaurant and bar. Its menu includes specialties like a pimento burger with fried green tomatoes and pork cracklins, while its Brussels sprouts-and-apples app had us licking our fingers. Those may be too much for little palates, but a kids' menu will keep them happy while you wash everything down with a Berry Patch Martini.

When you've had enough exploring, romp—or relax—in the pool at the Holiday Inn and Suites.
Where to Stay in Pittsfield, MA with Kids
Stay here and you're officially in The Berkshires' tallest building. Rooms here range from a standard layout to family-friendly suites. The on-site restaurant allows you to add on a breakfast buffet and kids will flip for the hotel pool, housed in a glass-roofed solarium that comes to life with a light show after dark and is a perfect spot to witness an eye-popping Berkshires sunset.
Immerse yourself in local character at the 45-room boutique hotel in the center of town. Housed in a historic building, but updated with modern amenities, you'll find plenty of charm and creature comforts here. No two rooms are alike, but none are as opulent as the Library Suite, which—despite 125 bookshelves stacked to the gills—still sleeps four.
RELATED: Guide to the Hudson Valley, Adirondacks, and Catskills with Kids

Car-free families can travel directly to Pittsfield from NYC's Penn Station on the Berkshire Flyer, which traverses a scenic Hudson River route.
How to Get to Pittsfield, Massachussetts
Pittsfield, Massachusetts, is easily accessible from the Northeast's major metro areas. Travel time from Midtown Manhattan via car is about three hours. Visitors traveling from Boston can make the trek in about 2 1/2 hours.
For our journey, we hopped aboard the Berkshire Flyer, which whisked us from Penn Station to Pittsfield in four hours. Along the way, we took in the stunning Hudson River landscapes. The Berkshire Flyer's 2022 summer season was a pilot program that ends on Labor Day weekend, but we're hopeful this popular train service returns in future seasons—particularly for car-free families like us! Once you've arrived in town, you can rent a car or bicycle to get around. Many local hotels provide shuttles to and from the station, and the town's main drag is easily walkable, though if you're seeking outdoor adventure you'll likely need help reaching the local hiking destinations.
Unless noted, all photos by author
t Click Here to Sign Up!