10 Charming Small Towns in Connecticut You Need to Explore with Kids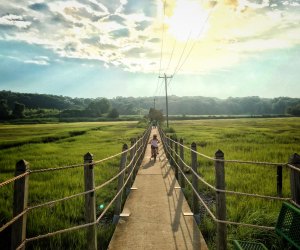 Some states are defined by their skyscrapers and sprawling metropolises, but Connecticut is distinguished from its 169 towns that dot the countryside, hills, and coastline. While you may come here to shop, enjoy a cup of coffee at a local cafe, or cruise the countryside - there is a lot of history hiding behind those white picket fences.
There are some elements that unify the Connecticut small-town experience - town greens and robust municipalities that feel rooted in early American history. Yet, even with all these similarities no two small towns are exactly alike. With their historic inns, farm-fresh ice-cream, and local festivals, these spots brim with personality.
Kent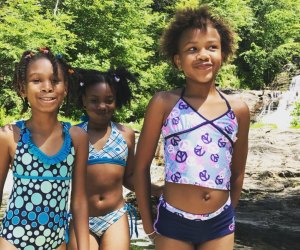 Hike up Kent Falls and enjoy stunning views.
If you ever want to feel like a Gilmore Girl (and who doesn't?), then Kent is for you! This quintessential town is a prime example of the small-town charm of Litchfield County. Beautiful countryside (check), charming village (check) packed calendar of seasonal festivals (check, check, and check!) Perhaps the most "Kent" thing to do is take a hike up Kent Falls to justify indulging in a cone at Annie Banannie's Ice Cream.
Branford


Search for pirate's treasure in the Thimble Islands
This Shoreline community is one of our favorite Connecticut staycation destinations. We call it the "Bike, Brews, and Views" day trip. You can't get much more "Connecticut" than family friendly breweries, stunning coastal landscape, pirates, and lobster rolls. Start the day with a leisurely cruise around the archipelago known as the Thimble Islands. Then take a bike ride the Connecticut Shoreline Trail and take in some stunning scenery. We then end our day at the Stony Creek Brewery - but make sure you stop at the Lobster Shack first to grab a lobter roll to-go (Connecticut style, of course!)
Essex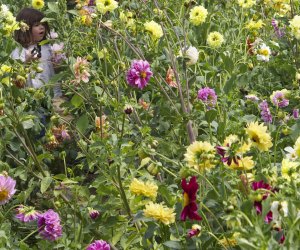 Cut some farm-fresh flowers at Scotts Farm & Greenhouses.
It would be impossible to make this list without mentioning Essex- after all it was rated the "Best Small Town in America" Yes. AMERICA! You can expect winding roads, historic homes, vintage steam trains, a fantastic museum, and antiques shops. Yes, Essex is ALL that and it has a family friendly tap room with regular sing-a-longs. The Griswold Inn & Tap Room is one of the oldest continuously operating inns in the country - and its nightly schedule of live music should not be missed! In the summer, we also like to pick flowers from Scott's Farm & Greenhouses. Visitors are given clippers and a basket to fill with fresh fragrant blooms. Make sure you bring a bucket of water so these beauties will survive the trip home.
Ridgefield


Enjoy a first run feature film at the Prospector Theater
Ridgefield provides visitors with that Norman Rockwell setting; which seems fitting since Ridgefield's history is saturated in the arts. You can visit the Aldrich Museum of Contemporary Art and enjoy one of their fabulous educational programs. Ridgefield is also the home of Weir Farm - the only National Park dedicated to painting. Visitors to Ridgefield Center can take a walk down the Museum in the Streets - a heritage discovery trail. Make sure you don't miss watching a first run movie at the Prospector Theater- a non-profit movie theater with a unique mission to provide meaningful employment to people with disabilities. Bonus points: some of its theaters have bean bag seats!
Mystic


Get up close and personal with beluga whales at Mystic Aquarium
Come for the Aquarium & Seaport, stay for the charm. Mystic is perhaps one of the most visited locations in the state, but that doesn't mean it lacks small town charm. In the summer visitors swarm the streets for pizza and beluga whales, but this town is a true gem. And when your daughter looks at you and says "I don't get it, why is this pizza SUCH a thing", just take her to Mystic Drawbridge Ice Cream, watch the kayakers and boats float by, and reminisce about simpler times.
Simsbury


Enjoy a walk down the Simsbury Art Trail. La Promenade by Seward Johnson © 1995 The Seward Johnson Atelier, Inc.
Located about 15 miles west of Hartford, charming would aptly describe Simsbury. You can enjoy a walk around town on the Simsbury Art Trail, bike through Stratton Brook State Park, or enjoy a haunted burger at Abigail's Grill. But, if you REALLY want to get away from it all, Flamig Farm even offers an overnight farm stay for your family. You can't get much more small town than that!
Westport
Although Westport can proudly boast that it is one of the best "beach towns" in the country, this coastal community is probably better known for its high cost of living. Even though living here may only be a dream for most, visiting its attractions is the next best thing. We love searching the shoreline of Sherwood Island State Park for shells and other creatures. Make sure to check out the Island's Nature Center to view its live animals, activities, and fun (free) programs. The Westport Country Playhouse's Family Festivities Series is a fantastic way to introduce kids to live theater. The town's library is also worth a visit - it is a nationally ranked Five Star Library with a cutting edge Maker Space.
Storrs
There is so much more to Storrs than UCONN, but that is why most people pass through this rural town. The Ballard Institute & Museum of Puppetry is "one of America's hidden treasures". The Summertime Saturday Puppet Show Series is a fun way to spend an afternoon. The UCONN Dairy Bar provides the freshest sweet treat - you can literally watch cows being milked, and ice cream being made at this UCONN institution.
Guilford
A trip to Guilford provides tourists with lighthouses, town greens, historic homesteads, and more. You can explore the 375 years of Guilford's history on free guided walking tours (available seasonally). Head to Bishops Farm Market to pack your provisions for a picnic at Chaffinch Island or Jacob's Beach. If you like the idea of a picnic, but don't want to put in all the effort then pull up a stump and head to The Place Restaurant. Tree stump chairs and bright red tables are the hallmarks of this seasonal delight! Try the roasted lobster- you won't be sorry.
Putnam
The Quiet Corner or the Last Green Valley? Call it what you want - this often overlooked section of Connecticut lies within the National Heritage Corridor and contains one of the largest greenbelts left in the Northeast. The town of Putnam is on the larger side for this region - with a distinct downtown lined with antique shops and restaurants. During the summer months, enjoy the warm glow of fire-floating pots in the Quinebaug River for River Fire.

All photos courtesy of Mommy Poppins except where indicated.