Touch and Feel Sculpture Exhibit Coming to Simsbury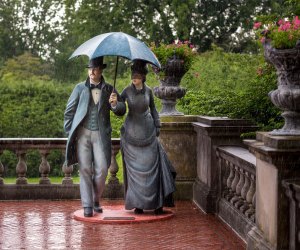 Have you ever had the experience of taking your children to a fancy art museum, only to find that all they want to do is touch stuff? While this is normal behavior, it can be a little unsettling when you are walking past five-hundred year old paintings. Coming to Simsbury in May is a world-renowned sculpture exhibit by the artist Seward Johnson. Sculptures will be strategically placed all over town at local businesses. And guess what? Kids can touch them!
All as part of the Simsbury Art Trail, Johnson's life-like, full-size sculptures depict people doing things they might do in normal, day-to-day life such as fishing, gardening, selling hot dogs, and walking the dog. All thirty two sculptures are from his series entitled: "Celebrating the Familiar."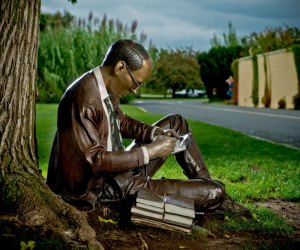 "Touching is encouraged," said Lisa Gray, the Simsbury Chamber of Commerce Executive Director. "We want people to reach out and touch them...take pictures with them." The Chamber is hosting the four-month long exhibit and local businesses are sponsoring the sculptures. Families can participate in the sculpture scavenger hunt and see all of the sculptures (32 in all!). Prizes will be awarded for players.
The exhibit officially opens on May 18, but, if you want a sneak-peak, there is one sculpture already here! In front of Geissler's you can find the sculpture entitled "Special Delivery." Also, come on out to the Simsbury Free Library Ice Cream Social (June 12) that will be the official kick-off for the town-wide scavenger hunt. RSVP to the Library at www.simsburyfreelibrary.org.
Maps of the sculpture locations will be available at the Chamber and at the Free Library.

Photo Credits:
Creating by Seward Johnson © 1981 The Seward Johnson Atelier, Inc.
La Promenade by Seward Johnson © 1995 The Seward Johnson Atelier, Inc.