Day Trip to the Aldrich Contemporary Art Museum in Ridgefield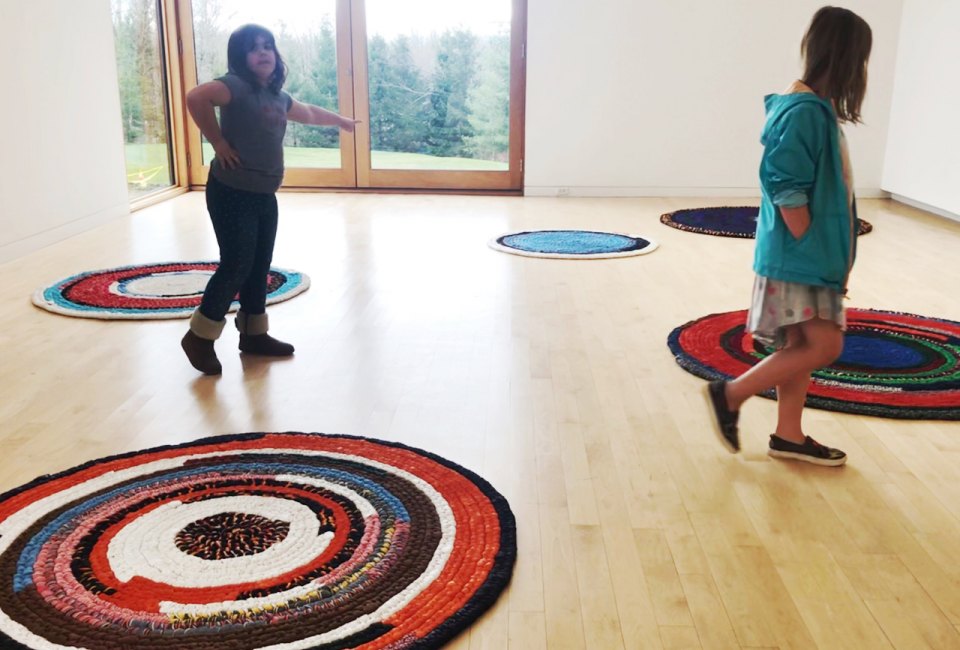 8/10/14
- By
Susan Isaak
Fairfield County, why not spend the day taking your family to the Aldrich Contemporary Art Museum in Ridgefield? Tucked away on Main Street, the Aldrich is Connecticut's only museum dedicated to contemporary art. It's on our list of 120 Things to do With Your Kids in Connecticut Before They Grow Up and for good reason. The Aldrich is in a beautiful setting, offering exhibitions, artist talks, family programming, and classes. I recently took my kids to the Aldrich for the day and we loved walking through the exhibitions, making crafts together and checking out the town of Ridgefield when we were done.
The museum is located just 2 blocks from Ridgefield's wonderful shops and restaurants, so I've also got some great suggestions for family-friendly restaurants, sweet treats and even a historic tavern museum for you to explore. With all of these things within walking distance of each other, you can bet the Aldrich Contemporary Art Museum makes a great destination for a day trip.
The Aldrich is a non-collecting museum, which means there is no permanent collection and the exhibits are always changing. Founded in 1964, the museum is dedicated to the work of contemporary artists, offering space to show works and provoke creative thought and conversation about art, society and culture. In addition to the main museum, there is a building called the "Old Hundred" which was built in 1783 and once housed the Ridgefield's first post office, a two acre outdoor exhibition space, and a 100 seat performance space. Whether or not you feel drawn to modern art, this museum can challenge your kids to think about what makes something art and how these pieces might relate to their own experiences. The museum has a number of exhibition spaces on two levels, with tall, bright windows overlooking the beautiful gardens.
One of the best things about the Aldrich is their extensive family programming called the Creative Family. Every third Saturday of the month an artists host these sessions and families create works tailored to the theme of the day. They also offer a wide variety of programming and camps on school holidays and summer break which is another opportunity to work with materials alongside artists that relate to the current exhibitions. The education studio is on the first floor of the museum and is well stocked with craft supplies like glue guns, egg cartons, paint and pipe cleaners. Children and caregivers can make an exhibition-related craft or create something totally original. When kids sit down and create their own masterpieces based on what they just saw, it's a great way to process and connect with contemporary art (or any art, for that matter). These programs are fantastic and completely free with the price of admission.
One word of caution: like any museum, the Aldrich can be a challenging place to visit if you have kids who like to touch everything they see or run everywhere they go. Contemporary artists sometimes place their works in the center of the gallery space or create installation pieces using materials that are familiar to children, such as a piano and upholstered chair in the current exhibition. You'll find museum volunteers in each gallery, and besides their wealth of knowledge about the artwork (ask them questions!) they are also there to watch over the installations and make sure nobody accidentally bumps into the artwork. Try not to be put off by their watchful eyes or the fact that they might stand near you when you enter a gallery space with your kids. It's their job to protect artwork and visitors alike.
Just remember that this museum offers free admission to children and tons of family programming for a reason, they really do want to share the experience of contemporary art with everyone. When you're finished taking in all of the art at the Aldrich, I strongly suggest you pop down Main Street to the Keeler Tavern Museum. Costumed tour guides are there to teach you about life in rural Connecticut from the early 18th century through the mid 20th century. There's even a cannonball lodged in an outer wall of the tavern which dates back to 1777.
Best Restaurants near the Aldrich Museum
When it's time to eat, you're in the right place since Ridgefield has some of the best restaurants in Fairfield County. Here are just a few of the great family-friendly dining options in town.
Delicious, seasonal farm to table menu with locally sourced ingredients offering tasting menus, salads, seafood, wraps and sandwiches, dry aged grass fed burgers as well as a simple kid's menu.
Wood fired pizza offering NY style or ultra thin crusts (gluten free crust available, too). This casual restaurant is tucked behind the shops on Main Street. On a nice day, enjoy your pizza outdoors in their beautiful cobblestone courtyard.
Top off your day trip with homemade chocolates and ice cream at this popular sweet spot on Main Street
Sign up for the Mommy Poppins Newsletter today!