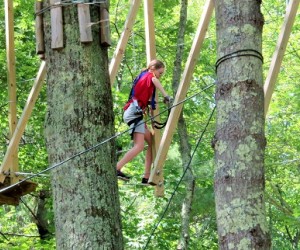 Fun Things to Do With Kids in Storrs, Connecticut
Though it is home to Connecticut's flagship university, Storrs is a fun village not only for college students. Located about a half an hour east of Hartford, plenty of local attractions here (and in the town of Mansfield) will entertain, educate, and relax even the youngest visitors. So spend some time driving over its bucolic hills, exploring its trails, shopping its quaint stores, or enjoying a movie at one of the last remaining drive-in theaters in the state. Of course, an excursion is not complete without a trip to UConn and its awesome horse and dairy barns, or a delicious stop at the UConn Dairy Bar, where calories simply do not matter. Here are a few more destination to consider, some on campus, and some close by:
William Benton Museum of Art
Home to art works that span centuries and a member of the Connecticut Art Trail, the museum boasts a generous collection of paintings and photographs, and its size will not intimidate young visitors. The Benton features many exhibits, ranging from fashion, to music, to the current "Remembering the Vietnam War" (until August 15). If you forget to pack a snack, The Beanery Café, located in the museum, will come to the rescue, whether you're craving sandwiches or cake pops. The museum is open Tuesday through Sunday and offers free admission. Parking rates are reasonable for the nearby North Parking Garage (103 N. Eagleville Road) or South Parking Garage (505 Stadium Road).
250 Glenbrook Road, Storrs
The Adventure Park at Storrs
Swing from trees, howl like a monkey, or pretend you're Indiana Jones. Families are guaranteed a lot of fun in this aerial park that spans five wooded acres. Different color-coded trails accommodate various experience levels. Before you hit the zip lines, you will receive a complete safety orientation and park guides are always available. Designed for ages 7 and up, climbs take 2-3 hours and additional time can be purchased. If your family is comprised of night owls, you might be interested in climbing under the cloak of darkness (and LED lighting!). The park is open until 8 p.m., and 10 p.m. on Fridays and Saturdays.
2007 Storrs Road, Storrs
Connecticut State Museum of Natural History
The museum satisfies an array of interests, including archeology, geology, and conservation. Visitors can learn about Connecticut's natural history and its effects on the state's residents through the years. Whether they are highlighting gemstones, Native American artifacts, or birds, the exhibits are colorful and informative, including several story-stations where scientists and historians offer their insight. The museum is open Monday through Friday and admission is free.
2019 Hillside Road, Storrs
Ballard Institute and Museum of Puppetry
Who doesn't love Pinocchio? Whether they are characters in story books or on stage, puppets have entertained generations, and a visit here will not disappoint. Browse the galleries and admire images and puppets in many shapes, sizes, and colors. Whether they represent giants, monsters, royalty, or woodland creatures, the puppets are sure to inspire conversation. The museum is open Tuesday through Sunday. Admission is free.
1 Royce Circle, Storrs
Jorgensen Center for Performing Arts
The stage for many cultural and educational events, the Center offers many family-friendly performances, such as acrobatic, dance, and musical or comedy shows. Of special interest is the Children's Series, which features kid-friendly shows, such as Jack Hannah's Into the Wild Live, Daniel Tiger's Neighborhood LIVE!, and Imago Theater – ZooZoo.
2132 Hillside Road, Storrs
Edible Happiness
College students need a lot of sugar to stay up late and study, and you will benefit from their needs. Your best bet? Sweet Emotions Candy (there's a Candy of the Month Club!) where you can choose from more than 400 varieties! Whether you're in the mood for gummy bears bigger than the size of a toddler hand, chocolates, fudge, tarts or toffees, and sugarless or organic candy, you will leave this place completely satisfied.
9 Dog Lane, Storrs
Mansfield Drive-in Theater
Save some of that Sweet Emotions Candy for a movie treat! The drive-in is open from 7:30 p.m. to midnight and features three screens simultaneously showing different movies (beginning at 9 p.m.). Children's favorites include Jurassic World, Inside Out, and Minions. On Wednesdays, admission is $20 per car, a good bargain for a nostalgic experience that is hard to find these days.
282 Stafford Road, Mansfield Center
Mansfield Marketplace
Shop for treasures in Eastern Connecticut's largest flea market. It is open every Sunday from 8 a.m. to 3 p.m., and offers more than 15,000 square feet of indoor retail, and many more vendors outside. Whether you're looking for housewares, books, toys, furniture, or treats, you're sure to find something here; even puppets!
282 Stafford Road, Mansfield Center
​We hope you have a great time visiting the area; let us know in the comments section about your favorite stops in town.