Ridgefield, CT Neighborhood Guide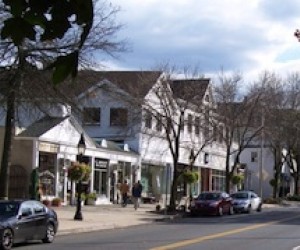 8 years ago, when my husband and I cruised down to CT from Boston for a weekend of house hunting, we submitted to our (very patient) realtor a list of our "dream town" characteristics. Small, but not too small, rural, but not too rural, plenty of activities, great schools, a picturesque downtown, lots of sidewalks, and great restaurants. AND, a great local community, a farmer's market with local vendors, a thriving business section, and historical charm. We thought our exhaustive list would stump our realtor, but no…such a town DOES exist! It is Ridgefield, in Fairfield County, CT – to my mind, one of the loveliest towns here in CT, or even in greater New England.
As far as the basic statistics go, the rundown on Ridgefield is as follows: The town of 22,000 residents is roughly 60 miles from New York City, and was founded in 1709. If you're a history buff (and really, who isn't?), you and your kids will delight in visiting the site of 1777's Battle of Ridgefield, in which colonials, under the command of Generals Wooster and Arnold (yes, that Arnold...Benedict!), battled the British forces.
History isn't the only subject that Ridgefield seems to have mastered. The public schools are consistently rated amongst the best in CT; in a 2013 review compiled by US New and World report, Ridgefield High School ranked 4th best in the state. Not bad. And while the home prices are by no means modest in Ridgefield, they are slightly - and I stress slightly - more affordable than those in neighboring towns such as New Canaan, Wilton, and Darien.
Those are the tangibles. But Ridgefield's charm is largely driven by the intangibles, including the charm and character of its Main Street. Fantastic restaurants include Luc's, (french bistro style) Bailey's Backyard (farm to table), and Bernard's (more formal). If you're like me and you prefer to skip dinner and head straight to dessert, you'll want to stop in to Sweet Pierre's for their fantastic chocolates. You'll thank me later.
Is shopping your thing? No problem. Silver Linings is a lovely consignment shop that is well worth a visit, if not multiple visits. And Olley Court features the artwork of some local artists, as well as stunning and eclectic home decor elements. The Toy Chest is a great place to pick up that last minute kid's birthday gift. Or maybe you're not as last minute as I am...
If an afternoon of shopping and eating hasn't exhausted you, head slightly East towards the renowned Aldrich Contemporary Art Museum. The Aldrich, which is walking distance from town, features a host of ever changing exhibits of contemporary, thought-provoking artworks. It's a great museum to visit with kids, as it really challenges them to think about what art can be. A little jaunt down the road will lead you to the Ridgefield Playhouse, which features famous and talented performers. Recent and upcoming headliners include comedian Jay Mohr, musician Pat Benatar and celebrity chef Robert Irvine. Upcoming performances for the kids include Pinocchio and The Very Hungry Caterpillar.
In addition to all of the events, activities, shopping and dining that Ridgefield has to offer, it's beauty alone is reason enough to visit. The town, with its wide, antique house lined Main Street, is stunning, and never more so than in the fall when the mature trees are at their colorful best.
That's it for now...I'm headed out to get my Starbuck's latte. In Ridgefield, of course! For more information about fun things to do with kids in Fairfield County see our Neighborhood Guide which includes towns like Fairfield, CT.