Beach and Swim Clubs in Fairfield County, CT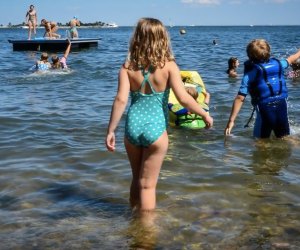 While I'm not one to excessively plan the summer, I love to have a great destination where the kids and I can go hang out during the day. And now that my youngest is five (gulp), I'm looking into some local beach and lake clubs in Fairfield County. Discovery # 1: this isn't going to be cheap. But I still think it warrants consideration, and some clubs are more reasonably priced than others.
Sprite Island Yacht Club, Norwalk, CT
How great is this? The Sprite Island Yacht Club is indeed on…Sprite Island! Small launches take members and guests from the dock on the mainland across the inlet to the island. The small island offers a snack bar, restrooms, swimming, and barbecue areas. Visit their website for membership inquiries.
Shore Haven Road, East Norwalk, CT 06855, 203.295.8466
Roton Point, Rowayton CT
Beautiful Roton Point in Rowayton, CT is a private club where you can enjoy swimming (in the pool or in the Long Island Sound), tennis and sailing. The grounds are beautiful, and the club offers many programs for children and adults. The membership is restricted to 400 family memberships – if you're interested in using the club for a season, you must rent a membership from a current member.
15 Pine Point Road, Rowayton, CT 06853, 203.838.1606
The Lake Club, Wilton, CT
Members can enjoy The Lake Club all year round. Summer activities include swimming and tennis, while paddle makes the winter season equally fun! Programs for adults and kids are available - check their website for more information.
165 Thayer Pond Road, Wilton, CT 06897, 203.762.5600
Mamanasco Beach Club, Ridgefield, CT
Topping my list of places to check out is the Mamanasco Beach Club in Ridgefield. This low-key club offers its members beach access on the lovely Lake Mamanasco. Members can enjoy swimming, boating (no gasoline motors and no jet-skis) and fishing, as well as a variety of club events throughout the season. A family membership runs $320 for families who live outside of the immediate water shed area, and $220 for those who live within.
Mamansaco Road, Ridgefield, CT 06877
Candlewood Yacht Club, New Fairfield CT
Candlewood Yacht Club is located on the largest area lake – Candlewood Lake in New Fairfield. The club prides itself on its sailing heritage and hosts several sailing events for all ages. Members must provide a boat. Non-sailing activities include swimming at the beach, picnicking, and enjoying the play area.
Candlewood Yacht Club, 7 Shore Drive, New Fairfield, CT 06812
Photo courtesy of Sprite Island Yacht Club.
Originally published 5/13/12.