Summer Camps for Preschoolers around Fairfield, CT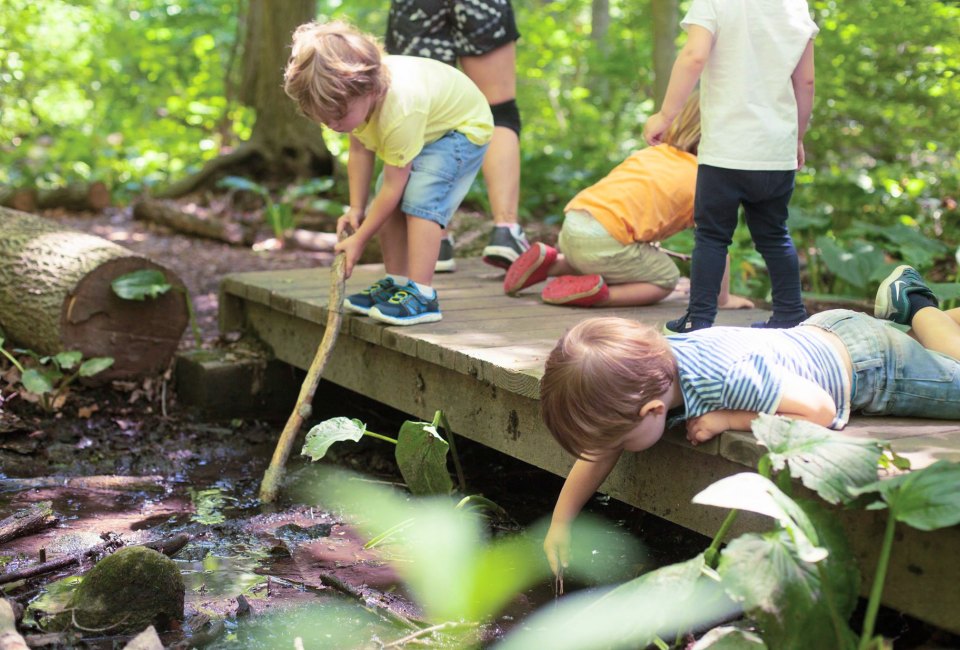 4/5/21
- By
Katie McKnight
Summer camp is great prep for school. These well-established programs in Fairfield County know how to cater to preschoolers with fun water play, nature activities, sports, shorter sessions, hands-on summer learning, and, yes, plenty of hand holding.
Live in Central Connecticut? We've rounded up our favorite preschooler camps in the Hartford area, too. See our Connecticut Summer Camp Guide for more ideas, or search by age, interest, and town in our Connecticut camp directory.
Ages 3- 5 years
This sports-focused summer camp offers a half-day camp, Little Athletes, for kids ages 3-4, as well as full-day programs for older children. Kids can choose from several specialized tracks, including gymnastics, dance, swimming, soccer, and more. They'll get plenty of sports instruction, but also playtime with arts and crafts, games, and more activities with their new friends.
Ages 4- 5 years
This preschool camp offers an outdoor, nature-fueled half-day camp experience for campers ages 4 to 5. There are also full-day camps for older siblings. Themes vary by the week and keep the kids busy exploring wetlands, woods, ponds, and all the creatures that can be found within them. All sessions are taught by staff teacher-naturalists. Join by the week, or for the whole summer. There is before care and an extended lunch option, too.
Ages 3 and up
Offering both an at-home and an on-site option in 2021. The at-home option runs weekly from June to August. Children (2 minimum per household) and a caregiver get to explore nature in their own backyards with the help of Center staff. The On-Site option is a half-day option, with different themes like "The Sky Above," "The Earth Beneath our Feet," and "The Water Around Us." Mixed-age groups of children spend the day in nature learning about animals and plant life with peers.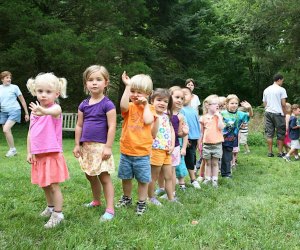 Little ones explore natural landscapes in Westport. Photo courtesy of Earthplace
Ages 2 - 5 years
Campers hit the trail at this nature-focused summer camp at Earthplace. Kids explore local ecosystems and our natural environment, including ponds, woods, and more. There is still be plenty of time for camp-style, preschooler activities, too, such as arts and crafts, music, and storytime. Preschool age kids (2-5) are separated into additional groups by age, including one just for the toddlers (age 2). Early drop off is available for all ages, and extended day options are available for ages 3 and up.
Ages 2-6
Enjoy summer camp at this sweet preschool this summer. Each week carries a different theme, from patriotism (July 4 week) to an arts/create week to a "backyard bash" complete with water play and popsicles. Kids can join for a half day, or a slightly longer day ending in the early afternoon, and parents are welcome to enroll them for one day a week, up to all five.
Ages 3-5 years
This preschool opens its doors (and outdoor play areas) up for summer camp. Camp counselors are preschool teachers, and they lead activities that include science experiments, cooking, music, dance, and nature exploration. Campers can attend mornings only or extended day.

Ages 3 and up
The Long Ridge Camp held on the wooded grounds of this independent day school offers a full-day or half-day of camp for your preschooler. The "nursery and preschool" division participates in all the typical camp activities but is geared to the needs of the younger set, including games, art, swimming, dance, and music. Bus transportation is available for full-day campers. The 14-acre campus includes three pools, playgrounds, air-conditioned indoor facilities, and sports fields.
Ages 3 and up
This popular summer camp spans 40 acres with plenty of fields, ponds, and woods to explore. There's a half-day option for ages 3-5, or full day for ages 4 and up. Promising an "action-packed" day camp, the New Canaan Nature Center serves up games, arts, wood hikes, bird watching, gardening, and even baking.
Ages 2 to 4 years
A new "twos" program at Ridgefield Academy's summer camp on the independent school's 42-acre campus lets the state's youngest campers take part in seasonal fun with water play, playgrounds, sensory tables, preschool classrooms, a Kitchen Lab, and more. Your two-year-old can enjoy a half-day program, while those ages three and up are eligible for full-day sessions. Before and after care are available, too. Each week carries a fun theme, such as "A-Camping We Will Go" and "Under the Sea."
Ages 18 months and up
Meet live animals, visit the vernal pools, and trek through the nature trails at the Stamford Nature Center. Choose from Woodland Wonder Art that features art experiences, songs, live animals, and hands-on centers, or Wild At Art, which includes visiting animal pastures, experiencing free play, rolling logs, and more.
Ages 18 months to 6 years
Fantastic teachers and well-planned activities, including water play, make the half-day Toddlertime camp a consistent favorite for the preschool set. Toddlers, of course, are welcome at this summer camp with exciting rotating themes like "Pop, Fizz Academy" and "Outdoor Art Blast." Children participate in water play, outdoor games, and music every camp week. The focus on creativity is a total win for this age group.
Ages 3 and up
Tumble Jungle offers half-day summer camps (am session and pm session) for toddlers and preschoolers from early June to late August in its climate-controlled facilities. Kids get to bounce on the trampolines and inflatables and enjoy themed crafts and games.
Pre-K - 5
This wilderness camp encourages campers of all ages to explore its 150-acre preserve with hiking, wildlife encounters, nature crafts, and more from mid-June to mid-August. Preschoolers are divided into separate age groups: 3s and early 4s (there's also a pre-k and kindergarten group).
This article was first published in 2012 and has been updated annually since.
Sign up for the Mommy Poppins Newsletter today!