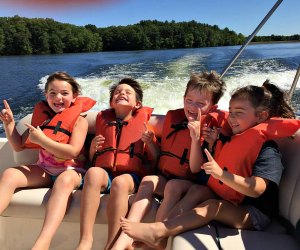 Summer Camps for Preschoolers in the Hartford Area
Before children enter preschool or kindergarten, parents often look for opportunities to help prepare them for the upcoming school year—and these Connecticut summer camps are a great option! Many great summer camps in the Hartford County area offer short sessions, indoor and outdoor options, and plenty of summer fun for preschoolers and toddlers.
Closer to Fairfield? You might want to see our post on camps for Fairfield County preschoolers instead. Also, be sure to check out our Connecticut Summer Camp Guide and our Summer Camp Directory.
Editor's note: Camp sessions are still subject to change for 2020; please contact camp for updates.
This summer program specially designed for preschoolers focuses on developmentally appropriate skill building in sports, arts, crafts, music, and more, and also includes fun extras like theme days and field trips. The indoor pool is a nice bonus.
OUR LATEST VIDEOS
Preschoolers can enjoy a half- or full-day experience at Renbrook, which boasts a 75-acre campus complete with three playgrounds, a natural ropes course, nature trails, and plenty of sports facilities.
Three and 4-year-old campers can look forward to an exciting summer program (half-day, five days a week), that includes arts and crafts, sports, water play, and exposure to nature, music, and more. A low counselor-camper ratio ensures that children receive individual attention and are able to flourish socially, physically, and emotionally.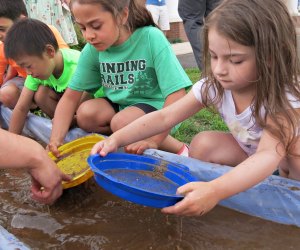 Learning is based on play at The Goddard School camps. Photo courtesy of The Goddard School
This summer curriculum incorporates STEAM learning (science, technology, engineering, arts, and mathematics) and creates unique and fun experiences for children. Summer camp offers play-based learning opportunities inside and outside the classroom. The school has two locations in Hartford County: Farmington and Glastonbury.
Send your littles to gym camp. Children ages 2 to 5 get all their wiggles out in this half-day camp. Wear loose clothes and send something to drink.
Children ages 4 and up can attend All Star's half-day camp. Bring a snack and participate in gymnastics instruction, games, and (of course) jump on the trampoline!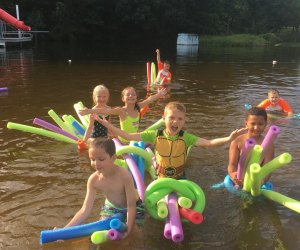 Swim fun is part of camp days at Fun Camp in East Windsor. Photo courtesy of East Windsor Parks & Recreation
Children ages 4 and 5 can enjoy a full day of summer camp in East Windsor Park. Children can participate in sports, arts and crafts, and other activities. Extended day care is available.
This camp is for the littlest ones! Three-year-olds are treated to art, games, music, games, and "self expression" at this half-day (and nicely affordable) camp.
Kids ages 3 to 5 meet in the Canton Community Center most days and Mill Pond Park on Fridays. Along with wading pool activities and other play-based fun, special entertainers and events are planned for the children.
Children age 4 and up will enjoy spending a good portion of their summer in nature. Parents (with their kids) choose from weekly themes. Campers will go swimming, explore nature, play recreational games, and have nature-based lessons and activities. For more information, take a look at their parent handbook.
Children as young as 3 (Sprouts) will enjoy a half day program where they will learn about plants and animals, explore artistic pursuits, and discover the wonders of nature and gardening.