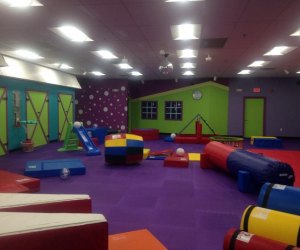 Romp n' Roll Wethersfield
Romp n' Roll Wethersfield prepares your child for future success. Children gain the tools they need to learn, make friends, and grow in a healthy, positive environment. Their imaginations will thrive in Romp n' Roll's learn-through-play environment. They'll experience activities and classes that spark their imagination and allow them to thrive and be successful.
The proprietary curriculum rotates weekly and is designed specifically for little ones ages 3 months through 5 years, targeting developmental milestones through art, music, and physical activity. What's more, Romp n' Roll's classes are parent-friendly to encourage caretakers to take part in the process. All classes for toddlers, babies, and preschoolers are led by an engaged, caring instructor, and the facilities are inviting, clean, and bright. 
When you book a birthday party with Romp n' Roll Wethersfield, the staff tries to make yours and your child's experience as seamless as possible. You make the mess, and Romp n' Roll cleans it up. Staff members set the stage, provide the fun, and clean it all up so that everyone, grown-ups included, can relax and get goofy. 
Romp n' Roll offers gym, art, and music classes; camps; birthday parties; and more!
---
Romp n' Roll Wethersfield
Reviews