A Visit to the Connecticut River Museum in Essex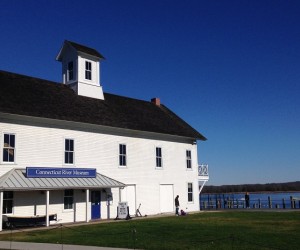 In Eastern Connecticut, on the edge of the Connecticut River, a small unassuming building holds many archeological treasures, history lessons, nautical artwork, and a full-sized replica of the first American submarine. The 22nd Annual Train Show is a special seasonal attraction for visitors of all ages, and only a few minutes away, a ride on the North Pole Express awaits at the Essex Steam Train Station.
Located on the historic Essex waterfront, the Connecticut River Museum occupies a restored steamboat warehouse. It is a small structure - only three floors - but no inch of space is wasted. Even staircases serve as art galleries of nautical images and photography depicting our state. My family enjoyed spotting places we are acquainted with, and those we have yet to discover.
Begin your visit on the third floor, where a beautifully-crafted, fully operational, 26-foot train exhibit occupies most of the space. The experience is enhanced by a game of I Spy - the museum provides an advanced edition and a junior edition - that will motivate you to notice details you might otherwise overlook: an elephant, a Titanic painting, a greyhound, water towers, moving cranes, and various signage. A smaller exhibit designed for toddler-sized viewing features buttons that allow tiny visitors to interact with trains.
Models of steamboats and artifacts are sprawled on the second floor, and the first floor highlights lessons about the Battle of 1812, which can supplement what children already know about the event, depending on their grade level.
The kids' favorite attraction is Turtle, the replica of the first American submarine, built in Old Saybrook in 1775, and used against the British in the American Revolutionary War. My eldest loves history, so the lesson was fun enough, but being able to climb aboard, push some buttons, and maneuver the propeller made for bragging rights for the rest of the day.
Admission to the museum, open everyday except Monday, is $9 for adults, $6 for children, and free for ages 6 and younger. A visit lasts 1-2 hours, depending on interest, but don't leave the area before hitting a few more kid-friendly destinations.
Shortly after you exit the museum parking lot, a cluster of stores awaits on the right, at the start of the charming downtown area. You can savor ice cream, a smoothie, or a panini at Sweet P's, or indulge in designer children's fashions at The Red Balloon. We picked up a delicious lunch from Olive Oyl's, and with sandwiches and caramel-stuffed brownies (say "yes" to the cherry topping!) in tow, we headed to Grove Street Park, about a five-minute ride away.
Located behind the Essex Town Hall on Main Street, a sprawling playground features the usual slides and swings, and climbing and monkey bar variations we have not encountered before. The kids were thrilled to test new boundaries and find new playmates.
We enjoyed four hours in the area, but if you have more time, there's plenty more to do. Less than 30 minutes in different directions, you will find yourself at Gillette Castle State Park in East Haddam, or The Children's Museum of Southeastern Connecticut in Niantic, where more fun awaits. If you want to continue the nautical theme, Mystic Seaport is half an hour away.