A Visit to the Ballard Institute and Museum of Puppetry at UConn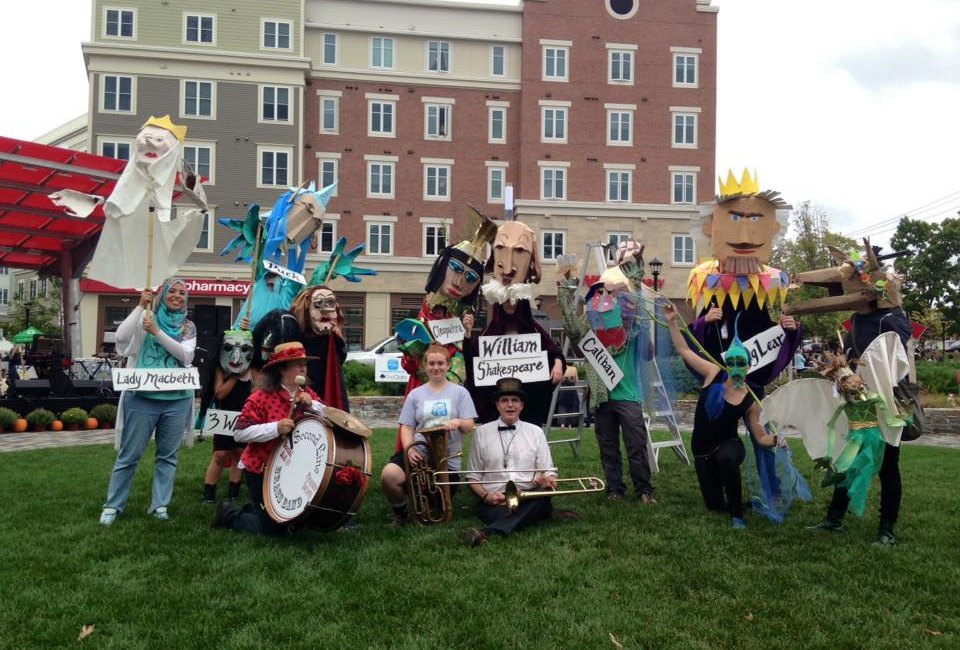 6/10/17
- By
Makayla O'Keefe
If your familiarity with puppetry begins and ends with Elmo, Kermit the Frog or Pinocchio, get ready for a much wider world of "performing objects" at the Ballard Institute and Museum of Puppetry at UConn.
To borrow a phrase from Ballard's director, John Bell, puppetry is "ubiquitous and invisible." Really, puppetry is everywhere. Take the new Star Wars film Rogue One, or any of the Lord of the Rings films, or even big New York City shows like The Lion King on Broadway. All of these major cultural icons owe their success to the ancient art of puppetry, showcased at the Ballard School's museum.
The museum's collection includes about 3,000 puppets sourced from around the world, with a special focus on 20th century American puppets. The puppetry program at UConn was founded in 1965 and is the only one in the country to offer a bachelor's and two master's degrees in puppetry. UConn's puppetry grads go on to work extensively on television programs, in both animated film and live theater, and even designing mascot puppets—like your friend Big Bird or Wally, the Green Monster at Fenway Park.
Once on UConn's campus, head to the thriving new village known as Storrs Center where the university bookstore is located. From there, look for the glowing LED marquee and you will have found the Ballard Institute of Puppetry and its museum.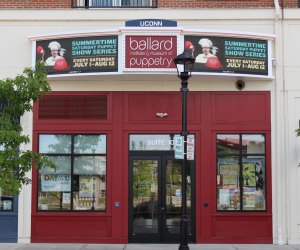 Inside the museum, glass enclosures display selections from the museum's permanent collection featuring a wide variety of marionettes, hand puppets, shadow fingers, rod puppets, toy theaters, as well as hundreds of traditional puppets from Asia, Africa, Europe, and the Americas. The museum also includes hundreds of books and more than 1,000 videos and other audio-visual resources.
Whether an Iranian marionette or an English rod puppet, the puppets all really feel like they could come to life at any moment. And most puppeteers often believe they do. UConn's collection embodies culturally rich history including some pretty sophisticated rod puppets from the Javanese culture used in the dramatization of epic tales, or French hand puppets used to illustrate the concerns of Lyon silk workers in the early 19th century.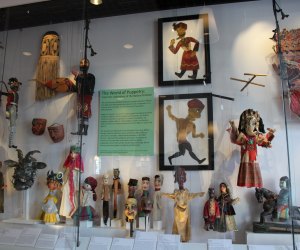 A single marionette puppet represents famed puppeteer Tony Sarg, best known for his work in the Macy's Thanksgiving Day Parade using the very first inflatable puppet, Felix the Cat, in the beloved televised holiday tradition. And, a very sweet set of marionettes tells the tale of Pinocchio with Pinocchio himself, Geppetto the carver, and Jiminy Cricket.
The Ballard Museum offers continual programming throughout the year in its black box theater as well as a series of temporary exhibitions. Consult the Ballard Institute and Museum's website to find out what the latest exhibits and performances entail!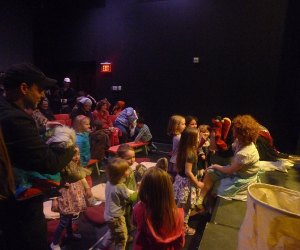 After visiting the Ballard Museum, have lunch in Storrs Center. The Village Street neighborhood offers quaint outdoor cafes and shops lining the wide, landscaped sidewalks. There is really no shortage of options from Dog Lane Café, Geno's Grill of Blaze Pizza. For dessert, head to Froyoworld, Sweet Emotions Candy for over 400 different types of candies or Insomnia Cookies for classic chocolate chunk cookies a la mode.
All photos courtesy of the Ballard Institute and Museum of Puppetry
Places featured in this article:
---
Ballard Institute and Museum of Puppetry

Sign up for our free
newsletters.
Mommy Poppins is a family activity website that helps people find things to do with kids.
©
2023
MommyPoppins. All Rights Reserved.
mp-prod4-v4.32.99
We use cookies and other data collection technologies to provide the best experience for our customers.
Learn More
Sign up for the Mommy Poppins Newsletter today!