Have you Visited Connecticut's only National Park Site?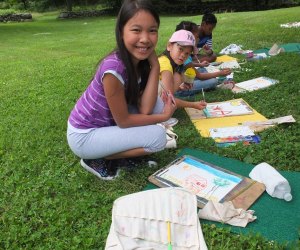 Tucked in the bucolic countryside of Fairfield County, Weir Farm is the only in the National Park Service dedicated to the arts. Also listed on the National Register of Historic Places, Weir Farm has inspired generations of visitors on 60 acres of painterly pastoral paradise. You'll love the peace and serenity Weir Farm brings, your kids will love the pastels.
With an incredibly rich history tied to the American Impressionist movement, Weir Farm was home to Julian Alden Weir, a pioneer in American art and the development of American Impressionism.
While the site's storied history is certainly fascinating for us grownups, your kiddos will likely be interested in one thing in particular: the readily available art supplies.
Compared with other national parks, like say Acadia or Yellowstone, Weir Farm is really not so big. The entire site spans 68 acres of woods, fields, and waterways. But you'll easily discover why Weir described his home as the "Great Good Place."
There are a few ways to experience Weir Farm with kids: hiking, picnicking and taking part in art.
So let's start by parking the car. Once you have landed, cross the street from the parking lot at the crosswalk, and head to the small Visitor's Center. The farm offers several guided tours, but it's recommended that you call in advance to guarantee a spot. Or if you would rather take a self-guided tour, you can pickup some brochures from the Visitors Center. Note that the bathrooms are located just steps away from the Visitors Center.
On the porch of the Visitor's Center, there is a pile of artist kits just waiting to be used. On weekdays, you can pick-up some pastels or colored pencils but on the weekends they stock totes with water colors. These kits are not your Crayola or Creatology kits. They are professional grade artist materials that you and your children both will absolutely love. And, they are absolutely FREE. No signing out. No pre-registration. And, don't worry, there are plenty of kits. (You must return them!)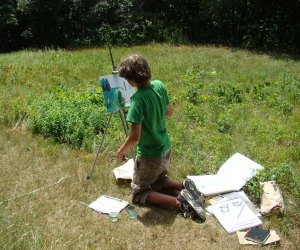 As the only national site dedicated to art, Weir Farm is dedicated to fostering a love for the arts and nurturing creativity. These free art kits are designed to encourage visitors to take part in art through plein air painting and sketching.
If you're up for a hike, the Weir Pond Loop is undoubtedly a favorite trail at just one mile long. Wrapping along the picturesque pond, the Pond Loop is just long enough for your little ones to experience the thrill of hiking through the woods while not being overly challenging. Plus, there are plenty of stops along the way with wooden footbridges and tree stumps to climb on. Note: The trail is not stroller friendly, so plan on packing the carrier.
Kids are invited to be a Junior Ranger at Weir Farm with plenty of activities they can complete to earn a special patch. With scavenger hunts, Letterboxing Trails, "I Spy" tours and backpacks loaded with art and nature activities, the Junior Ranger Program is a wonderful way to experience Weir Farm.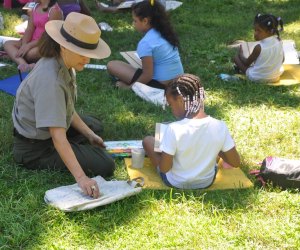 After all of that fresh air, you're sure to work up an appetite. While there are no tables or chairs available for dining, Weir Farm paints the perfect backdrop for a lovely picnic lunch. The park is open sunrise to sunset year round.
All photos courtesy of Weir Farm.