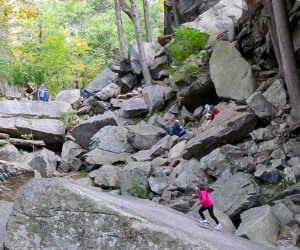 12 Family-Friendly Hikes in New England
Fall is one of the best times to explore New England with the little ones—the colored leaves, the fresh air, the natural beauty of the area, plus phones and tablets fade to the background (unless you are snapping incredible pictures). One of the best things to do outside around this time of year? Go on a hike, it's great for your health, is an amazing family bonding activity, and you can get great family photos!
New England is home to some of the most gorgeous, yet kid-friendly places to hit the trails—even in the White Mountains of New Hampshire where there is an impressive cluster of 4,000 footers. As part of National Take a Hike Day on November 17, we've rounded up the best places to take a hike. From tranquil parks to adventurous state parks and more, these spots are not only aesthetically pleasing, but they make for a full family day. So grab your hiking boots and get ready to explore nature on mild, kid-friendly terrain (some are even drivable), and maybe see some wildlife along the way.
Looking for more ways to get out in nature with kids? Explore our list of 10 State Parks and Forests in Massachusetts and 25 Connecticut State Parks and Forests That Are Great to Visit. Or, learn about the 15 best destinations for a fall day trip from Boston.
Family-Friendly Hikes in New England

Walden Pond is easy walking and great pond swimming. Photo courtesy of Walden Pond, Facebook
Perhaps you think peace doesn't exist with kiddos, but Walden Pond will prove you wrong. The 1.7-mile path in the park makes this an easy walk for kids of all ages. Stroll through the wooded trails and find the perfect nook to enjoy some swimming in the serene pond, picnic along the waters, or just spend time together as a family in nature. If you have any history buffs in the family, Walden happens to be Henry David Thoreau's former home, and the spot where he wrote his iconic book, "Walden." That said, the area offers many opportunities for history lessons, like a visit to the replica of his 1-room cabin.
OUR LATEST VIDEOS

Walking in Henry David Thoreau's woods is quintessential New England. Photo courtesy of Walden Pond, Facebook
Tip! Be sure to get there early; space is limited and the parking lot can fill up fast.
A narrow pass situated amid the Green Mountains, Smugglers Notch offers everything you could want for a family day out, from relaxed walks to more strenuous hikes and even "wikes"—aka the in-between of a walk and a hike (Discovery Walk and River Walk are great options, among others). Be sure to say hi to all the tiny critters you may come across, and take in beautiful scenery and pleasant woodlands as you meander.
Tip! Drive up the 3.5-mile Barnes Camp Visitor Center for beautiful, scenic vistas and recreational activities.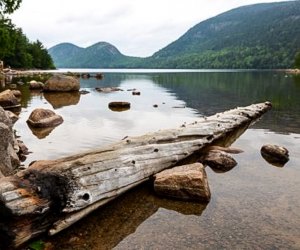 The Jordan Pond loop is a 3.5-mile paved path with awe-inspiring views. Photo by Nathaniel X Boechat, Friends of Acadia, NPS
Acadia National Park—where Jordan Pond is located—is arguably one of the most picturesque national parks in the country. The loop totals about 3.5 miles, but it's mostly along a paved path and appropriate for kids of any age. Take your time admiring the views of the glaciated valley and the mountains in the far-off distance. Be sure to check your phone's available memory beforehand—you'll want to take tons of pictures to remember the scenes.
Tip! While the famous Jordan Pond House Restaurant is closed for the season by the time Hike Day comes around, keep it in mind for next time—it's one of the most popular restaurants in the world, offering beautiful views of South and North Bubble Mountain and delicious food to boot (a perfect ending to a day on your feet).

The picturesque Crawford Notch State Park in the White Mountains is a perfect place for a family hike. Photo courtesy of NHastateparks.org
You probably already know how idyllic the White Mountains of New Hampshire are, but nothing beats the views from some of the hikes in Crawford Notch State Park. Try the Saco River Trail, offering mountain vistas to Arethusa Falls, with its stunning waterfall, or Ripley Falls, where the destination after a short half-mile stroll is a gorgeous 100-foot high cascade. Sure, the trails may be a bit rocky at times, but the views at the end are worth every bead of sweat.
Tip! Some of the trails at Crawford Notch State Park overlap. If your family is up for it, Arethusa Falls Road offers the option to cut into Bemis Brook Trail, which, if your kids want to extend the hike, will take you by a few more waterfalls before Arethusa. You'll pass Coliseum Falls and Fawn Pool, two options you are bound to enjoy. Review the park trail map.
Deemed one of the most gorgeous locations in all of Rhode Island—and arguably, New England itself—Beavertail State Park is a perfect destination to spend the entire day with the family. While the park is known for its iconic 1800s Beavertail Lighthouse scenic views of the New England coastline, the hiking trails are the crème de la crème of the entire area. Explore the Red Dot Trail, with the former Naval Radio Station Jamestown, or Beavertail Trail, which is a 2.3-mile loop leading to some beautiful vistas.
Tip! Beavertail is known for its interesting geology, ecology, and marine life. Bring your saltwater fishing rods!
This isn't your typical nature hike that leads to ponds and streams. In fact, your destination on this short 1.25 mile hike is the 165-foot Heublein Tower, a former summer home of a significant Hartford family, as well as a museum of local history. The only way to get to the tower is to hike, where you'll probably spot some deer, rare birds, rabbits, or even a fox along the way.
Tip! The area has a picnic area with grills, so you can make a whole day of your trip.

After exploring the unique rock formations at Purgatory Chasm, kids can play on the swings and take a ride on the merry-go-round. Photo by Ocean State Drifters, Inc.
Adventure awaits at the 900-acre natural landmark that is Purgatory Chasm, which offers trails that lead to unique rock formations with interesting names like the Corn Crib, the Coffin, the Pulpit, Lovers' Leap, and Fat Man's Misery. Truly a place unlike any other, older kids will love climbing the giant boulders and exploring the dark caves, while the younger bunch can admire the rock formations around them. And don't even get us started about the amazing views of the chasm!
Tip! There's a playground with swings and a merry-go-round near the visitor center. Then you can enjoy an afternoon picnic before heading home.

After your family hike, have a picnic at the Mt. Philo summit. Photo courtesy of Trailfinder.com
Dating back to 1924, Mt. Philo State Park spans more than 230 acres and offers pristine views of the iconic Lake Champlain and New York's Adirondack Mountains. At ¾ of a mile, it's a comfortable hike for everyone in the family, plus there's the option to drive to the top on a narrow, paved road. Whether you hike or drive, both lead to the mountain's summit where you'll find picnic tables, an open lawn, and a range of lookouts to spend the afternoon. If you're lucky, you may even spot some wildlife, like white-tailed deer or even a moose, on your way up.
Tip! Right before you get to the top, there's a little overlook with incredible vistas. Be sure to stop there for some photos before heading all the way up and enjoying the view from the top.

Not far from Freeport's shopping district are coastal, family-friendly trails at Wolfe's Neck State Park. Photo courtesy of Mainetourism.com
Located in a beautiful natural setting, Wolfe's Neck State Park is home to several trails for families seeking a tranquil, peaceful afternoon. Try the smooth, stroller-friendly .5-mile White Pines Trail that ends at an osprey nest on Googins Island. Or, take the Casco Bay Trail, one of the most popular short hikes along Maine's legendary coast. Also check out the North Loop Trail, a simple walk with views of farm fields, a salt marsh along the shore, and more. For more natural history, Power Line, Hemlock Ridge, Ledge, and Old Woods trails are .2 miles each with educational trail signs explaining the ecosystems and history of the park. Review Wolfe Neck's Guide and Map.
Tip! The park is just a few minutes from the center of Freeport's bustling shopping district, so you can add a stop for shopping.
Fraconia Notch has it all—hiking, biking, even ice climbing and skiing in the winter. However, autumn is one of the best times to visit for its amazing foliage and views of the waterfalls. Each trail offers something a little different. For example, the hike to Artist's Bluff and Bald Mountain is a brisk 1.5 miles, providing beautiful views overlooking the whole park. The hike to Cannon Mountain and Lonesome Lake will take a bit longer, at 5.5 miles, but the White Mountain views at the end may be worth it.
Tip! The waterfalls are as popular as the hikes at Fraconia. The Flume Gorge, a 2-mile hike, is one of the most popular sights, with many waterfalls along the way before the 90-foot gorge at the trail's end. Just watch out for the stairs and steep sections when it comes to the little ones. (Note: The trails around Flume Gorge close for three weeks starting October 25, 2021 in preparation for winter use.)
A combined 780 acres of land, these two trails are great places to take a step back in time. Discover the original stone walls and a unique stone kiosk covering an old well house before heading through the Cemetery Trail. There, you'll come across a vernal pool before entering Weetamoo Woods on a narrow path. The trails all have gentle slopes and are well marked, plus the loops make for easy walks for all ages. Pass through lush grasslands, forests, and wet lowlands for a relaxing, carefree family fun day. Review the map to help navigate the area.
Tip! If you go at night, you may be able to hear some Native American drums.

Old stone ruins and a moss-covered stone bridge are just two of the enchanted features of Jones Mountain. Photo by Adi Weiss Hochberg
Tell your kids that you're off to a magical forest—they'll never know the difference! There's so much to see on the hidden gem that is Jones Mountain, a low-difficulty hike filled with rustic, natural scenery, a babbling brook, old stone ruins, and more. Follow the Carriage Trail, where you'll pass a moss-covered stone bridge and enjoy the calming sounds of tweeting birds. At the top, you'll come across the chimney structure that was left behind from a foam dome built by a Jones family member. The dome was lost in a fire during a few years ago, but it's pretty cool to see the pieces that remain.
Tip! Right before you get to the top of the mountain, there's a small break with beautiful views of all of New Hartford.