Shawnee Mountain Offers Big Poconos Fun in Small Resort Setting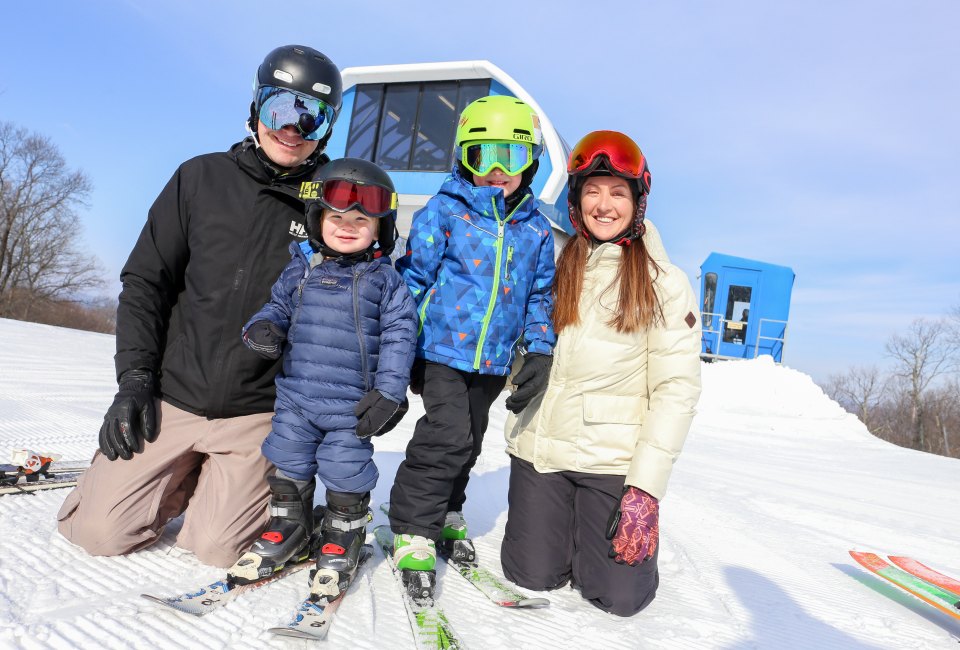 3/4/21
- By
Jessica Delfino
If you haven't gotten enough winter sports close to home, Shawnee Mountain, nestled in the family-friendly Pocono Mountains, offers enough action for a late-season snow sports day trip.
We recently visited the 1,350-foot peak, which offers a 700-foot vertical drop, 23 trails, two terrain parks, and one of our favorite snow tubing parks. Its location near the Delaware Water Gap makes it an easy, family-friendly day trip from the New York City metro area, New Jersey, and even Philadelphia.
Read on for our review of Shawnee Mountain, and find more area destinations in our Poconos Family Vacation Guide and this list of 60+ all-season activities in the region.
We visited Shawnee Mountain on a Monday, hoping to find few lines and uncrowded slopes. Our plan worked, and the parking lot was nearly empty when we arrived.
We were greeted with the view of the majestic, snow-covered mountain as we crossed the footbridge leading to the resort. It deposits you at the lift ticket window, though purchasing tickets in advance is encouraged and means discounted pricing. If you want to hit the tubing hill, be forewarned: No tickets are sold on-site. Lift ticket prices start at $34 for adults and $26 for children, though you'll pay a premium on weekends. My 4-and-a-half-year-old son was able to take advantage of the FREE lift ticket offer for children under 46-inches tall. Snow tubing tickets range from $30-45.
RELATED: Best Family Resorts in the Poconos Mountains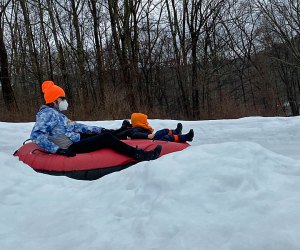 Shawnee Mountain offers double-sized tubes for its snow tubing hill. Photo by author
Snow Tubing at Shawnee Mountain
Tickets in hand, our first stop was the snow tubing hill—a sport my family has always wanted to try. Though the website doesn't recommend tubing for kids younger than 5, we figured our son could handle it.
When we arrived at the tubing area, we found several tubes inflated and ready for our enjoyment. We grabbed a double tube for my husband and son while I struggled to carry my single tube—they're heavy and cumbersome—to the magic carpet lift that leads to the top of the hill.
Once at the top, we found a line and three open tubing lanes. When it was our turn, friendly staff members gave us a nice push to get started. Away we went on a fast, 30-second, gleeful ride to the bottom. On a good run, the tubes stop in their perfect spot at the bottom of the path.
Staff assists with hauling the double tubes back to the magic carpet, but you're on your own with a single. For the price we paid, I wished tubes were waiting at the top for each new run.
On the day we visited, the snow was slushy and partially melted, so occasionally, we'd get stuck mid-run. A staffer comes and gives you a push to restart your ride, over-and-over, if necessary until you get to the bottom. Snow tubing sessions last for 1 1/2 hours, which seems about right, but overall, I'm not sure we'll tube on our next visit.
RELATED: Poconos With Kids: 61 Things To Do as a Family

Shawnee Mountain offers a variety of lessons for all levels of skiers, from beginners to those with competitive ambitions. Photo by author
Skiing at Shawnee Mountain
Growing up in Maine, I am an experienced skier, but I haven't been on the slopes for years and was excited to get back on skis. We purchased rentals from the resort and were pleasantly surprised that we didn't have to wait to get outfitted. We were in-and-out of the rental shop in 15 minutes.
Our first stop was the bunny hill, just up a magic carpet ride from the rental shop. Though my son was scared, I encouraged him and pointed out the other children on the slopes.
My husband, a less experienced skier, was nervous too, but the three of us had a great time making our way down the bunny hill together. I tucked my son between my knees and showed him how to turn his feet and control his movements as we went.
We also enrolled my son in Shawnee's Skiwee lessons, where a friendly staffer worked with him in an enclosed section of the hill. He came away talking about pizza and french fries, the poses the teacher suggested for stopping and skiing, and we spent the rest of the afternoon cruising the bunny hill together.
I took advantage of his lesson time to explore further up the mountain, skiing green (easy) trails. I tried a few different paths and found them pleasant and scenic, with views of big, stunning skies and gorgeous mountains looming off in the distance. I found them steep in some places and perhaps a little too difficult for a beginner. It will be a while before I set my son loose on them.
We wrapped up our day mid-afternoon, though the slopes are open until 9pm some nights, returned our equipment, and were back at the car in a matter of minutes. Though Shawnee offers a variety of on-mountain dining options, we headed to the Gem and Keystone Pub nearby for our meal; french fries included, rewarding my son for his hard work on the slopes.
The season runs through the end of March, weather permitting, and we hope to make one more visit. We're already planning to purchase season passes next year.
RELATED: Easy Waterfall Hikes in the Poconos for Families

Shawnee Mountain is an all-seasons destination, hosting festivals, fireworks, and more in the summer and fall. Photo courtesy of the resort
Know Before You Go to Shawnee Mountain
Dress in layers, and don't forget sunglasses or snow goggles. The sun's reflection off the snow can be blinding.
Pack an extra set of clothes for little ones in case they get wet or need extra insulation.
Lockers are available to store personal possessions, and I rented a small locker for my backpack for $5 for the day. You can also use your car to stash belongings.
Tickets, rentals, and lessons can all be booked online in advance and cut down on wait times when you get to the mountain. Snow tubing tickets are only available online.
Shawnee Mountain hosts a variety of family-friendly festivals and events outside of ski season, too.
Places featured in this article:
---
Shawnee Mountain
---
The Gem And Keystone Tavern At Shawnee Inn