Bay Ridge Places to Play: Owl's Head Park, Shore Road Park & Indoor Play Spaces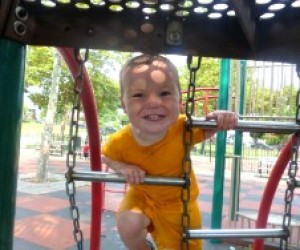 We finish up our month-long focus on Bay Ridge, Brooklyn with a roundup my family's favorite places to play in the area, both outdoors and inside. The neighborhood's biggest and best known green spaces, Owl's Head Park and Shore Road Park, both boast incredible views of New York Harbor, old-school playgrounds and thrilling sledding hills. But there are a handful of other cute playgrounds worth checking out, plus some cozy indoor spots to play, including locally owned play space Play Days & Parties. Here are our top places for kids to romp around in Bay Ridge, Brooklyn.
Outdoor
Shore Road Park
Shore Road between Bay Ridge and Fourth Avenues
This 58-acre waterfront greenway boasts spectacular views of New York Bay, Staten Island and the Verrazano-Narrows Bridge; a pair of playgrounds; basketball, tennis and handball courts, and baseball fields; and miles of biking lanes and lawns for picnicking. The playground at 79th Street and Shore Road is more popular and offers awesome views of the Statue of Liberty. However, the Vinland Playground at 95th Street and Shore Road is better for toddlers and has sprinklers. The 69th Street Pier (officially named the American Veterans Memorial Pier) at the northern edge of the park offers fishing and stunning photo ops, and you'll find awesome sledding hills under the Verrazano-Narrows Bridge at 97th Street and Shore Road.

Narrows Botanical Gardens
72nd Street and Shore Road
Located within Shore Road Park, Brooklyn's other botanical garden is worthy of its own blurb. The volunteer-run green space is a lovely destination with amazing views, and also offers free educational programs for children as well as annual family events like outdoor movie nights in summer and a harvest festival in fall. The website is woefully out of date so before you go call 718-748-4810 to verify open hours.

Owl's Head Park
Shore Road between 68th Street and Colonial Road
Home of Bay Ridge's big annual Halloween Haunted Walk & Fairytale Forest, this 24-acre green space includes two playgrounds, scenic walking trails along the water, epic sledding hills, basketball courts, a popular skatepark and a dog run. There's also ample space for picnicking, an impressive variety of trees (pines, locusts, oaks, maples, corks, beeches) and breathtaking views of lower Manhattan. No wonder Owl's Head Park is affectionately called Bliss Park by us locals.

Russell Pedersen Playground
83rd to 85th Streets and Colonial Road
Located behind Fort Hamilton High School, this is my kids' favorite playground hands-down. There are tons of swings, climbing equipment, space to run (or scooter), sprinklers, plus a running track that's open to the public when school isn't in session. Additional amenities include lots of shaded benches and tables, basketball and handball courts, and decent bathrooms that are usually open. My kids especially love the built-in "piano" on the ground that you can jump, dance or run on to make music.

John J. Carty Park
Fort Hamilton Parkway between 94th and 101st Streets
My children also like this playground, though it can prove to be a bit tricky if you have kids of varying ages. The space is divided into a toddler area and a big kids' section, which has its benefits but makes it tough to keep an eye on all four of my children. There are also basketball and tennis courts, and a large blacktop space that's great for scooting, biking and skating. The bathrooms are usually open (except for that one time you really need them, of course). Afterward, head to nearby Uno Chicago Grill where you kids can make their own pizza, sometimes even for FREE.

McKinley Park
Bay Ridge Parkway to 73rd Street between Fort Hamilton Parkway and Seventh Avenue
This park features a nice playground plus some walking paths and tennis courts. In my opinion, there are not enough swings but there is ample climbing equipment. A big downside: The playground isn't fenced in. My toddler has given me a couple of good scares with a set of concrete stairs on one side and the street just a short walk away.
Indoor
Play Days & Parties
6632 Third Avenue near Wakeman Place
When I moved to Bay Ridge, I was so happy to find this indoor play space—the only one in the whole neighborhood! It's never crowded when we visit, which is a mystery to me because my kids always have so much fun. Drop-in sessions as well as organized class options are available for a variety of age ranges. Afterward, Anopoli Ice Cream Parlor and Family Restaurant is just a short stroll down Third Avenue. For more details, see my full review.

Christ Church Playgroup
7301 Ridge Boulevard between 73rd and 74th Streets
Made up of local stay-at-home parents, this nondenominational playgroup meets on Tuesday and Thursday mornings, and includes structured activities like storytime, music and crafts, and free play. A donation of $5 per child is suggested. For more info, call Liz at 845-264-9083 or email liz.paulsen@yahoo.com.

Bay Ridge Library
7223 Ridge Boulevard between 73rd and 74th Street
This library has a fantastic children's room featuring lots of books and 10 computers, but beware because everybody seems to know about it. In my experience, your best bet is to go right when the library opens since it gets quite crowded after school. There are also regular story hours for different age ranges. Call ahead though: You need a free ticket in order to attend these popular events.

Fort Hamilton Library
95th Street and Fourth Avenue
This branch is smaller than the one in Bay Ridge, but still offers storytimes as well as other neat activities like after-school Lego building sessions. Take note though, it too gets pretty chaotic after school.

Shanti Baby Yoga
8717 Third Avenue between 87th and 88th Streets
In addition to adult and prenatal offerings, Shanti Yoga offers a series of Parent & Me classes up to age 3, plus a separate program for children ages 3 to 7. You can buy packages of classes or drop in for $25 (call ahead to make sure there's space). Sibling discounts are available.

The Painted Pot
8009 Third Avenue between 80th and 81st Streets
Pop in to this paint-your-own-pottery studio to make a mosaic or decorate pots (among other things). There's an $8 sitting fee, but call ahead to find out if there's a discount that day like the Tuesday two-for-one special.

BounceU
6722 Fort Hamilton Parkway at 68th Street
While technically this play spot is in nearby Dyker Heights, BounceU is just a short bus ride from our Bay Ridge home and we visit so frequently I had to include it here. There are lots of open bounce hours when you can literally jump around. Advance reservations are required. I especially love the Preschool Playdate events for children under 8 so even my one-year-old can join in the fun without being trampled.