Dyker Heights with Kids: 20 Things to Do for NYC Families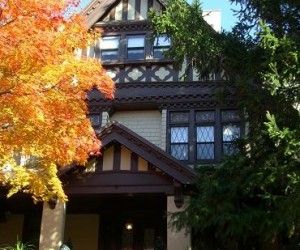 There's a reason Dyker Heights, Brooklyn feels like a swanky suburb. When it was originally developed in the late 19th century, it was marketed as exactly that, a community of stately mansions within commuting distance of the hustle and bustle of the city. Sandwiched in between the more commercial areas of Bay Ridge and Bensonhurst, the neighborhood is primarily residential and is well known for its extravagant Christmas displays, which attract a slew of locals and tourists every holiday season. But whether you visit in December or at another time of year, Dyker Heights is a lovely area to stroll through with its large single-family homes and manicured lawns. It's hard to believe you're in NYC.

While you won't find a ton of family attractions in the area, there are a few cool spots for kids, including Dyker Beach Park, CityParks Junior Golf Center, a BounceU and a bunch of delicious restaurants, bakeries and markets. Since Dyker Heights is overwhelmingly Italian, it's a great place to pick up pizza, pasta and fancy pastries. One downside: It's quite a walk from the nearest subway stops (the N or the D, depending on where you're going).

Throughout November, we'll be covering all the things there are to do, see and eat in the nabe. For the purposes of our posts, our boundaries are Interstate 278 to 14th Avenue, 65th Street to Shore Parkway. Here are our top 20 things to do on a visit to Dyker Heights.
Head over throughout December to see the houses decked out in over-the-top holiday lights, decorations and animatronic displays
Christmas isn't the only holiday the neighborhood celebrates. Come around Halloween to brave the annual Brooklyn House of Horrors on 79th Street between 10th and 11th Avenues
Pick up a sampler box from Aunt Butchie's Cakes so you can try many different kinds of desserts, including its famous cheesecake
Decide which famous Dyker Heights pizzeria has the best slice: Bella Luna, Krispy Pizza or La Sorrentina
Visit Dyker Beach Park to romp in the playground, hit the massive dog run and look for horseshoe crabs in spring
Check out books and computers in the children's room at the Dyker Library
Prefer to buy a tome? Explore the extensive kids' section at Boulevard Books & Cafe, coffee in hand. The shop also hosts frequent events for families
Introduce the brood to Greek-style fries (they're smothered in feta cheese) at Spartan Souvlaki
Try a family program at the local Gymboree—many classes offer free trials
No need to caddy for dad at the Dyker Beach Golf Course—children ages 7 to 17 can sign up for free seasonal lessons at the CityParks Junior Golf Center nearby
Try a prosciutto ball from Faicco's Pork Store
All the Italian eats inspiring you to learn the language? Then enroll in Mommy & Me classes at Little Language Studio
Hit one of the three playgrounds in the leafy Leif Ericson Park
Browse quality children's clothes and accessories at Kaktus Kids, a shop owned and operated by a pair of local sisters
Pick up succulent meats at B&A Pork Store but don't forget to grab some eggplant Parmesan, too—it's the best in the nabe
Buy your underwater gear and sign up for lessons at Ocean Horizon Scuba
Jump and tumble with your kids at BounceU's Family Bounce Night
Burned off a few calories? Then you can indulge in a cannoli from Mona Lisa Bakery
Choose from freshly made exotic flavors like green tea, mango and durian at Sweet Dynasty
Or opt for an Italian ice from Uncle Louie G's—flavors include peanut butter cookie dough, vanilla peanut butter with chocolate covered pretzels, and cake batter