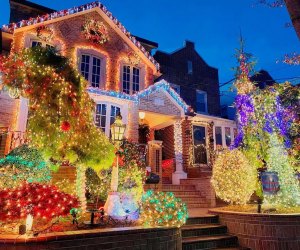 The Most Spectacular Holiday Light Displays in NYC
Every year it seems holiday light installations in New York City get more elaborate, making a visit to the top displays a must-do seasonal activity. In the midst of the pandemic, these stunning visuals can be safely observed as drive-bys or with a socially distant seasonal stroll.
We've rounded up the best holiday light displays in NYC. Most of these attractions are in the more far-flung stretches of the five boroughs, such as Dyker Heights in Brooklyn, the Rockaways and Howard Beach in Queens, and Staten Island, but all of these holiday houses are worth the trip.
So, start your own holiday tradition this year by checking out these spectacular sights when dusk hits. To find more seasonal fun, including a peek at Midtown's holiday store windows, visit our NYC Holiday Fun Guide.
Editor's note: While we are trying to promote safer activities that occur outdoors or with social distancing guidelines in place, please keep your family and others safe by always wearing a mask and maintaining an appropriate distance.
The houses below light up around Thanksgiving, and displays come down around New Year's Day. Lights go on (and are best seen) after dark. If you want to avoid the crowds and potential traffic jams, go early in the evening on a weekday. These places tend to get busy on weekends. If you're traveling on foot, please respect the homeowners' property and other visitors' space.
RELATED: Holiday Light Shows: Drive-Thru Christmas Lights Near NYC for 2020

Houses are decorated to the max in the Dyker Heights neighborhood. Photo courtesy of Dyker Heights Lights
Dyker Lights – Dyker Heights, Brooklyn
Dyker Heights is famous for its Christmas lights displays. There's even a PBS documentary called Dyker Lights and countless videos on YouTube. Check out our full Dyker Lights review for the details on this over-the-top display that carries on for blocks and blocks.
How to get there: Displays can be seen throughout the neighborhood, but the hot spot is 11th to 13th Avenues between 83rd and 86th Streets. Be prepared for serious gridlock or take the subway. The D train to 79th Street is the closest stop, but it's still quite a walk.
RELATED: Rockefeller Center: How to See the Tree and More Family-Friendly 2020 Holiday Fun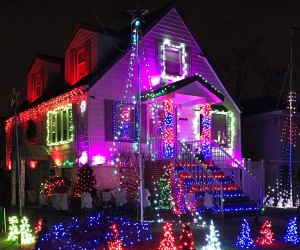 Get festive and support the local fire department at the Modaferri Home and "The Light Fight." Photo courtesy of the family
97-03 165th Avenue
Tony Modaferri has been lighting up his corner lot for more than 30 years. To spread even more cheer this year, the Howard Beach resident and several other homeowners are getting together to hold a friendly competition—dubbed "The Light Fight"—to see who can create the best and brightest display in the neighborhood. The lights are on full display nightly between 5pm and 10pm. Bring some extra cash to donate to the local volunteer fire department.
How to get there: Tony Modaferri's home is on the corner of 97th Street and 165th Avenue in Howard Beach. The other homes participating in the event are in the same neighborhood. It's best reached by car, though the A train to the Howard Beach/JFK station is about a 20-minute walk from Modaferri's home.
144-03 Neponsit Avenue
The home of Joe Mure turns into a sight fit for Santa annually, with a charitable mission to boot. Decorations are currently being installed, though the lights haven't been turned on for the season. Updates about this year's display are posted on its Instagram account. Usually, the Little North Pole's over-the-top decor stays on through the holiday season with two missions: to put a smile on visitor's faces and, thanks to a collection box out front, raise money for children with juvenile diabetes.
How to get there: Located at Neponsit Avenue and West 144th Street, a car is your only option.
RELATED: Westchester's Winter Wonderland Charms Visitors With New Drive-Thru Light Show

In Staten Island, the DiMartino house, dubbed Christmas Lights 4 Life, raises funds to fight children's cancer. Photo courtesy of Lights 4 Life
107 Sharrotts Road
Joe DiMartino and his family transform their house into a Christmas wonderland annually in honor of DiMartino's wife, Debra Ann, who was killed on 9/11. The display covers every square inch of the property and allows revelers to gawk at tableaus like Mrs. Claus baking gingerbread, a nativity scene, and more. Due to the pandemic, the walkthrough experience has been canceled for this year. Donations are collected for Staten Island University Hospital's pediatric cancer ward.
How to get there: While a car is the optimal form of transportation on the Island, the X22 bus drops you about 4 minutes from the house.
Sadly a few of our favorites from season's past have gone dark. Both Christmas in Jamaica Estates and Santa's Corner are dark in Queens. The famed Bronx Christmas House hasn't lit its lights for two seasons, either, though many of its mannequins are still on display in the yard.
Got a car and looking for fun seasonal outings? Find out about the most decked-out holiday houses on Long Island, in Westchester and Hudson Valley, and New Jersey.
This story, originally published in December 2009, is updated annually. Rosalind Muggeridge contributed additional reporting.