The Adventures of Tortoise & Hare The Next Generation
The Sheen Center

The Very Hungry Caterpillar Show
DR2 Theatre

NYC Easter Brunch Cruise 2023
Event Cruises NYC
Sign up for our free newsletters.
Destination Playground: Zucker Natural Area in Prospect Park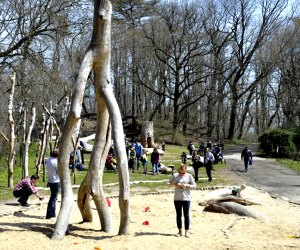 5/21/19
- By
Katie Nave
Most New York City kids may not have backyards, but they do have no shortage of entertaining and engaging playgrounds and parks, including some playgrounds that are truly special. The Donald and Barbara Zucker Natural Exploration Area in Prospect Park definitely ranks high on our list of destination playgrounds worth a subway ride.
Located on Nellie's Lawn in the northeastern section of the park, the Zucker Natural Area isn't your traditional playground, so no swings, slides, or brightly colored plastic. The nature-based play space, opened in 2013, features romping spots made from some of the 500 trees that were downed during storms like Hurricane Sandy, along with other recycled natural materials that have been collected throughout the park.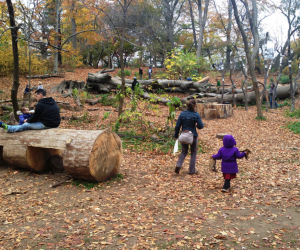 From a distance, the Natural Exploration Area looks like a bunch of random, twisted trees. But, once you get inside, you'll quickly realize that this is an organic dream space where adventurous kiddos are invited to climb, explore, and use their imaginations. For a city kid, the magic of playing in a forest cannot be beat.
Designed by landscape architect Christian Zimmerman, this play area was a huge hit with my preschool-age daughter. She loved balancing on the huge fallen trees and lounging on trunk chairs.
RELATED: Prospect Park's Best Playgrounds, Ranked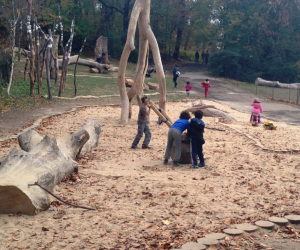 There is plenty of space for kids to run free and climb wildly, plus a water pump and a sand area. Scattered, painted tree branches encourage imaginative play and various tree trunks and stumps offer tons of variety. Parents will appreciate the beautiful wooden paths and wood-carved seating areas.
The play area also serves as an educational experience. My daughter loved learning about the natural materials, thanks to the posted signage. We passed the time by counting rings to determine a tree's age and discussing how the trees fell, many due to Hurricane Sandy, or why they had been cut down.
RELATED: NYC Playgrounds With Great Shade for Hot Sunny Days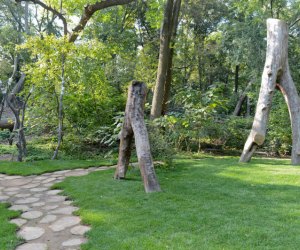 While this spot does require some assistance for little ones navigating the terrain, older kids should be fine. None of the structures are too high and the soft ground is covered in grass.