Carroll Park & Other Places to Play in Cobble Hill & Carroll Gardens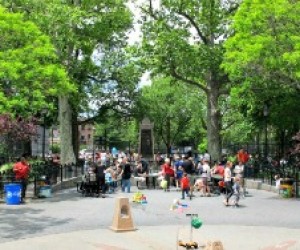 We finish up our series of posts about Carroll Gardens, Cobble Hill and Boerum Hill with a roundup of the best places for kids to play in the area, both inside and outdoors. While there are lots of small playgrounds and green spaces peppered throughout the neighborhood, Carroll Park is definitely the community hub and hosts FREE family activities throughout the year like its popular kids' summer concert series.

But there are many great places to play indoors, too, including drop-in tot spots like ArtsCetera and Gumbo, an awesome local library, and cool programs for school-age kids like makerspace Pixel Academy and board game mecca The Brooklyn Strategist. Here are the best places for kids to play in BoCoCa.
Outdoor Play
Carroll Park
Smith to Court Streets between Carroll and President Streets
The true heart of the neighborhood, this park offers lots of amenities including ball courts, a playground, year-round bathrooms and a Wi-Fi hot spot. There are shady benches where parents can relax and the playground has separate areas for preschoolers (baby swings, short slides and easy climbing structures) and big kids (a large play structure and a tire swing). In addition to frequent visits from the requisite kooky balloon guy, Carroll Park hosts many FREE family events throughout the year organized by nonprofit community org Friends of Carroll Park. Highlights include the colorful Halloween Parade, fab flea markets, a holiday lighting ceremony with Santa, alfresco family films, theater and kids' concerts in summer, and the park house has classes and special events. In warm weather, look for beloved playground associate Kathleen Henderson, who entertains moppets with organized games and art projects.

Cobble Hill Park
Congress and Clinton Streets
Nestled between the Clinton Street brownstones and the 19th-century carriage houses on Verandah Place, this tranquil enclave is a charming spot to spread your picnic blanket (if you don't bring your own food you can grab grub at adjacent cafe Ted & Honey). There's also a sweet and shady playground where little ones can romp on a climbing spider, a small slide and in a sand pit.

The following are no-frills playgrounds with the basics (swings, slides, climbing structures, sprinklers) where you can usually avoid the masses:
Long Island College Hospital Playgrounds – Henry Street between Pacific and Amity Streets – Despite past controversy and an unknown future due to LICH's dire financial straits, these two playgrounds currently feature colorful, out-of-the-ordinary equipment for imaginative shenanigans.
Dimattina Playground – Rapelye Street between Hicks and Henry Streets – This narrow slip of a spot is rarely crowded, which means no waiting for swings!
Mother Cabrini Park – President and Van Brunt Streets – A little gem for younger kids, the playground is usually empty and there's room to run, plus it's gated with clear visibility for parents from the benches.
Boerum Park – Warren to Baltic Streets between Smith and Hoyt Streets – Seems to be the secret place for area nannies to gather.
There are also little community gardens scattered throughout the neighborhood like the Human Compass, Summit Street, Urban Meadow, Wyckoff-Bond Garden and South Brooklyn Children's Garden, to name just a handful. Each one has different hours, events and accessibility rules so check the websites for more info.
Drop-in Indoor Play
Carroll Gardens Public Library
396 Clinton Street between Union and Sackett Streets
This century-old sanctuary has loads of FREE kids' programs including storytimes, a chess club, knitting, poetry and writing groups, arts and crafts, readings by Brooklyn authors and more. It even has its very own fan club: the Friends of the Carroll Gardens Library. Check the website for upcoming offerings.

Pixel Academy
163 Pacific Street between Court and Clinton Streets
One of our favorite makerspaces offers a variety of high-tech workshops for kids like video game design, 3D printing and animation. Pixel even hosts occasional Minecraft competitions. Note: You need to purchase a $30 monthly membership in order to be able to drop in to the workshops.

Everyday Athlete
136 Union Street between Hicks and Columbia Streets
This awesome gym has cool classes for kids like tumbling and ninja (a dynamic obstacle course), plus baby bungee and cheerleading. On weekends, you can register for open family climb on one of Brooklyn's tallest bouldering walls.

ArtsCetera
Creative Arts Studio, 310 Atlantic Avenue near Smith Street
In addition to a full slate of arts classes for preschoolers, this program offers 90-minute open play sessions for just $10 per family, one of the last bargains in the neighborhood.

The Brooklyn Strategist
333 Court Street at Carroll Street
Got an older kid into games? This awesome analog gaming spot offers a variety of classes, special sessions and one-off events where kids can try anything from Monopoly to Mahjong to Magic the Gathering. A one-time after-school drop in costs $35 from 3 to 6pm (one-week advance reservation required). Like Pixel Academy, you must buy a membership.

Gumbo
493 Atlantic Avenue between Nevins and Third Avenue
This welcoming children's boutique/education center offers a multitude of fun classes for kids like Preschool of Rock, Music for Aardvarks, French and even creative writing for school-age kids. While some offerings require a long-term commitment, there are drop-in options, too, as well as free trials.

Families First Brooklyn
250 Baltic Street between Clinton and Court Streets
So we're cheating a bit with this one since you can't actually drop in to this play space. You need to buy an annual membership, but at $350 ($75 for membership and $275 for access to the play space on weekdays), it's an excellent local deal for stay-at-home parents with young children.

Check out all of our posts about exploring Cobble Hill, Carroll Gardens and Boerum Hill with kids.