23 Secret NYC Spots Kids Love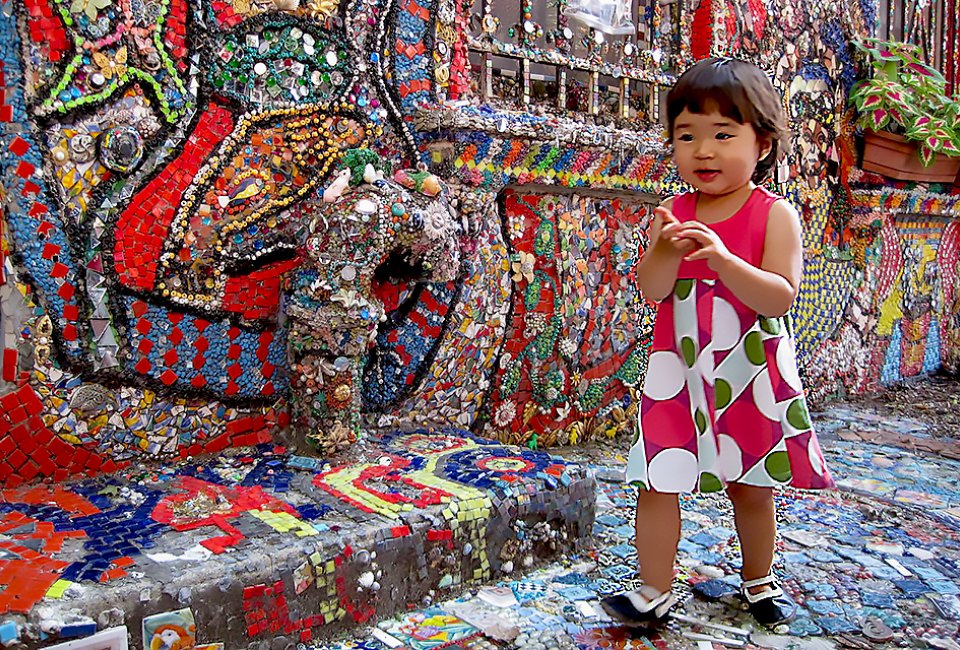 5/9/23
- By
Diana Kim
While New York City is home to some of the world's most popular tourist attractions for kids, it's also full of secret spots and hidden gems just waiting to be discovered. That's part of the charm and fun of living in a city like New York. We've rounded up 25 secret spots in NYC that kids will love. From secret gardens to waterfall tunnels, kids get a kick out of discovering these under-the-radar attractions.
Looking for more off-the-beaten path attractions to explore? Check out our roundups of the coolest secret gardens in NYC and our top picks for underrated parks you must visit this season. Of course, we've got to picks for popular tourist spots in our NYC Visitors Guide for Families, too.
Subscribe to our newsletters to get stories like this delivered directly to your inbox.
Fun Secret Spots to Visit in NYC with Kids
Go on a unique scavenger hunt to look for the pieces of the Berlin Wall that are now scattered throughout Manhattan. One of the pieces is displayed in Battery Park City and one has been installed in the United Nations Sculpture Garden.
Bird-watching is a beloved pastime in NYC, and you'll find some cool birdhouses all over. There's a collection of meticulously crafted birdhouses in McCarthy Square (even though it's more of a triangular plaza) by artist Vincent Mele. The houses are whimsical and painted with great attention to detail. My kids loved finding them and watching the birds come to nest in them.
RELATED: 100 Things To Do in NYC with Kids Before They Grow Up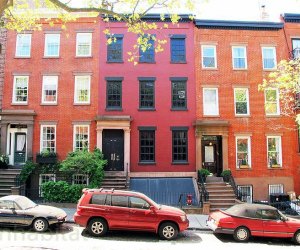 Visit the Secret Shaft House in Brookly Heights. Photo by Inhabitat via Flickr
At first glance, the house located at 58 Joralemon Street fits right in among the brownstones on this leafy block. But this is no ordinary house. In fact, it's not a house at all but a ventilation building and emergency exit used by the MTA. While no tours are available, it's cool to walk by and look at the blacked-out windows and imagine what's inside.
4. Birthplace of Scrabble – Jackson Heights, Queens
Scrabble is one of the most beloved games of all time, and you can visit the spot where the game was essentially invented. Alfred Mosher Butts, an architect, first tested out his new game which would become Scrabble in the basement of the Community United Methodist Church in Jackson Heights, Queens. The spot has been commemorated with a street sign on the corner of 81st Street and 35th Avenue with the value of each of the letters.
5. Brooklyn Grange – Multiple Brooklyn and Queens Locations
Brooklyn Grange operates the world's largest rooftop soil farms with locations in Long Island City, Queens, plus Sunset Park and the Brooklyn Navy Yard. The farm produces a more than 100,000 pounds of produce a year, supplying local restaurants and farm stands. The Brooklyn farms are open to the public and offer various community events, tours, and workshops like Beekeeping 101.
RELATED: 33 Fun Things To Do and Secrets to Uncover in Central Park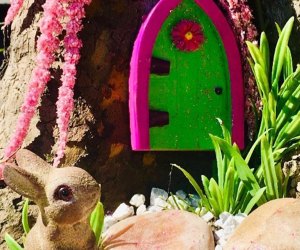 See thaw whimsical Fairy Trail of New York in Sunnyside, Queens. Photo courtesy of the fairy trail
Kids love searching for the little tiny homes of fairies scattered in trees, walls, and gardens in the Sunnyside neighborhood of Queens. These magical little homes were created by a Sunnyside parent who started the project during the pandemic to entertain her kids. Search for 20 little fairy homes and even a map so kids and parents will know how to find all of them.
The carousel at the Bronx Zoo is the only carousel where all the seats are made to look like insects. There are a total of 64 insects featured in the carousel, from a praying mantis to a monarch butterfly, a grasshopper, and even a dung beetle. For a fully immersive experience, the music was composed with real insect sounds. Of course, there are plenty of other things to see and do at the Bronx Zoo when you've finished your spin.
Although located in the heart of the West Village, this small playground feels like a well-kept secret as it's tucked away from the main street between several buildings. Look for the small open door behind the brick facade on the south side of the street. Kids enjoy playing on the jungle gym and swings, while grown-ups can relax in the enchanted garden.
RELATED: Visiting The Metropolitan Museum with Kids

Pose for a cool pic in Midtown's Glass Waterfall Tunnel. Photo by Vincent L
For most visiting Midtown West, a waterfall tunnel is not on the list of NYC attractions to see. But that's what you'll find in a small park behind 1221 Avenue of the Americas between 48th and 49th Streets. A 17-foot-high plexiglass tunnel runs through a waterfall emerging from a concrete slab. It makes for a great photo-op, and while it's been around since the '70s, even many locals don't know about it.
One of my kids' favorite stores is the Evolution Store in Soho. They love to browse unique and fun nature-inspired items like framed butterflies and insects, fossils, seashells, skulls, skeletons, medical models, and posters. It's like a museum—but you can touch and purchase the objects.
School groups can actually tour the vaults of the Federal Reserve, which has the world's largest collection of gold bars—nearly 500,000 gold bars. You'll feel like you're in a caper movie as you descend nearly 80 feet underground and through a cylindrical entryway that rotates at the turn of a wheel.
RELATED: NYC Kids Neighborhood Guides

The Ford Foundation Atrium is a hidden oasis in Midtown East.
Everyone knows of the iconic New York and Brooklyn botanical gardens but there's a secret tropical rainforest right in the middle of Midtown Manhattan. Located inside the lobby of the Ford Foundation Building find this miniature tropical forest with towering trees, lush plants, flowers, vines, a reflecting pool, and even a sensory garden where touching and smelling are encouraged. The garden is open to the public and FREE.
13. Mosaic House – Cobble Hill, Brooklyn
It's impossible to miss Susan Gardner's house on Wyckoff Street in Brooklyn. It's the only one whose ground floor facade is covered in colorful beads, glass shards, and pieces of marble and tile to create beautiful and inspiring mosaics. Gardner started the installation as therapy after 9/11and more than 20 years later, the house is still a work in progress. Visitors are encouraged to leave little pieces behind to become part of the artwork.
One of the best-kept dining secrets happens to be the lunch served in the basement of the Hare Krishna temple in downtown Brooklyn. For about $10, feast on a healthy, vegetarian Indian lunch at Govinda's. The food is served cafeteria style and you can take any leftovers home. The desserts and pastries are perfect for kiddos.
RELATED: The 18 Most Insane, Must-Try NYC Desserts

Nonna Maral, from Azerbaijan, prepares traditional stuffed cabbage at Enoteca Maria. Photo courtesy of the Enoteca Maria
Enoteca Maria in Staten Island celebrates cultural diversity by having real grandmothers (or nonnas) from different parts of the world cook dishes from their cultures. There are nonnas from Italy, Pakistan, Peru, Hong Kong, Russia, Trinidad, and more, celebrating their unique culinary heritage. Cooking classes are also offered.
Young fans of mystery novels will love browsing the shelves of the Mysterious Bookshop, the old bookstore specializing in the genre. It carries everything from detective novels to crime stories, thrillers, espionage, and suspense fiction.
Part of the Snug Harbor Cultural Center and Botanical Garden, this garden is one of two authentic outdoor Chinese gardens in the country. It's beautiful and picturesque with a bamboo forest, waterfalls, and even a koi pond.
RELATED: Best Things To Do in NYC with the Grandparents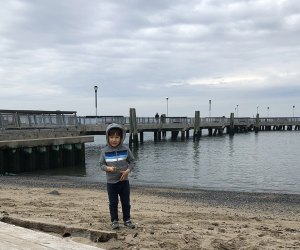 Not too many people know about Valentino Pier in Red Hook but it's a great spot to relax, play, and enjoy the beautiful views of the New York Harbor.
This is one of our favorite spots to bike to, have a picnic, or just hang out. Located in Red Hook, Valentino Pier offers sweeping vistas of the New York Harbor including the the Statute of Liberty. There are a lot of grassy areas, benches, and even a little beach to play on. It's never crowded and you can eat at several restaurants and cafes nearby, including Steve's Authentic Key Lime Pie. It's an absolute hidden gem our whole family loves.
Take the kids to an art exhibit literally made of dirt. The Earth Room is a permanent installation consisting of 250 cubic yards of soil, covering 3,600 square feet of space and spread 22 inches deep. It's definitely a quirky experience, but surprisingly calming and meditative to be around that much natural material.
The first and oldest subway station in New York City is located under City Hall Park and is a beauty to behold with its gilded arches, skylights, and brass chandeliers. While no longer operational, you can get a glimpse of it by staying on the 6 train as it loops around and heads back uptown or booking a members-only tour courtesy of the New York Transit Museum.
RELATED: Union Square and Flatiron Guide: Things To Do and Where To Eat with Kids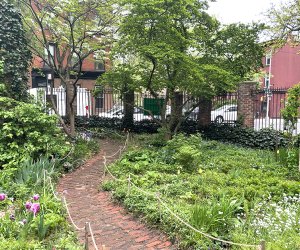 The Wycoff-Bond Garden is a neighborhood gem providing a quiet place to enjoy beautiful trees, plants, and flowers. Photo courtesy of the garden
Found in 1973, this community garden is a perfect retreat for city dwellers. Volunteers maintain the shrubs, plants, and flowers and organize community events. There are several benches and chairs to sit and enjoy the serenity.
Kids love discovering the whimsical bronze sculptures at the 14th Street/8th Avenue subway stop on the A/C/E/L lines. The sculptures are part of a series entitled Life Underground by artist Tom Otterness.
Located on the lower floor of Grand Central Terminal, the "whispering gallery" is an acoustic phenomenon that occurs between the four arched entryways. If you and someone else stand on opposite corners of the arches—measuring about 30 feet in distance—you'll be able to hear each other even at a whisper despite the noise and commotion of the surroundings.
Unless otherwise noted, photos by the author
Click Here to Sign Up!
i