Best Things To Do in NYC with the Grandparents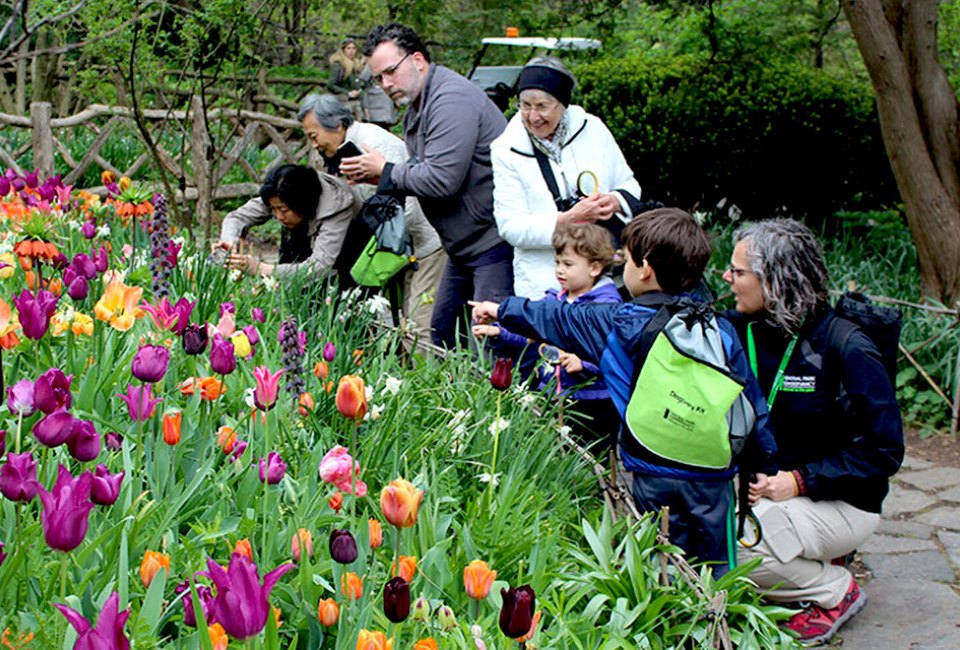 3/5/23
- By
Katie Nave
Searching for things to do when the grandparents visit? We're here to help. After all, no matter what you call grandma and grandpa, their visit means it's time to lay out the red carpet with picks for fun all-ages activities in NYC.
While snagging one of these over-the-top treats might be atop your kids' wish list of things to do with the grandparents, we've got plenty of other picks to spend a day showing off New York City to your very special visitors. Our top picks for things to do with visiting grandparents in NYC includes delving into history by visiting museums and other enriching destinations that highlight a variety of cultures, interests, and time periods, including the immigrant experiences so many American families share.
Whether your kids' grandparents drop by all the time or are only able to visit once in a while, the next time they ask what to do with the kids, suggest one of these meaningful things to do in NYC and help the generations find common ground while having fun.
2. Ride the Ferry
Take a relaxing ride by hopping on a ferry to a kid-friendly shore.
RELATED: 101 Questions To Ask Grandparents About Their Lives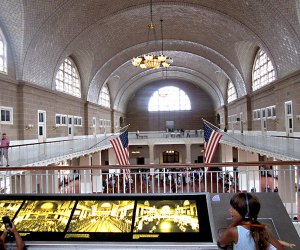 Search for relatives at the Registry Room on Ellis Island. Photo by Jody Mercier
3. Ellis Island
Explore the Ellis Island Immigration Museum together to search for names of ancestors and share family immigration stories.
4. Broadway Show
Grab a ticket for a kid-friendly theater performance on the Great White Way. Too rich? Try one of these off-Broadway crowd-pleasers.
5. Statue of Liberty
Visit Lady Liberty and the Statue of Liberty Museum to learn about the monument's history.
RELATED: 3 Days in NYC with Kids: Ultimate Itinerary by a Local Mom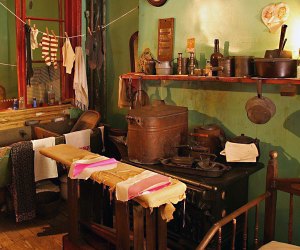 Learn about the lives of immigrants and how they lived in NYC at The Tenement Museum. Photo courtesy of the museum
6. The Tenement Museum
Learn what life was like for early 20th-century immigrants on the Lower East Side at The Tenement Museum via its interactive tours.
7. New-York Historical Society
Discover American history through the eyes of New York children at the DiMenna Children's History Museum.
8. Classic Harbor Line
Hop aboard one of the boats of the Classic Harbor Line, including large schooners and a yacht.
RELATED: 50 Fun Activities for Grandparents To Do with Kids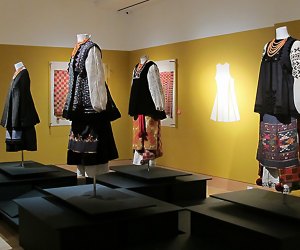 Stroll through the Ukrainian Museum to learn the history and see some amazing costumes. Photo courtesy of the museum
9. Cultural Heritage Museums
Take a spin around a museum devoted to your family's heritage, such as The Jewish Museum, Asia Society, The Ukrainian Museum, or El Museo del Barrio.
10. Soda Fountain
Share a root beer float at a vintage soda fountain, like Lexington Candy Shop, Jahn's, or Brooklyn Farmacy.
11. The Intrepid Sea, Air & Space Museum
Bring your family's ship or plane enthusiasts to the Intrepid Sea, Air & Space Museum. This decommissioned Essex-class aircraft carrier is now a floating museum docked in the Hudson River at Pier 86.
RELATED: 100 Things To Do in NYC with Kids Before They Grow Up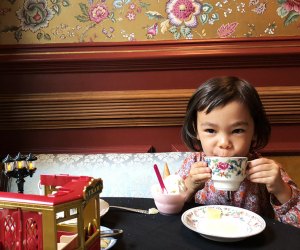 Share a special day at Lady Mendl's Tea Salon. Photo by Janet Bloom
12. High Tea
Step back in time and enjoy a classic afternoon tea.
13. Central Park
Head to Central Park to visit Belvedere Castle or one of the other stunning sights in NYC's backyard.
14. Queens County Farm Museum
Although it's a bit out of the way, visitors will love this special slice of nature right here in NYC. The Queens County Farm Museum dates back to the 17th century and features old-fashioned farm buildings, a greenhouse complex, livestock, planting fields, an orchard, an herb garden, and a vineyard.
15. Little Island
If the miles of walking on Governors Island seem a bit much, head instead to the more approachable Little Island. This 2.4-acre floating park offers regular children's programming, stunning views and landscaping, and three dedicated performance venues where visitors can enjoy live performances.
Originally published in 2012.