5 Kid-Tested, Kid-Approved Restaurants for Bao Buns in NYC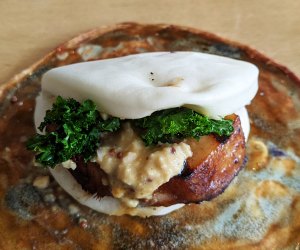 Also known as pork buns, gua bao-style buns are a Taiwanese night market staple. Pillowy, yet compact and stuffed with mouth-watering ingredients, bao buns are a great light meal when you and your family are on the go or looking to try something new. A tasty finger food, these morsels are perfect for foodies-in-training. If you want to introduce your kids to this staple, here are five kid-tested—and approved!—restaurants serving bao buns in NYC. Even a picky eater will find a bao bun to love among these picks.
Find more kid-approved eats in our Guide to Family-Friendly Restaurants in NYC.
Subscribe to our newsletters to get stories like this delivered directly to your inbox.
In addition to a solid ramen menu, Shuya Cafe de Ramen offers a simple, yet tasty, pork bun: an extra-thick slice of roasted, glazed pork belly nestled in kale and dressed with a tangy sauce. Another kid-pleaser is the kurobata popcorn dog (a deep-fried sausage fritter). Be warned: Things can get messy fast, so ask for extra napkins if you're picking up the order to go.
RELATED: Astoria Park's Charybdis Playground Reopens Following Massive Renovation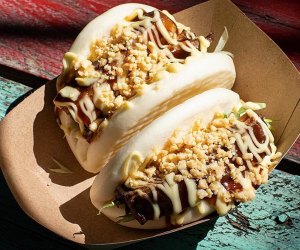 Bauburg's classic bao bun offers just the right punch of flavor. Photo courtesy of Baoburg
A good classic gua bao is juicy, with a soft bun holding slices of pork belly topped with powdered peanuts and chopped cilantro melding together in an unexpected mix of flavors and textures. Baoburg's take on the classic hits all the right notes—the braised pork belly is doused in caramelized soy sauce and Kewpie mayonnaise, with chopped peanuts and scallions. Those who want an even more inventive twist on the traditional dish should try the veggie bao (fried eggplant tempura, lettuce, tomatoes, onions, and spicy mayonnaise) or the baos made with shrimp, steak, and fish fillet. Although the bao buns here are on the pricey side, ranging from $8 to $12, they hit the spot when you want a warm, portable meal, fast.
Taipei Hong occupies a space that's about the size of a shipping container, but what the Taiwanese eatery lacks in room it more than makes up for in its food. Sold as a "Taiwanese hamburger," here you'll find the traditional gua bao, with generous slices of pork belly, cilantro leaves, pickled mustard greens, and crushed peanuts, all encased in a signature half-moon- or clamshell-shaped bun. At about $3, it's the perfect snack to grab while exploring Flushing.
RELATED: 25 Things to Do, See & Eat in Chinatown With Kids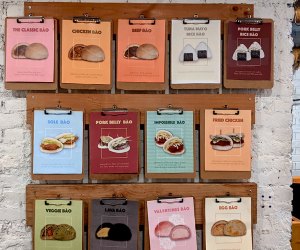 Which bao will you taste at Bao Tea House?
Bao Tea House offers a wide range of savory and sweet bao buns to suit any mood. The buns are on the small side, so adults may want to order more than one, but they're sized perfectly for kids. In addition to the classic pork belly, there's the V-possible Bao (steamed buns stuffed with vegan chicken, homemade chili sauce, and vegan mayonnaise) and the Veggie Bao (baked buns with spinach, mushroom, carrot, cabbage, and bean curd). The sweet bao buns consist of homemade custard, coconut milk, salted egg yolk, red bean, and matcha, making them a perfect light dessert.
In what has become a well-known story among foodies, Momofuku founder David Chang didn't invent pork buns, but he has been credited with igniting a new demand for the modest dish after creating his version of a pork bun by chance. Kids with peanut allergies will appreciate the pork belly bun, which is simply served with hoisin sauce, cucumber, and scallions. I prefer his juicy brisket buns slathered in horseradish mayo with a leaf of lettuce, but they're only available at the uptown location (the buns menu at both the East Village and uptown locations are the same except for the brisket).
Unless noted, photos by the author